Spartans of UD - Kyle Manley
By University Relations Staff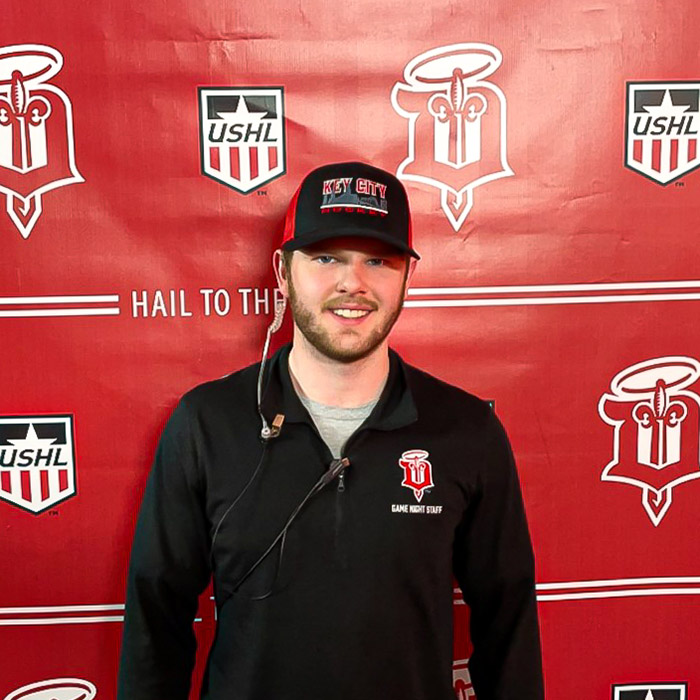 Spartans of UD highlights what makes the University of Dubuque special - the people.
Kyle Manley, of Palatine, Illinois, is a junior sport marketing and management major. He interned with the Dubuque Fighting Saints from November 4, 2022, through April 21, 2023.
Why did you choose to intern with the Dubuque Fighting Saints?
"I chose to intern with the Fighting Saints because I wanted to gain more experience in sports I was less familiar with. Knowing that I would be part of the game night staff influenced my decision to be a part of the organization because I wanted to gain more experience working during a live game. A lot of my past experiences were planning and researching before events, and I knew this opportunity would help me learn more about what goes on while the game is happening live."
Can you share a little about what you did during your internship?
"My position was part of the promotions team. Some of my tasks included handing out promo gifts before the games when the doors open. I would also find contestants for our intermission games for fans to win prizes. During the game, I would deal with fan engagement by throwing out T-shirts during media timeouts. At intermissions, I would setup the games and guide contestants to their designated spots to start the game. Sometimes I would even put on mascot costumes for promotions being handed out that day. My main tasks consisted of promotional events and keeping the crowd engaged. Sometimes I would also work fan services to answer any questions fans had."
What is one lesson you learned during your time with the Dubuque Fighting Saints that you will take with you in your future career?
"One lesson that I learned while being a part of the Fighting Saints is that I have to be fast and efficient when working a live game. I have to make sure I am on and off the ice before the media timeout is over. Having experienced this will help me in my future career if I am working with live games again and making sure everyone is in the right position and working in tune with the game."
What advice do you have for other students contemplating an internship?
"I would recommend getting involved in internships early. This way you can build connections early on in your college career and grow those connections. Having done this internship in my junior year, I know that I can use the staff members as references to get other jobs as I graduate and move on with my professional career."
In your opinion, what makes the University of Dubuque special?
"The University of Dubuque has given me an opportunity to grow my resume tremendously. Being able to join the Sport Marketing and Management Club as a freshman and continue to grow within the organization to become the vice president of the club has led me to earn a position to work for the Super Bowl. I also found out about the Fighting Saints when a couple representatives had the chance to come and talk to our class about this opportunity and I took it. In my opinion, that is what makes the University so special is the plethora of opportunities in front of me to further my knowledge in my careers and help us get to where we want to be, not just learning in the classroom but also getting that firsthand experience outside of the classroom. I am very fortunate to have chosen to go to UD, and I would recommend considering this school because with the class sizes and the amount of opportunities this school has to offer there is no doubt that you will succeed and be happy with how far you've come."