Spartans of UD - Kaitlyn Wilder
By University Relations Staff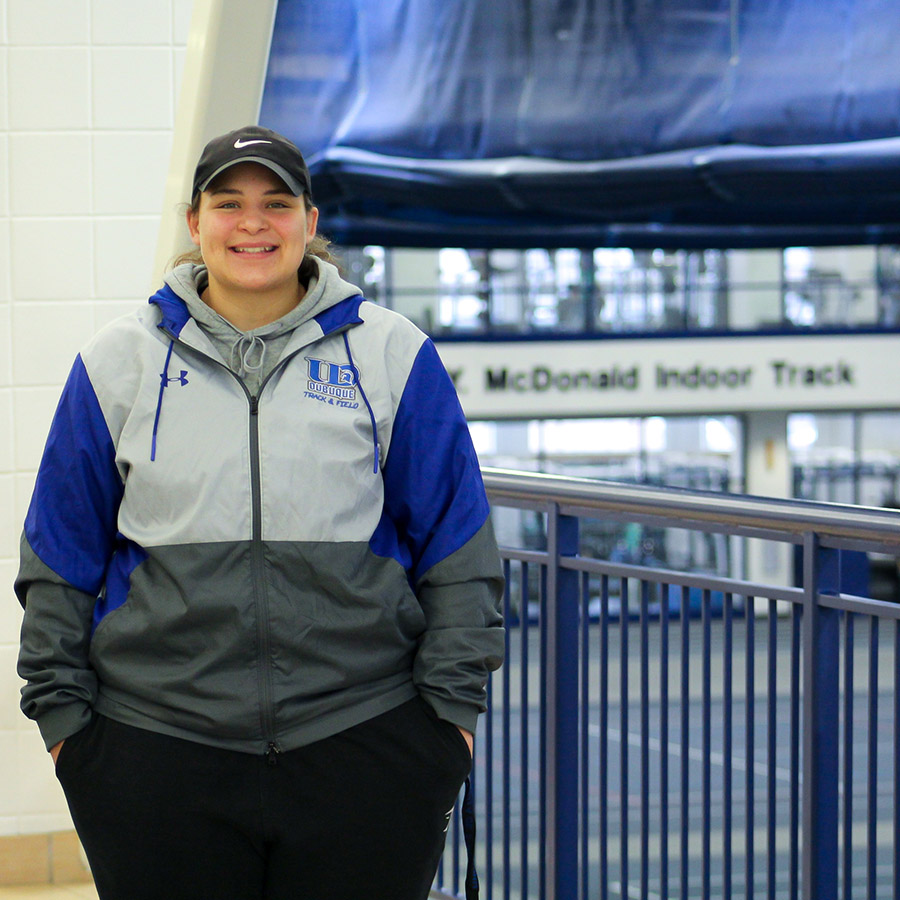 Spartans of UD highlights what makes the University of Dubuque special - the people.
Kaitlyn Wilder, of Dunkerton, Iowa, is a senior wellness and exercise science major. During her time as a track and field student-athlete, Wilder has earned multiple honors. She was named the Women's Field Athlete of the Year Midwest Region by the US Track & Field and Cross Country Coaches Association in 2022, became the NCAA Division III Indoor Track and Field Weight Throw National Champion in 2022 with a school record toss of 19.2 meters, received the Female Breakout Player of the Year and Female Best Performance at UD's Sparty Awards in 2022, is a four-time A-R-C Field Athlete of the Week, and more.
How did you get involved in track and field?
"I was a two-time state champion in high school. Originally from Dunkerton, Iowa, I was used to a small school feel. The University of Dubuque track and field team had an energy that I loved on my visit. They were competitive, welcoming, and driven. I love to work hard and when I went on my visit, the team had a lot of values that I also find within myself. Track and field taught me discipline and work ethic that allowed me to excel."
What is your favorite event in track and field? Why?
"My favorite event in track and field is the discus. Discus is my favorite event because it involves a lot of technique and I find it the most enjoyable to throw. The discus goes far, and you get to spin in a circle, what more do you need?!"
You have earned multiple honors during your time as a student-athlete. What has been the highlight of your track and field career at UD so far?
"I don't compete to earn accolades, but they are a testament as to how hard I work and the energy I give every day. I have earned All-American status three times, was National Athlete of the Week, and became a national champion in the weight throw. Although those are some of the highest accolades you can earn, my favorite has to be when I was recognized at the Sparty Awards. I received a standing ovation by my fellow teammates and the entire student-athlete body for my national championship performance. It was a fantastic feeling to be in the moment with my coaches, teammates, and fellow student-athletes on campus."
What have you learned from being part of track and field?
"Something I have learned from being a part of the track and field team at UD is how to work hard. It's truly a great experience to be able to do a sport where you are pushed to excel by not only the coaches but your teammates. Being a part of this team had instilled in me a great work ethic and a drive to be the best."
What advice did a teammate give you and what advice have you given a younger teammate to pay it forward?
"As someone who wants to be the best, I often get frustrated. I had an older teammate that pushed me to be the best version of myself both on the track team and in the outside world. She encouraged me to understand that track is not my end all, be all. Being the best person I can be is what is most important. With that being said, we have a lot of freshmen on the team this year. I was able to have a conversation with a couple of my teammates this fall about accepting failure. It is impossible to PR every meet or improve your mark. You won't have a perfect practice. You won't feel 100% every day. It was important for me to share that with them because it's okay to make mistakes and mess up. Nobody is perfect, and you will never be perfect in your sport. I was humbled to be able to share that advice with a couple of my teammates and be someone they can look up to."