Spartans of UD - Jordyn Cory
By University Relations Staff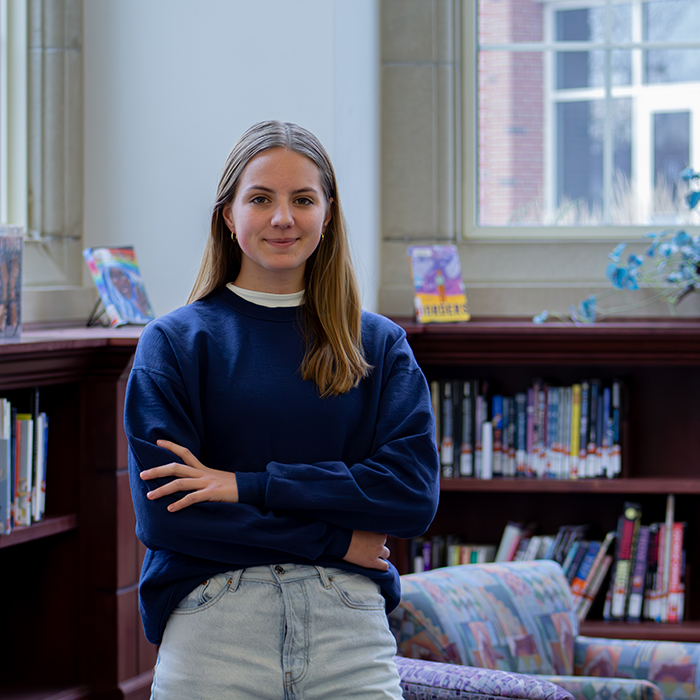 Spartans of UD highlights what makes the University of Dubuque special - the people.
Jordyn Cory, of Cedar Rapids, Iowa, is a senior communication and psychology double major. As a John and Alice Butler Summer Research Fellowship fellow, Cory worked on a project titled "The Impact of Technological Addiction on College Student Motivation." She presented her research recently at the 59th annual Iowa Communication Association Conference at Western Iowa Tech Community College in Sioux City, Iowa. She is also president of Lambda Pi Eta, the National Communication Association's official honor society.
You were one of eight students selected to participate in the John and Alice Butler Summer Research Fellowship in 2023. How did your experience in that fellowship impact you?
"Being a Butler Summer Research Fellow over the summer was an opportunity that has opened so many doors for me. Over the summer I attended classes about research and vocational topics, became more prepared for graduate school, and expanded my personal network. This has also given me hands-on experience in research to prepare for graduate school and enabled me to present in classrooms and at conferences. I am extremely grateful for the generosity of John and Alice Butler for their support in my educational pursuits, along with the support from my research group of Dr. Michelle Grace, associate professor of communication, and Kaylee Coquyt."
What inspired you to research the impact of technological addiction on college student motivation?
"I had never previously thought about doing my own research project until my advisor reached out to me and recommended that I give it a shot! Regardless of what my project was going to be, I knew that I wanted it to be based around college students. I also wanted to explore a topic that would lean in on both of my majors of psychology and communication, and through a lot of preliminary research and brainstorming, I realized that I could connect both of my interests here."
Can you share what you discovered during your research?
"I am currently still working through my findings of survey responses completed by local college students. This experience has also taught me a tremendous amount of skills in research, methodology, networking, vocational skills, and statistical analysis."
What life lessons did you learn from presenting your research at the Iowa Communication Association Conference?
"Through my group presentation at the Iowa Communication Association Conference, I connected with other professionals within the field of communication and learned so much about their individual paths and research. I got the opportunity to sit in on some very interesting sessions that were able to challenge my thinking and expand my thoughts on topics such as higher education and artificial intelligence. From this conference I found that there is always more to learn, and that even though virtual learning is convenient, going out and hearing from others is the best way to do it."
In your opinion, what makes the University of Dubuque unique?
"I think that UD is different because of the faculty that supports and encourages students! There have been so many pivotal occasions that my professors have empowered me to go beyond what I previously thought I was able to accomplish. Because of them, I have higher level goals and expectations for myself along with greater anticipations for my future plans."