Spartans of UD - Jaylen Bell
By University Relations Staff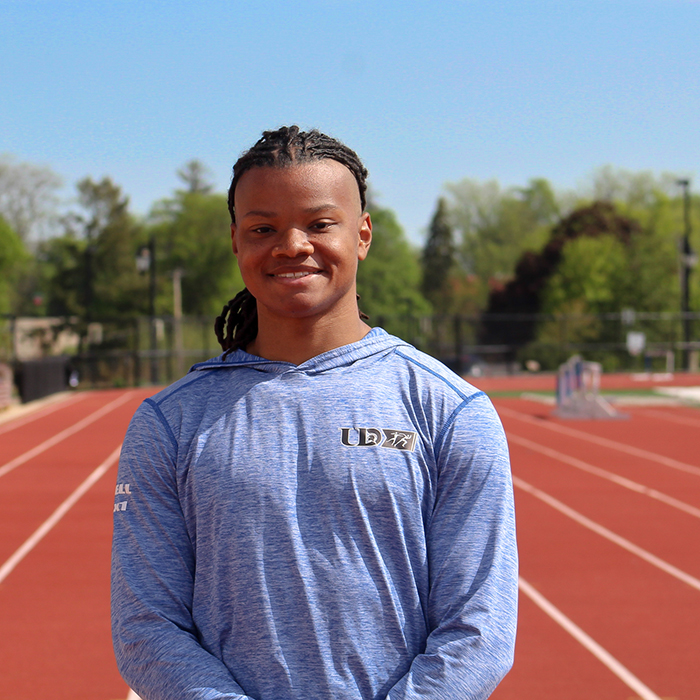 Spartans of UD highlights what makes the University of Dubuque special - the people.
Jaylen Bell, of Chicago, Illinois, is a senior digital art and design major. A student-athlete, Bell is finishing up his final season of track and field at the University of Dubuque.
When you were a student at Butler College Prep, which is part of the Noble Network, why did you decide to attend the University of Dubuque?
"When choosing the University of Dubuque, I had intentions of flying professionally. I chose UD because it gave me the opportunity to start doing things with my own responsibilities and consequences in mind. While settling in, I met people that I hadn't seen in a while including my mentor who graduated from my old elementary school as well as a now UD alumni that graduated from Butler College Prep a year ahead of me. Even with COVID changing my plans, I was still able to pursue a good education that led me to graduate in a different field."
Can you describe the transition to college life? How were you able to navigate and overcome any challenges or surprises you experienced?
"The challenges I faced while attending the University of Dubuque were in my first semester. I chose to be away from home so that the responsibility to do well in school was my full responsibility. Mapping out campus was the next task followed by getting my flight hours logged in and making sure I had an adequate computer. I premeditated my move to a new life away from home, which prepared me to face what adversity was in my way."
What impact did your professors have on your academic experience at the University of Dubuque?
"The professors here were able to enjoy doing what they are doing while also being present to students due to the class size on average. A lot of the professors that I had the honor to be taught by were flexible, reciprocal, reasonable, and passionate on the class and its subject matter. They had an impact on my overall character development."
How did you balance your academics and athletics?
"Balancing athletics and academics is a state where you must recognize why did I choose to pursue my major at this college and why did I choose to do this sport for this college. You are a student first before an athlete. I did find this out the hard way my freshman year and once COVID settled in. Sophomore year I had to pick up the slack from credits I missed from switching majors. I wasn't able to continue my athletics because of an injury, but my grades took priority over running track. I had a plan to get my credits back up and graduate on time. I proved to myself and others that that goal is obtainable. I then returned to athletics my junior year knowing I was able to handle my classes."
What has been the highlight of your track and field career so far at the University of Dubuque?
"A highlight of my track and field career was all about the 4x100 meter relay team from the 2021-2022 season. I, Jeremiah Steed, Kobe Howell, and Nolan Lentz broke records in that track discipline, running a combined time of 40.59, which took us to glory at conference and national championships. On a personal accomplishment, I ran my fastest 100-meter dash ever, placing me in the Top 10 fastest times with a time on 10.66 in 100 meters for the top ten list and beating my high school time of 10.88."
What are your future plans?
"After graduation I plan to obtain a master's degree in organizational diversity and inclusion from the University of Dubuque."