Spartans of UD - Emerson Wilson
By University Relations Staff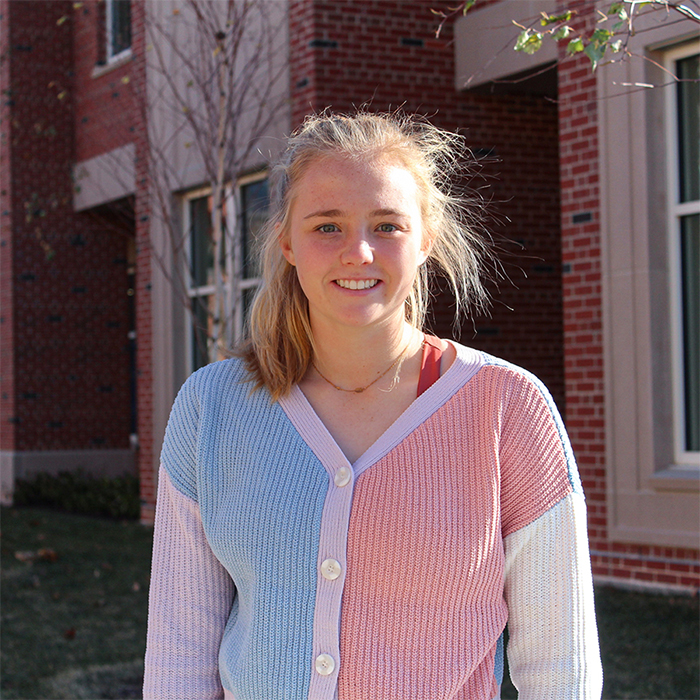 Spartans of UD highlights what makes the University of Dubuque special - the people.
Emerson Wilson, of Grand Junction, Colorado, is a first-year biology major. She has fostered over 200 animals and helped them find homes.
How did you start fostering animals?
"My local shelter in Colorado was looking for puppy fosters, and I decided that is something I would like to do. Now I foster for two different shelters, one in Colorado and one in Utah."
What are some things you learned from being part of a foster family?
"Lots of patience. Puppies are hard. They chew up freshly potted flowers, they dig holes, and they whine and cry at 1:30 in the morning. But when you see them recover from an injury, learn how to paddle board (yes, that's a thing), or learn how to sit and eventually grow up to be adopted by an amazing family, all the flower repotting, the makeshift ear plugs, and the shoving dirt to refill holes is totally worth it. I have also found such an amazing community of people at both Underdog Rescue and Rehab and The Parker Project. I also have learned so much by engaging with and learning about where these dogs are coming from and why there is such an issue with stray dogs on the Four Corners reservation; it has made me reevaluate myself and stop myself from jumping to conclusions about things I've yet to fully understand."
Do you have a favorite moment or animal from your time fostering animals?
"My favorite was fostering a puppy named Digit. He was found on the side of the road on the Four Corners reservation. I was down on the reservation assisting with a spay/neuter clinic and this little puppy was brought to us. He had a broken toe that stuck straight up like he was pointing at us. That's how he got the name Digit. He also had what's called a worm belly, which means exactly what it sounds like and his entire digestive system was filled with worms, he had some skin issues, goopy eyes, and so many fleas and ticks. He was a mess. What made him different from the rest of the puppies I get in a very similar condition is that he was the first puppy I got to see go from rescued to adopted. I was part of every step of the process and that was a really cool experience. Since then I have had many other puppies similar to him where I am the one who either found them or the person who found them/relinquish them gives them directly to me and I have followed that puppy from sick and homeless to adopted and healthy; it's a really cool feeling."
How does it feel to be able to help over 200 animals find their forever homes?
"I wouldn't change it for the world. Many of the people who have adopted puppies I've fostered stay in contact and it is especially cool when I get texts, photos, or phone calls from the adopters showing what their puppy grew up to look like and about all the adventures they go on with them. I am so grateful my parents have allowed me to foster all these pups. It has really shaped me as a person and anyone who knows me knows my entire camera role is pictures of the pups I've had in the past, or pups I helped rescue off the reservation, or adventures I took my fosters on when I had them. So, this whole experience of fostering has completely shaped my life and seeing all the love and gratefulness the families who adopt these puppies have is so rewarding."
Why did you choose to study biology at the University of Dubuque?
"I am debating on going to either medical school or vet school after I graduate so I felt a biology major could help me whichever way I decide to go."