Spartans of UD - Ellec Armstead
By University Relations Staff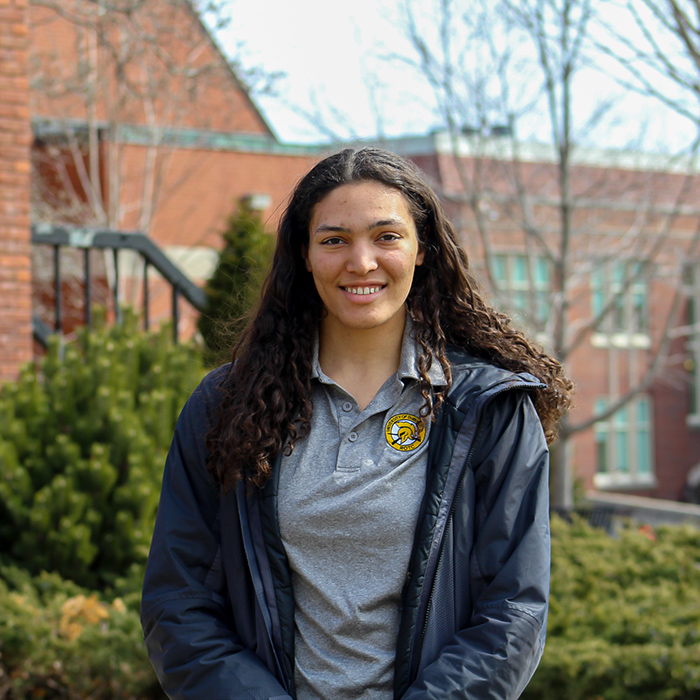 Spartans of UD highlights what makes the University of Dubuque special - the people.
Ellec Armstead, of Waukon, Iowa, is a sophomore aviation management and wellness and exercise science double major. She is also involved with Army ROTC, Army ROTC Valor, UD Vets, ProUD, Latinos Unidos, TRIO - Student Support Services, and the women's cross country as well as women's track and field teams.
What inspired you to become an Army ROTC cadet?
"My mom told me I could make more money as an officer, and I was already enlisted in the Iowa Army National Guard so becoming an Army ROTC cadet could help me keep learning more about the military and what it takes to be a leader. Doing ROTC would also save time for me to become an officer, rather than waiting to start my officer training until after college."
How have you grown through your time in the Army ROTC?
"While in the ROTC, I have been able to refine some of the military skills I learned in basic training through the Iowa Army National Guard. I'm also just learning more about the Army through different perspectives of cadre."
What do you most enjoy about your Army ROTC courses?
"I enjoy learning about things that I have forgotten about the military. For example, it is always good to refresh my memory of our ranks and common courtesies along with how to do our physical training drills. Being the person who leads a formation is very different from being the soldier who follows orders from the leader."
You also work with the Iowa Army National Guard. Can you share a little about that?
"I joined the Iowa Army National Guard my senior year of high school in November 2019. After I graduated from basic training, I went to Fort Lee in Virginia where I did my Advanced Individual Training (AIT) and learned how to do my job as a 92A, a logistics and supply specialist. Ever since I graduated from AIT in February 2021, I have been drilling once a month in Waterloo, Iowa, out of Alpha Company 248 Aviation Support Battalion (ASB). Since I drill one weekend a month, I can manage my time and workload easily because I know if I have a busy drill weekend or if it will be more of an easier drill weekend. My job requires a warehouse, and my unit does not have one, so we get tasked with drivers training or completing monthly and/or yearly inspections of our equipment. I specifically was given the job of maintaining all the soldiers' physical fitness records such as their height, weight, and fitness test scores. I record their records, file them, and upload them into our computer system, but I only do this about two times a year when the soldiers take the fitness test. During easier weekends, I can work on homework between tasks. If it is a busier weekend, I try to get most of my homework done during the week so I do not have to worry about it during drill or rushing to complete it after drill when I get back to my dorm."
In your opinion, what makes the University of Dubuque special?
"There are many things that make UD special. I like how it showcases many people from all over the world. I really liked how it was a smaller school because then I could get that one-on-one support from my professors, and they actually know my name. UD also offers a lot of support for students such as the Smeltzer-Kelly Student Health Center where you can get your physicals done, there is free STI and HIV testing and treatment through Hillcrest Family Services, and you can have counseling services. The library also offers many great things such as study rooms and daylight lamps for when daylight saving time ends. Along with ROTC, we have a student-veteran population here on campus and Rick Ernst, director of the Sergeant Jeffrey B. Dodge Veterans Center, helps us get scholarships and maintain our scholarships, benefits, resources, and things like that. I do my work study with Rick out of the veterans center and there we have computers, study rooms, a printer, and even a pool table for anyone, even if you do not regularly come to the veterans center, everyone is welcome to utilize it."