Spartans of UD - Eliana Berry
By University Relations Staff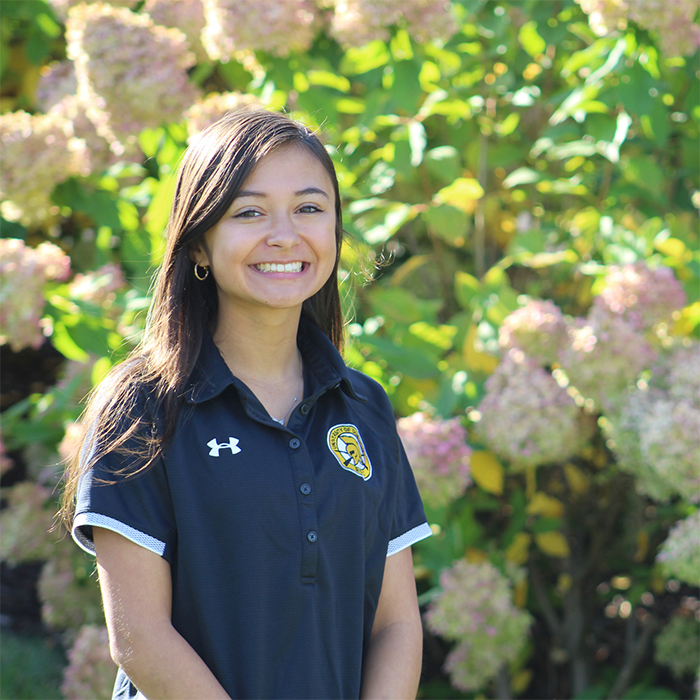 Spartans of UD highlights what makes the University of Dubuque special - the people.
Eliana Berry, of Durant, Iowa, is a junior criminal justice and philosophy and ethics double major. A cadet in the Army ROTC - Eagle Company, Berry was captain of a five-person team that placed third at the TF Leavenworth Ranger Challenge this month at Camp Dodge. Nine universities participated.
Members of the five-person team were UD students Berry, Julius Boimah, Olivia Vergamini, and Eli Meite as well as University of Northern Iowa student Nicole Miller. The ROTC program is offered through a partnership with UNI.
What is the Ranger Challenge?
"The Ranger Challenge is the varsity sport of ROTC where many universities come together. The competition consists of marksmanship, a grenade assault course, weapons assembly, the Army Combat Fitness Test, a foot march, and more. It was very challenging mentally, physically, and intellectually, but it was also good team bonding and training."
What was it like being the team captain?
"Being the team captain was a growing experience for me, because I had to take that leadership role head on and plan and take care of the people on my team. The morale was high. It was there when we started and we just maintained it. We were super supportive of each other and our team worked really well together."
What will you remember most from the TF Leavenworth Ranger Challenge?
"I will remember how important teamwork is and carrying each other through something that is so mentally, physically, and intellectually challenging. It's all about the people that you have surrounding you that really get you through it."
What have you gained from your time in ROTC?
"I gained a lot from ROTC. I would say not only the importance of your peers, but I've grown individually stronger than I ever would have thought I would have. It's just nice that I'm at the point in my life where I see everything that I'm majoring in or what I'm doing in my daily life tie together. I see my philosophy major tying into my leadership skills. It's just nice it's finally piecing together."
How do you balance ROTC with a double major in criminal justice and philosophy and ethics?
"My cadre here and my professors are very understanding of what it's like to have a full load. I haven't met someone who hasn't been understanding of the situation. That's been super nice because I don't think I could maintain and balance everything if it wasn't for my cadre and professors looking out for me at the same time."
Over the summer you participated in Project GO, a nationwide program open to all qualified ROTC students that offers fully-funded opportunities in critical language education, overseas study, and cross-cultural experience. Can you talk a little bit about that experience?
"I don't think I've ever encountered something where I was so doubtful of myself. It was ultimately 15 credits of Arabic squeezed into eight weeks. Arabic is one of the most frequently used languages in the military, and I knew that knowing that would help me in the long run whether it be in the military or the profession I want to go into. I also was waitressing all summer. I would get on my laptop by 8, I wouldn't get off my laptop until 5, I would work until 11, I would do three hours of homework of just studying, and then I would do it again and again and again. That was probably the most challenged I have been in my life."