Spartans of UD - Dillon Leffler
By University Relations Staff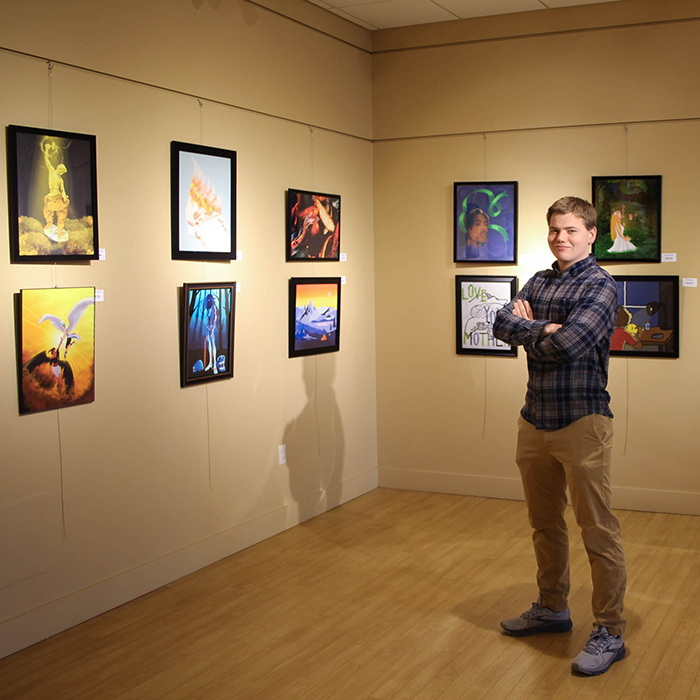 Spartans of UD highlights what makes the University of Dubuque special - the people.
Dillon Leffler, of Plattsmouth, Nebraska, is a junior digital art and design major. His piece of art, Man on a Mission, is displayed in The Edge Show from April 4, 2022, to April 15, 2022, in the Bisignano Art Gallery, Heritage Center.
What inspired you to major in digital art and design?
"When I was in high school, my freshman year I took a Photoshop class. During that class, something sparked and I found Photoshop so fascinating and amusing. I did some research about certain careers I could do involving Photoshop, and one of them was being a graphic designer. So throughout high school I would go on to take classes leaning towards the career of being a graphic designer. Which now brings me here to the present majoring in digital art and design."
Your piece of art, Man on a Mission, is displayed in the annual fine art exhibit for digital art and design students. How does it feel to have your art shown at The Edge Show?
"Having one of my own art pieces displayed in The Edge Show is an honor and privilege; not many people get to have their own art pieces put up for the public to see. It's very exciting going to the gallery and seeing one of my own pieces put up for the University of Dubuque community to see."
What was your artistic process for Man on a Mission?
"What is being represented on my art piece is a golden man chipping away at his own body, reducing his large, fat, bronze body to a chiseled, fit, golden figure. I started this idea with the inspiration of a friend I had back at home who struggled with weight, but then changed by working day in and day out toward his body. After two years he looks like a whole new person with this outstanding build. That was the start of the idea towards this art piece."
"When considering how to present this idea, I thought of a statue known as the Self-Made Man. The statue is a man carving himself out of stone. I was inspired by that concept. Instead of a man carving himself out of stone to form his body, he's chipping away fat out of his own body. After having the idea and concept, I chose to do an art style that I without a doubt enjoy doing called low poly. It's a technique that involves making several triangles or other polygons with a variety of sizes and colors forming shadows and the base object. Combining the idea, concept, and style with the gold, bronze, and silver, the artwork Man on a Mission was born."
What do you hope people will take away from your artwork?
"A message I hope I can get out to people from my artwork is that people can change and improve themselves in any way possible. Whether it be their body, mental health, or daily things they are trying to better themselves with. The man in my artwork is slowly working hard to form his perfect self, which is a representation of trusting in the process and continuing to work hard for that goal. These are the messages I want people to understand through my art piece."
How has your experience with The Edge Show impacted you as a student?
"The Edge Show has provided me with more practice and experience towards my career of becoming a future graphic designer. This art show provides ways for students to express ourselves through our art pieces, while also granting us an opportunity to improve our craft as digital art and design students."