Spartans of UD - Courtney Schroeder
By University Relations Staff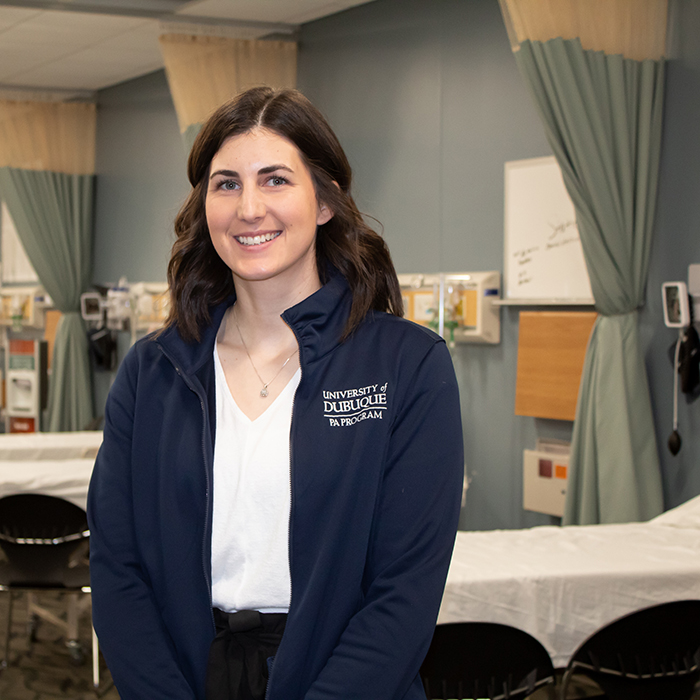 Spartans of UD highlights what makes the University of Dubuque special - the people.
Courtney Schroeder, of Livingston, Montana, is master of science in physician assistant studies student. Her father, a certified medical dosimetrist, will cloak her at the White Coat Ceremony Honoring the Master of Science in Physician Assistant Studies Class of 2023. The ceremony will be held at 2:00 p.m. Friday, December 9, 2022, in John and Alice Butler Hall, Heritage Center. Students will be cloaked for the first time in their white coats, symbolizing the transition from classroom to patient care.
What inspired you to become a physician assistant?
"Since I was a little kid, I have always wanted to do something in medicine. I was introduced to the PA profession in high school and was told the standard things like: 'work life balance,' 'more face-to-face care with patients,' etc. I believe in all those things but also feel a sense of collaboration and teamwork within the PA profession. I am excited to have my own patients and make decisions regarding their care but also have resources and be supported by other healthcare providers."
The White Coat Ceremony symbolizes the transition from classroom to patient care with students being cloaked for the first time in their white coats. How do you feel about making that transition?
"I feel both excitement and nervousness! The White Coat Ceremony will be a reward and a recognition for all the effort and hours we have put in over the last year and a half in the classroom. It symbolizes one step closer to the career we have all dreamed of and justifies all the long days and many exams. But it also represents a new challenge: clinicals. I am so ready to apply the knowledge I have learned and begin doing hands-on care!"
Your father, a certified medical dosimetrist, will cloak you at the White Coat Ceremony. What does it mean to you to have your father be with you at this important event?
"It means the world to me to have my father cloak me at the White Coat Ceremony! He was the one who initially introduced a career in healthcare to me and ignited my passion. I have so many memories of him coming home and discussing interesting cases, new treatments, and other things about medicine with me. I still shoot him a text after learning something in school to either ask him a question about it or get his knowledge on the topic. Both of my parents have supported me since the beginning and having them here for the ceremony and transition to this next step means so much!"
What do you enjoy most about being the MSPAS Class of 2023 vice president?
"I really enjoy my position as VP of our cohort! I have gotten to organize and assist planning the fun activities of PA school. These events are always something to look forward to and break up the monotony school can be. The events our class has put on has established and strengthened the close relationship we have with each other, and I am so glad we will have so many memories to look back on!"
What advice do you have for future physician assistant students?
"I heard this quote somewhere and it has stuck with me throughout school: 'The days are long, but the years are short.' This couldn't be more true, especially thinking about how close we are to the White Coat Ceremony and then clinicals. Time has flown by! I would also suggest future PA students to take good notes, explore new places with classmates, and make memories! The days of working as a PA will come soon enough, take time to enjoy being a student!"