Spartans of UD - Christa Kurtz
By University Relations Staff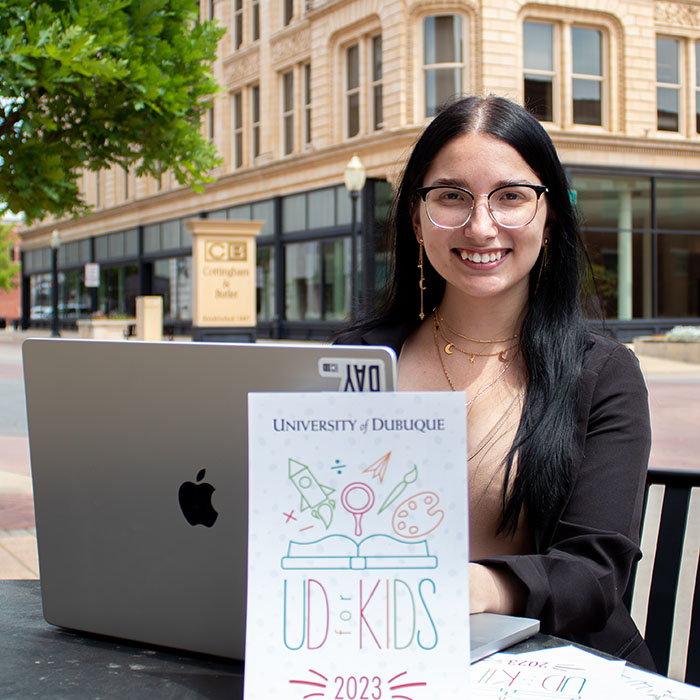 Spartans of UD highlights what makes the University of Dubuque special - the people.
Christa Kurtz (C'21) is a graphic designer at Cottingham & Butler. When she was a digital art and design major, she created the logo that was selected for this year's UD for Kids as part of a class.
What was your reaction upon learning your logo design was selected for this year's UD for Kids?
"I was absolutely thrilled to hear that my logo had been selected this year! Having graduated in December 2021, it was wonderful to hear from the University of Dubuque and to see that I continue to have an impact on UD culture even as an alum."
Can you share a little about your design process?
"My design process consists of lots of brainstorming, sketching, and critique. I always start with the research phase to get a solid understanding of my audience and the goals of the project as a whole. From there, I sketch up every idea I can come up with in a sketchbook - even though the final design will be in a digital format, it's a great way to let loose and put everything on paper to let the ideas flow. After the sketching phase, I choose my favorites - typically two or three designs - to bring into Illustrator and create in vector format. Then, I take those designs to friends, colleagues, family - anyone who will look at them and give their feedback. After a few rounds of feedback, decisions, and adjustments, the design is complete! While I love the process, my favorite part would have to be seeing your final designs come to life in their final formats and applications!"
What were the important elements for you to have in the logo?
"I wanted to create something that inspired creativity and alluded to the types of activities that the kids might be participating in. It needed to feel fun for the kids but also attract the parents that would be receiving correspondence regarding the program, which posed a fun challenge!"
How has your experience with clients in the classroom helped you in your position as a graphic designer at Cottingham & Butler?
"I'll never forget the impact my professor Sheila Sabers had on me - she made me absolutely fall in love with graphic design, and I firmly believe her guidance and belief in me is the reason I have found success in my work today. That being said, each and every one of my classes worked together to prepare me for my profession - from learning to crave critique, to finding my personal design style and process, I found the confidence I needed to jump right in and start designing for Cottingham & Butler. The digital art and design major encompasses so many different aspects of design, and I learned everything I needed to know through my classes, from video capture and editing, to packaging and logo design. I've been able to apply so many skills from the program in my work in more creative ways than I could have imagined!"
In your opinion, what makes the University of Dubuque special?
"The people and culture of the University of Dubuque is something that will have an everlasting impact on me as an alum. I created so many wonderful connections and relationships at UD, peers and professors alike. I miss the University of Dubuque every day for its beautiful campus, welcoming atmosphere, and friendly faculty and staff."