Spartans of UD - Byron Nesler-Perez
By University Relations Staff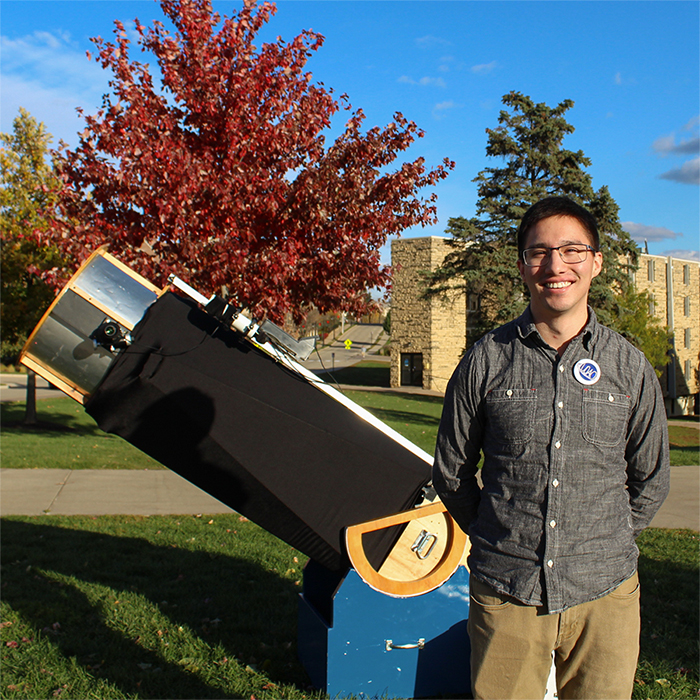 Spartans of UD highlights what makes the University of Dubuque special - the people.
Byron Nesler-Perez, of Dubuque, Iowa, is a senior flight operations and aviation management double major. He has inspired campus by sharing his telescope at Theology + Stars events and recently started the UD Astronomy Outreach student organization.
Where does your passion for the night sky come from?
"A $15 telescope is what started my astronomy journey. I had always loved science and space, but telescopes were something new. It was that cheap telescope from Goodwill that got me outside and looking at our Moon. I fell in love with the ability to see outer space up close. Within a few months, I conquered the midnight January weather to see Saturn for the very first time. I loved it - even though it wasn't the best view. Over time, with small improvements and research, I started setting up my telescope on campus to share the beautiful view."
Can you describe the Department of Theology's Theology + Stars events?
"Theology and the Stars is the union of science and religion. We get to look at God's creations and read through relevant scripture together under the sky."
What has it been like to inspire others through Theology + Stars events?
"It's fulfilling and rewarding. I get to share what I love and blow people's minds with the vastness of space and the beauty visible right here through the telescope. I love knowing that people are learning something new and experiencing a new perspective."
Why did you recently start UD Astronomy Outreach?
"I started the club because we have people interested. As an organized club, we can reach more people, we can travel to observatories and planetariums, we can do outreach with high schools, and we can leave something for future students to be a part of. As the club grows, astronomy education can be spread further and provide a better experience to our students."
What is your hope for UD Astronomy Outreach?
"Our plan is to have a telescope that is large, portable, and adjustable to welcome as many people as possible. We want to move as many people as possible and share our love of science and astronomy with the public. Just like my first telescope, we hope our outreach events will be the encouragement for a child or an adult to pursue doing what they love. We want to show people the beauty of the night sky, the rings of Saturn, the cloud bands of Jupiter, and the craters of our Moon. This club is here to reach people and be the unexpected highlight of someone's day, or the highlight during their darkest night. Finally, we aim to touch their hearts with the beauty of the night sky."