Spartans of UD - Brady and Dylan Koontz
By University Relations Staff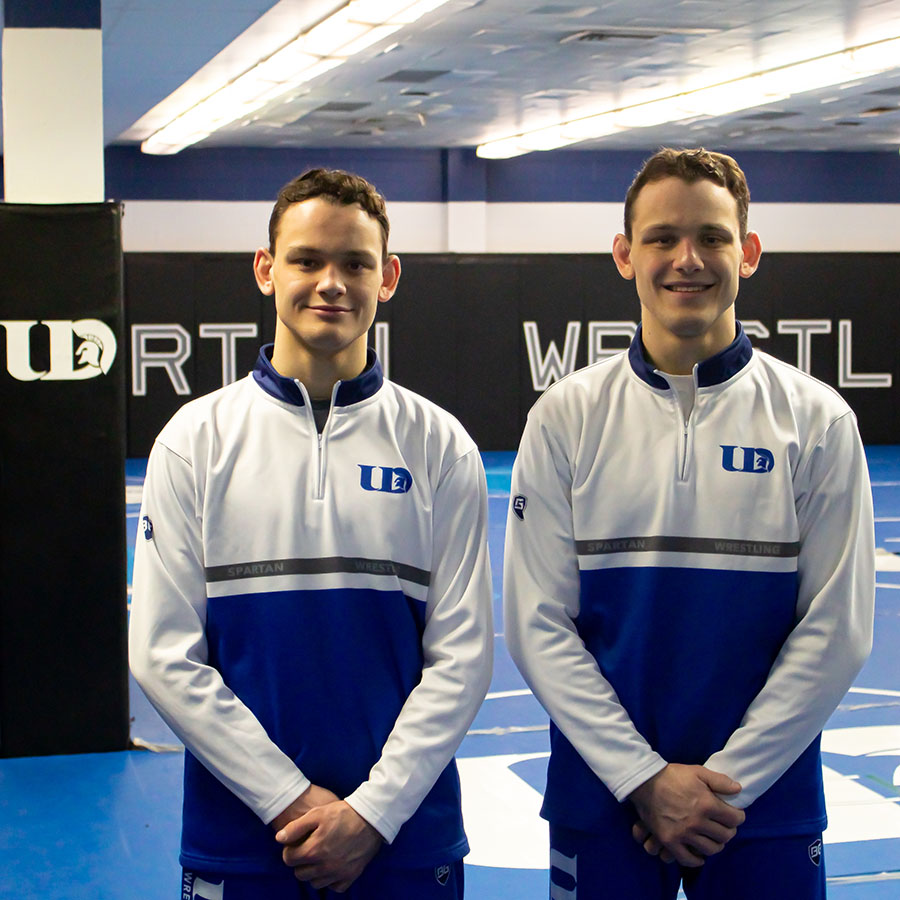 Spartans of UD highlights what makes the University of Dubuque special - the people.
Brady and Dylan Koontz, of Plover, Wisconsin, are senior pre-education and physical education teaching, K-12 double majors. The twins recently transferred to UD and are on the wrestling team.
What inspired you to become a wrestler?
Brady: "My dad was a wrestler throughout high school and college, and he raised the two of us as wrestlers."
Dylan: "My dad wrestled in college and put us in the sport when we were young."
Why did you decide to transfer to the University of Dubuque? Did you always plan to attend the same university as your twin?
Brady: "My brother and I decided to transfer here after Dennis Hall became the new assistant coach. He was our club coach growing up and has continued to be our coach for Greco-Roman. We knew that we would be coming to the University of Dubuque eventually but decided to come and wrestle here for our last semester of college. I believe that my brother and I always knew we would attend the same university, but it was never forced upon us."
Dylan: "Our old club coach growing up, Dennis Hall, an Olympic silver medalist and world champion in Greco-Roman wrestling, got the assistant coaching job here. We did plan on both transferring to the University of Dubuque because our goals align and always having a training partner is really helpful."
What has it been like attending the same university as your twin?
Brady: "Since my brother and I attended The Ohio State University for over five years together, we both knew that it would be ideal to come to Dubuque at the same time. We have been training partners our entire lives, and I believe we'll continue to train together until one or both of us decide to retire."
Dylan: "Attending the same university has been really helpful in our growth because we always have someone to train with and with him being my twin brother, we're really competitive. We're always trying to outdo each other which causes us to grow a lot."
What kind of advantages/disadvantages does having a twin as a training partner present as you prepare for competitions on the mat?
Brady: "I would say that it definitely has more advantages than disadvantages. It allows us to almost always have someone to train with, especially since we live together. We can decide to get in workouts together on a short notice and not have to worry about finding a training partner. Since we have been training partners for so long, we know what each other's strengths and weaknesses are. This can make it difficult to wrestle one another because I almost always know what my brother is going to do before he does it, and vice versa. However, I wouldn't say this is a disadvantage. It simply makes it harder for us to score and leads to us having to work even harder. Aside from wrestling one another, knowing what we are good at allows us to be great coaches for one another, since we know what our go-to moves are depending on the situation."
Dylan: "Having my twin as a training partner is a big advantage because we always have a good partner to train with no matter where we go and the competitiveness of not wanting to lose to each other pushes us to always be better. The only disadvantage is that sometimes when things get heated in practice, that energy is brought back home since we live together. Leaving everything in the practice room is really important because it means we have to give our all during practice."
You're both pre-education and physical education teaching, k-12 majors. What drew you to those two majors?
Brady: "I have a long background of working with children in a wrestling and coaching setting, and I was a child and youth studies major at Ohio State. I felt that the transition to physical education teaching, K-12 would be smooth and give me more knowledge based on previous classes I've taken."
Dylan: "The course material will help me with coaching later in life."