Spartans of UD - Brady Potts
By University Relations Staff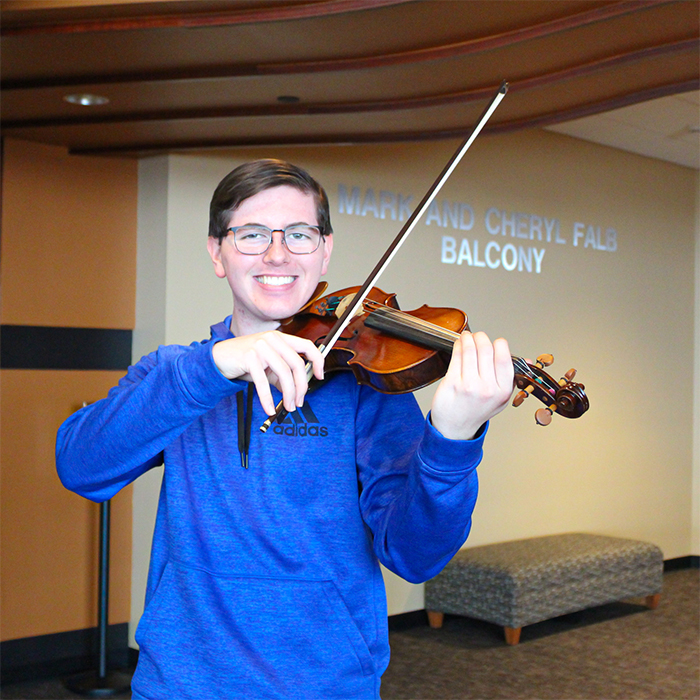 Spartans of UD highlights what makes the University of Dubuque special - the people.
Brady Potts, of Asbury, Iowa, is a sophomore music major. A member of the UD String Ensemble, he will perform during Christmas at Heritage Center "Heaven and Nature Sing!" at 7:30 p.m. Friday, Dec. 2, 2022, in John and Alice Butler Hall. For ticket information, please visit www.dbq.edu/HeritageCenter.
Where does your passion for music come from?
"I have always been passionate about music, but I really started to care about it - especially playing it - in middle school. Something just clicked and I knew it was something that I wanted to have in my life forever."
You will perform a solo violin part for "Angels Greet with Anthems Sweet," an arrangement of "What Child is This?" by Chris Thomas, during Christmas at Heritage Center. How does it feel to be able to perform such a prominent solo part?
"It feels really good to play a solo violin part for 'Angels Greet with Anthems Sweet,' and I'm honored to play such a prominent Christmas tune. I especially like this version because it's not the typical melody that we usually see in Christmas pieces today. It is unique, and that's something that really makes this piece stand out from the rest."
Christmas at Heritage Center features the talents of numerous UD ensembles. What is it like to be part of a performance with a variety of ensembles?
"It's definitely exciting but lots of work must be done to play with multiple ensembles. I am excited to get to work with everyone involved to make this performance something to remember and for people to enjoy, because that's really what it's all about."
What do you hope people will take away from Christmas at Heritage Center?
"I hope people take away the importance of music in our society, especially seeing all of the talent in our area. I also hope people enjoy the performance and leave Christmas at Heritage Center with their spirits lifted. I hope they are touched by our performance."
Your orchestra teacher at Eleanor Roosevelt Middle School was Tracey Rush, MM, an adjunct professor who now conducts the UD String Ensemble. What has it been like to reconnect with your middle school orchestra teacher at the University of Dubuque?
"Getting to play with Tracey Rush again is a really special thing to me. Our bond has definitely grown since she came to conduct the UD String Ensemble. I almost feel like this is my time to show her how I have improved since seeing her all of those years ago in middle school orchestra and lead our UD String Ensemble through this piece well. I am more than grateful that we got to find each other again, especially in the same town. It has been a pleasure playing with her as well as all the new members in our UD String Ensemble."