Spartans of UD - Beth Neyen
By University Relations Staff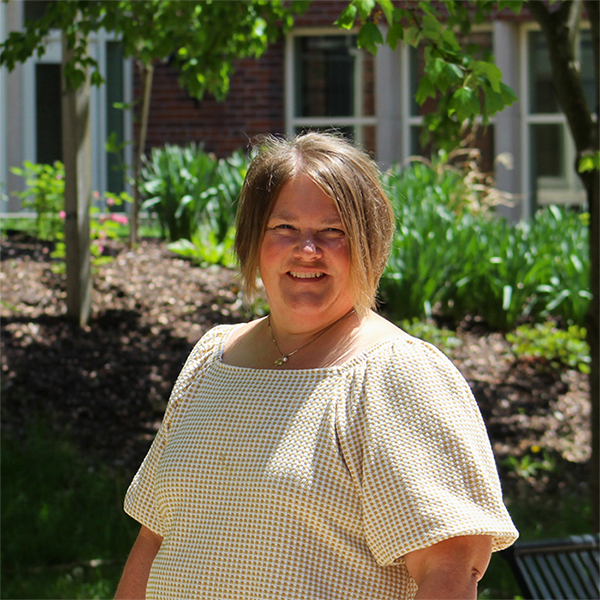 Spartans of UD highlights what makes the University of Dubuque special - the people.
Beth Neyen, MSN, RN, CMSRN, is an assistant professor of nursing and a lab and simulation coordinator. She is teaching Nursing Care - End of Life during the first of three summer school sessions offered at UD.
Summer school courses are open to students of all ages who desire to catch-up, get-ahead, or expand their horizons in the pursuit of college-level learning opportunities.
In your opinion, what makes summer school at the University of Dubuque unique?
"Our summer program is unique because we offer so much in flexibility. The students have three different sessions and platforms to choose from. There is face-to-face and online. They can choose core classes or maybe to help fulfil a minor or just for fun."
How do you approach teaching your summer school course, Nursing Care - End of Life?
"I have a hard topic for this class, so I try to keep it interesting and fun. I use different platforms like role-play, simulation, and videos to cover all the information. The end of life simulation that we do is set up to cover the whole dying process. The students spent 20 minutes in four different scenarios. The first scenario was an admission to hospice; the second scenario was visiting the same patient at home as the hospice nurse and they needed to decide how to deal with all the symptoms associated with their disease process and medication side effects. The third scenario was the patient was actively dying. Students saw the signs and symptoms the patient had as well as learned how to deal with the family in this grieving process. The last scenario was after the death and how they would help the family with the bereavement process. We also follow the ELNEC (End-of-Life Nursing Education Consortium) guidelines; this provides educational material along with PowerPoint presentations."
What do you hope students will take away from the course?
"The most important thing that I want my students to take away is that we treat every patient holistically. This includes the patient, family, and themselves. I want them to be educated on the dying process so they can be the best patient advocate that they can be."
What drew you to a career in teaching nursing?
"In my first 15 years of practice, I found myself orientating new nurses that are just starting their career; I was also on the education committee that helped educate fellow nurses on new policies, procedures, and equipment. Then I started precepting nursing students. I loved teaching and when I got my master's degree, it seemed the next natural step to start teaching formally."
What piece of advice do you regularly share with your students?
"I asked my students this question and they said I always help them to stay positive, I remind them to use their resources and critically think through the problem, and most of all I teach them we treat more than just the illness or disease process that a patient presents with. We take care of the whole person and their community or family."