Spartans of UD - Austin Dalsing
By University Relations Staff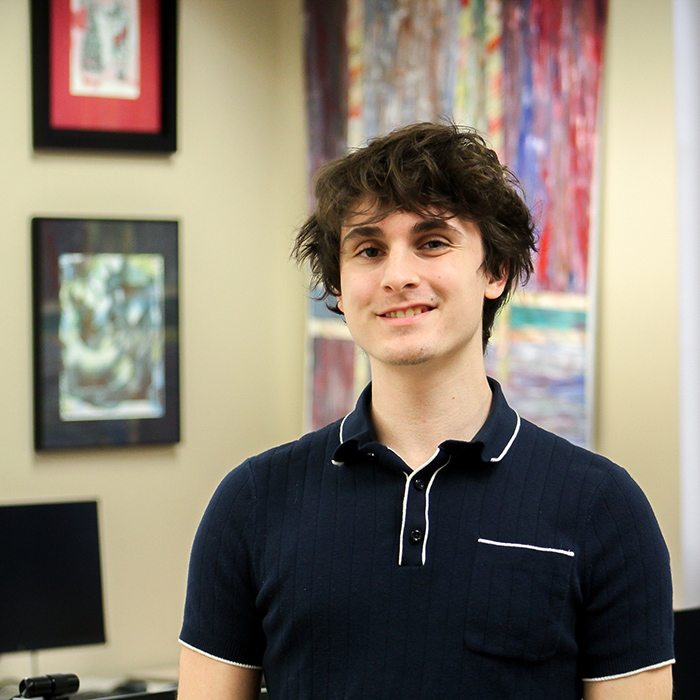 Spartans of UD highlights what makes the University of Dubuque special - the people.
Austin Dalsing, of Dubuque, Iowa, is a senior computer forensics and security major. He is the president and one of two initial founders of the Computer Science Association.
What inspired you to study computer forensics and security?
"I've been interested and active in the field of cyber security since I was around 13 years old, and my love for the profession has carried me all the way to where I am today. I originally began interest in the field after I accidentally broke my family computer when trying to program. The process of identifying flaws and fixing tech-related problems became a natural interest to me, sort of like a form of puzzle solving. Forensics has always been a topic of interest for me that I had been very keen to learn more about as well, so the scope of the major was very serendipitous to see when I arrived at UD!"
During your time at the University of Dubuque, you have conducted research with the John and Alice Butler Summer Research Fellowship. Your project last summer, "Evaluating the Effects of Prescribed Prairie Burns on the Diversity of Soil Protist Communities with Wolter Woods and Prairies," took you outside of your major. What did you learn through your fellowship that you hope to take with youinto your future career?
"While I'm a computer scientist vocationally, I have a great appreciation for natural sciences - especially astronomy and microbiology. In my free time, I've done microbial identification of protists, specifically, for around five years. This project helped me reach into the realm of conducting serious research through a university, and it has enabled me to establish a more useful methodology to implement in my studies as a citizen scientist! I hope to continue exploring the academic-focused research field in order to bring academic procedure closer to public knowledge. I am a staunch believer in the ideology that information should be freely accessible for all who want to learn, and especially so for science."
You are also involved with the Computer Science Association. For those who aren't familiar, can you share a little about the student group?
"Sure! The Computer Science Association wanted to create a gathering place for all realms of computer science, including those who may just have an interest in the fields and in the college majors alike. We are currently running a recycling campaign for used electronics. From the desktop computers donated, we plan to extract useful parts and build computers to donate to people who cannot afford them for school. We also host game nights, and we have sectioned the club in such a way that students who are most knowledgeable in a certain field lead their committee of that field, so that all computer science domains covered within our organization are led by passionate and driven individuals."
What do you enjoy most about the Computer Science Association?
"I really like the group we have brought together with the Computer Science Association. Though we do not have many events currently, it is still always nice seeing everybody together and talking and even using the club as a method of collaboration and study for other projects or questions that they have. My initial goal of creating a space for students to interact with each other outside of classes has been a delightful success, and I am very excited to see how it grows!"
In your opinion, what makes the University of Dubuque special?
"I think UD is a hidden gem of a university. Though it isn't huge like some of the others in our state, we have a very kind and close community where faculty and students are always willing to help each other. I transferred here from the University of Iowa, and I can comfortably say that UD feels more like home. I can see the tenacity and enthusiasm from our professors in the classes that they teach. You get the feeling that they're here because they truly believe in the virtue of education and love what they teach, rather than just treating it like a job. I'll never forget the time I've had at UD and the impact it has had on me; academia will be something that I'll surely miss after I've graduated."