Spartan Sustainable Shells Provide New Option for UD's Campus
By Stacey Ortman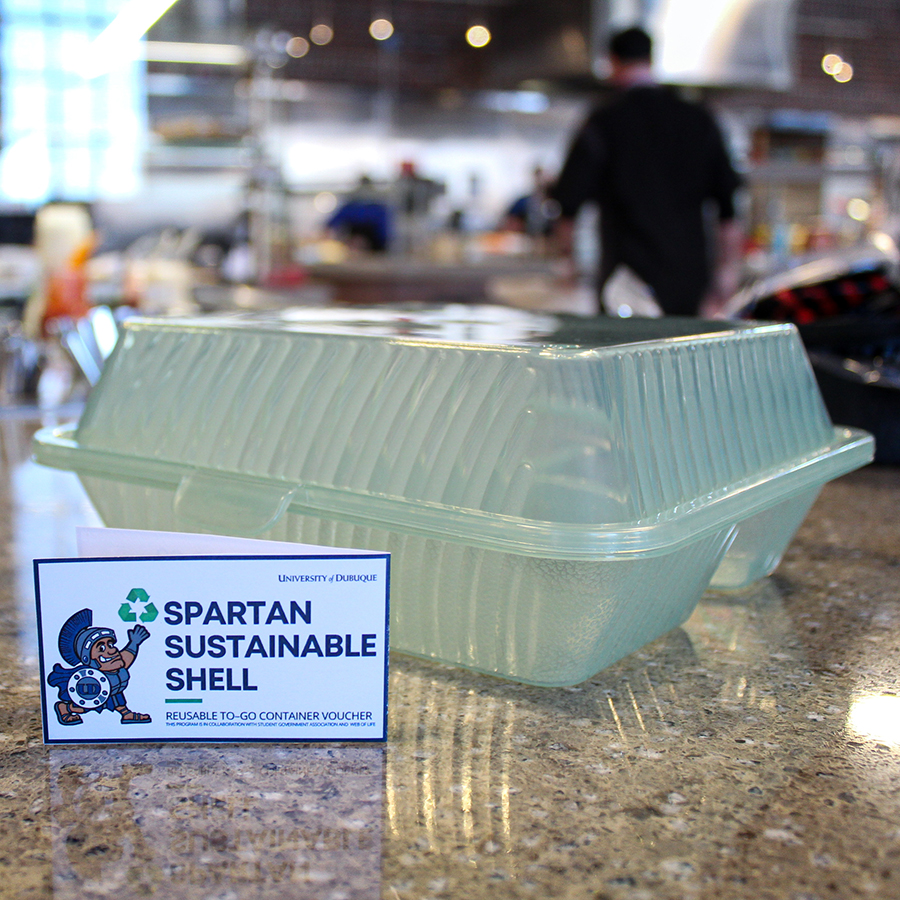 DUBUQUE, Iowa - A new program at the University of Dubuque to conserve natural resources and reduce landfill waste through reuse started with students.
"They were excited about making a lasting, positive impact here on campus and in our larger world," said Joshua Chamberland, stewardship and sustainability coordinator at UD and advisor of Web of Life.
Launched today, Spartan Sustainable Shells is a reusable to-go container program for anyone who orders to-go food on campus from the Barbara and Jack Smeltzer Dining Hall in Peters Commons, CRWC Health Bar in Chlapaty Recreation and Wellness Center, and CyberCafe in Heritage Center. People who want to participate in the program need to ask for a Spartan Sustainable Shell when ordering food and pay a $5 one-time deposit. They can return their shell at any of the participating dining locations to swap it for a clean one or a voucher for future use. At the end of the academic year, people can get their deposit back when they return their voucher or shell.
"If you regularly get food to-go as part of your daily routine, this is an excellent opportunity for you to make a positive impact in our world by conserving natural resources and reducing landfill waste. Small daily actions across our entire campus add up to big cumulative impacts," Chamberland said.
Elissa Dynes, president of the Student Government Association, researched how other universities used reusable to-go containers on their campuses after a meeting over winter break among Dining Services' Chef Andy Mettert and Nancy Dodge, Department of Athletics Wendi Wipperfurth, and SGA's Campus Advancement Committee.
"The main goal of SGA's Campus Advancement Committee is to facilitate modifications to ease student stress, so we were discussing some food service updates for the spring semester," said Dynes, a senior political science and theatre double major.
Elissa and Maryn Winders, secretary of SGA and member of Web of Life, met with Dining Services and Chamberland the first week of spring semester to create a plan to implement reusable containers at UD. In addition, Winders, a junior biology major, presented the program idea to Web of Life.
"They loved the concept and even helped us decide on a name. I'm grateful to have been able to collaborate with such an amazing group of students that are committed to seeing positive changes here at UD," Winders said.
For Mettert, the opportunity for Dining Services to support another student initiative was exciting.
"Projects like this allow us to have an impact with the campus community through education about the food/waste cycle," Mettert said. "It is great to work with groups that are excited about something and who really want to make a difference. Their excitement is contagious."
Spartan Sustainable Shells is different from a similar program offered on a limited basis several years ago. The new program is in collaboration with SGA and Web of Life.
"This has been an exciting and hopeful experience for me! All these different stakeholders coming together to share their personal expertise towards a common goal is exactly how we're going to save our world," Chamberland said. "From the students expressing their interest in global issues and topics that are important to them, to Chef Andy and the Dining Services team finding a way to sanitize all these containers, to the Office of University Relations helping spread the word of this exciting campus opportunity - when we all work together, anything is possible."