Spartan Start to Help New Students Get Connected to Life at UD
By Stacey Ortman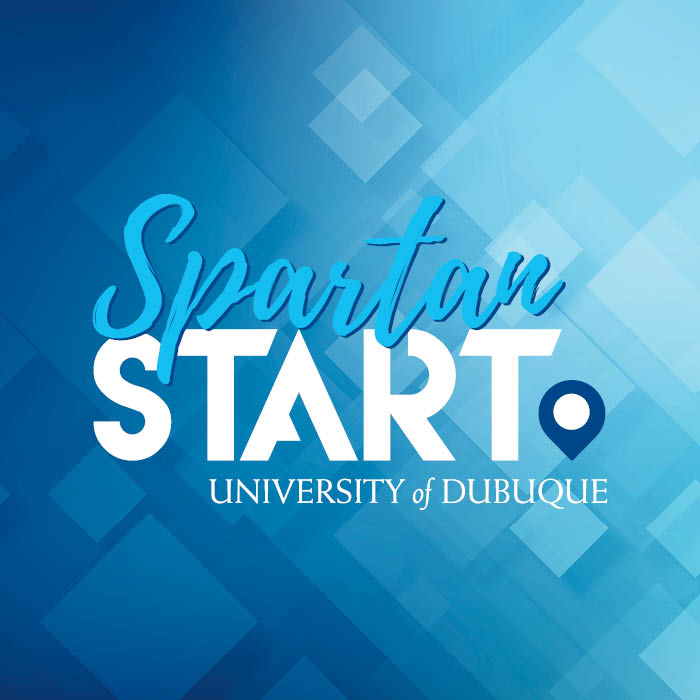 DUBUQUE, Iowa - Engaging informational sessions and lively activities are the hallmarks of Spartan Start, the University of Dubuque's orientation and welcome program for new students.
"We are counting down the days until you arrive at the University of Dubuque, and we can't wait to welcome you to your home away from home. Whether you are a first-time college student or transferring from another institution, Spartan Start will help get you connected and comfortable with life at UD. With opportunities to connect with other students, learn your way around campus, participate in UD traditions, and discover ways to get involved on campus, Spartan Start is a sure way to start this upcoming school year off strong," said Rochelle Morgan (C'18, MAC'22), director of student engagement and services.
Spartan Start will be held Monday, August 21, 2023, and Tuesday, August 22, 2023. Activities include a group photo on Chalmers Field, a special visit and welcome from UD President Jeffrey F. Bullock, PhD, resource sessions, a Dubuque community night at Backpocket Dubuque, experiential learning activities, a Unity Barbecue, and more!
Although orientation is optional for transfer students, it is highly recommended. Fall 2023 transfer students may attend both days or select a one-day option for Monday, August 21, 2023.
Before Spartan Start begins, first-year students will move into their residence halls. First-Year Move-In Day will be held Sunday, August 20, 2023. The day will include a University Welcome Dinner for students and their families/guests as well as evening entertainment and residence hall meetings for the newest Spartans. Fall sport student-athletes will receive information from their coaches about move-in dates.
For more information about Spartan Start and/or First-Year Move-In Day, please visit www.dbq.edu/FYE.
New Students: Click "Spartan Start" to preview the schedule.
Transfer Students: Click "Spartan Start for Transfer Students" to preview the schedule and pre-register for activities.
Families/Guests: Click "Spartan Start for Families" to preview the schedule and pre-register for the University Welcome Dinner and family programming events on Sunday, August 20, 2023.
For questions or concerns related to parking on campus, please contact the Office of Safety and Security at 563.589.3333. Parking will also be covered during Spartan Start.