Run the Runway Against Human Trafficking to be Held at the Dubuque Regional Airport
By Stacey Ortman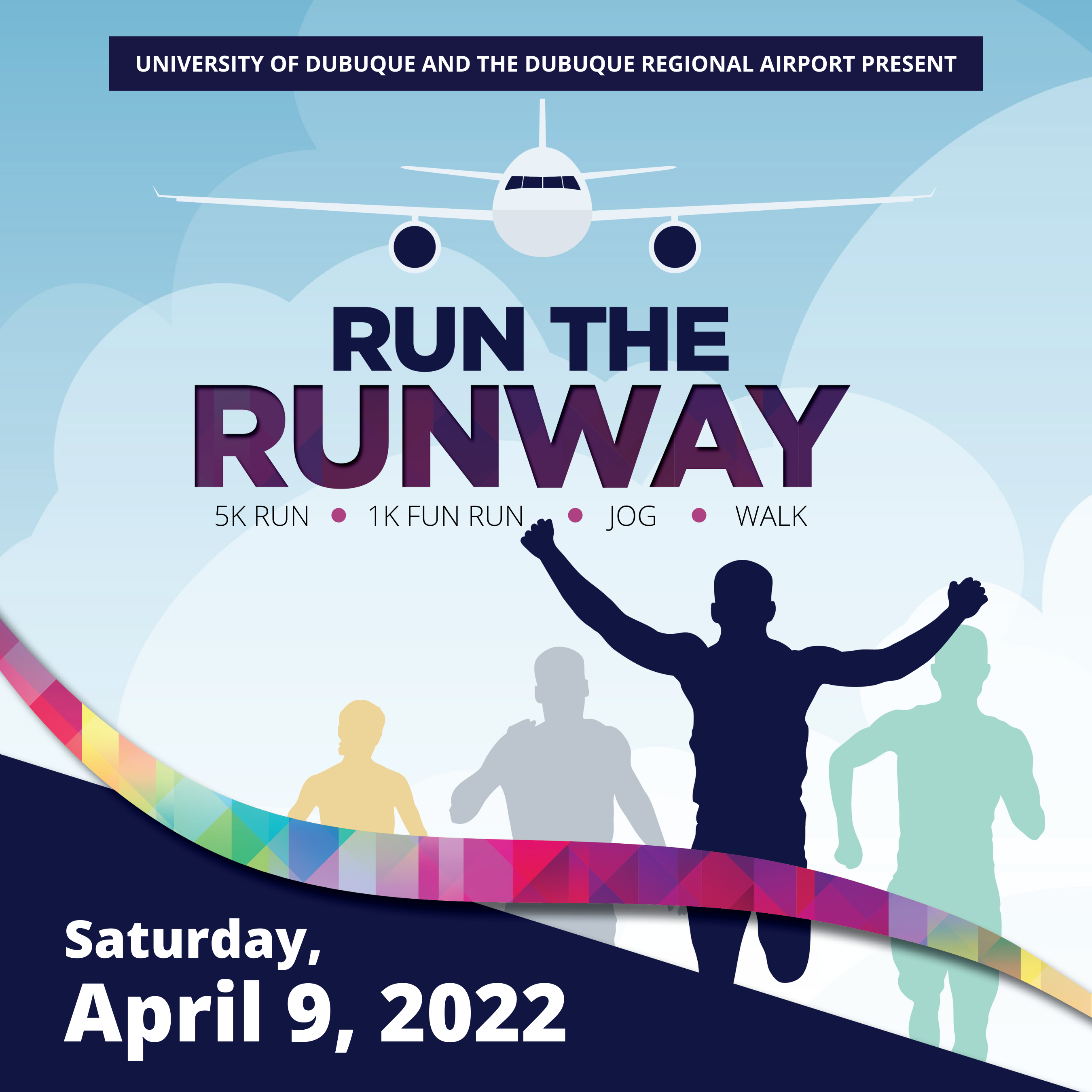 DUBUQUE, Iowa - The University of Dubuque's Spartan Nation Liberation Foundation, a student organization committed to combatting human trafficking, and the Dubuque Regional Airport will host their third Run the Runway Against Human Trafficking. Participants will run the runways and taxiways on Saturday, April 9, 2022, at the airport, 10884 Airport Road. Proceeds will support the fight against human trafficking.
Check-in and registration will begin at 8:15 a.m. The race will start at 9:00 a.m. There will be a smaller 1K fun run/walk course as well as a 5K run/jog/walk course.
Cost of the event is $15 and includes a T-shirt, food, and water. The online registration deadline is Sunday, April 3, 2022, at 11:59 p.m. To register, please visit https://bit.ly/3qG4Zq1. Participants can register the day of the event; however, the fee increases to $20 and a limited number of T-shirts will be available.
"Annually, Spartan Nation Liberation Foundation cohosts Run the Runway with the Dubuque Regional Airport, an event in which the community is invited to run a 5k directly on the runway. Airplanes are often used to transport trafficked persons across international borders, so the eagerness of the airport to cohost an anti-human trafficking event is huge - preventing human trafficking begins with knowing it even exists. We also invite other organizations to host tables so that the community is able to get more resources and information about human trafficking. Additionally, any funds received are used to help trafficking survivors, either directly or through the funding of survivor resources. Run the Runway is a really great way to become more knowledgeable about human trafficking and to aid trafficking survivors," said Molly Smith, co-president of the Spartan Nation Liberation Foundation
Run the Runway Against Human Trafficking is sponsored by the Spartan Nation Liberation Foundation, Alpha Eta Rho - Delta Upsilon Chapter, UD Flight Team, UD Chapter of Women in Aviation, and the Dubuque Coalition Against Human Trafficking.
The event will be held rain or shine, no refunds. Strollers, wagons, and service animals are welcome.
"Airport and airline employees are on the frontlines of the fight to end human trafficking. Recent data suggests that more than 60 percent of trafficking victims move through airports during the course of their exploitation. Recognizing trafficking victims can be hard, even though many are hidden in plain sight. Events like Run the Runway are not only fun events for the community - they are also learning events. The University of Dubuque's Spartan Nation Liberation Foundation will have informational signage along the route on how to be aware, what the statistics are, how you can help," said Todd Dalsing, director of the Dubuque Regional Airport.
The National Human Trafficking Hotline is available 24 hours a day, 365 days a year at 888.373.7888.
For more information, please email Kim Hilby, advisor of Spartan Nation Liberation Foundation, at KHilby@dbq.edu.