Regenerative Garden Provides Produce for Campus
By Stacey Ortman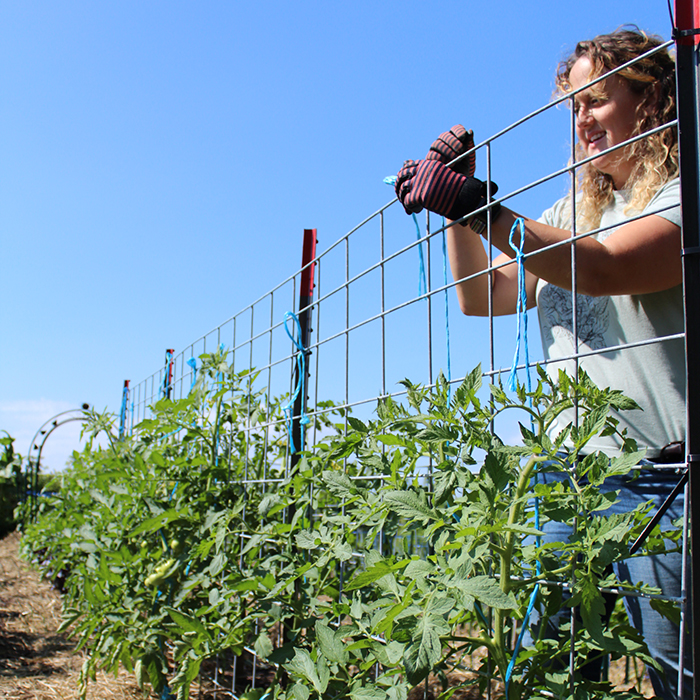 DUBUQUE, Iowa - University of Dubuque Theological Seminary student Danielle Postma harvested nearly 200 pounds of tomatoes on a recent Tuesday from a new University of Dubuque-owned regenerative garden that will be used in campus dining operations.
"I've been surprised by how much stuff is producing. I just really didn't have anything to compare it to coming in so that's been really cool, especially the tomatoes. They are just wild. They are very happy tomatoes," Postma said.
The Regenerative Agriculture Institutional Production Plot was started in May 2022 at the University of Dubuque's Wolter Woods and Prairies Environmental Stewardship and Retreat Center as a collaborative project to grow food sustainably for campus. Tomatoes, bell peppers, and onions were planted in the approximately 2,200-square-foot regenerative garden. Postma, a senior master of divinity student and graduate assistant, tends to the plot.
So far, 730 pounds of ripe tomatoes, 58 pounds of green tomatoes, 65 pounds of peppers, and 229 pounds of yellow onions have been harvested for Dining Services.
"Once we established what should be planted and how it would be taken care of from start to finish ... it's like magic! Fresh tomatoes and other surprises just show up and we get to cook with them," said Andrew Mettert, director of Dining Services.
On Monday, September 12, 2022, the harvest was shared with the campus community during the Sustainable Salsa Celebration. Between CyberCafe in Heritage Center and the Barbara and Jack Smeltzer Dining Hall in Peters Commons, people could sample ingredients from the regenerative garden at a DIY pico-making station as well as in chips and salsa, pizza, fried green tomatoes, BLT sandwiches, and more.
"I'm thrilled our institution is bringing vegetables to a dining event during the academic year. Oftentimes that is the most cited reason as to why campus agriculture or campus gardens don't work is because the summertime has the least amount of people on campus. There's the perception that the food won't be eaten when its being harvested. What we're doing is we're able to show the growing season and the eating seasons can overlap in some way. And that's what I'm really excited about. The efforts that were put in this summer show that the food can hold over even if we're just eating it during the fall semester. That's still eating our own food from the garden," said Joshua Chamberland, MPA, stewardship and sustainability coordinator at UD.
Even before the Sustainable Salsa Celebration, tomatoes from the garden had been used in meals on campus for sandwich toppings and sauces. Other harvested items were frozen for later use in soups, marinara, and other sauces.
The regenerative garden was funded by the UDTS Student Council and the UD Student Government Association.
Elissa Dynes, a senior politics and theatre double major who is president of SGA, said the regenerative garden was a good opportunity for the campus community to know that UD is trying to be more sustainable as a campus.
"This is basically the legacy that we leave for future generations to come," Dynes said.
The regenerative garden combined learning from the sciences to promote lives of active service and holistic ministry. As a seminary student, Postma also viewed the project through a theological lens. She said it has been really profound to put something tangible into some abstract theological concepts like the idea that people can be centered on themselves and their own experiences.
"Having to tend to a garden of that scale made it clear that I'm not the center of that whole process. That's been an interesting perspective as we lean into there's very little control I have what happens in that. I have a new respect of the individuality of plants and other things. I know that might sound a little silly. But when you're interacting with the same tomato plant and pepper plant that we planted with our hands in the soil and watched them grow and interact with them, they sort of take on this special identity and that has been really fun," Postma said.
Her theological roots have spread throughout her time in the garden. When the garden was planted, a small prayer service was held to bless the work and the plants.
"I like to acknowledge prayers are answered sometimes and I think that the success of this can be an answered prayer," Chamberland said.
Postma also talks and sings to the plants.
"Generally, I would just sing whatever was in my head at the moment, but every day when I leave I sing the doxology. It's a hymn that talks about all creatures praising God. It felt appropriate," Postma said.
Her family - husband, Mike, and children, Casey, Reid, Lucy, and Sloane - have visited Wolter Woods and Prairies to help plant and harvest the regenerative garden. Numerous others have also helped with the success of the garden including Green Iowa AmeriCorps, Dubuque Metropolitan Area Solid Waste Agency, Dining Services, Web of Life, SGA and UDTS Student Council members, UDTS faculty, John and Alice Butler Summer Research Fellowship recipients, Eric Nie (C'15), environmental specialist at Wolter Woods and Prairies, and more.
"It has been really fulfilling to have the opportunity to work with so many stakeholders on this type of project and also have an opportunity to participate in a local food system," Chamberland said, adding. "To see that we can make an impact in how much food we eat on campus has been really rewarding."
The regenerative garden is expected to continue to grow throughout September and possibly into October depending on weather. Once the crop is harvested, cover crops will be planted to protect the soil from erosion.
"The earth worms are doing their work making all the structure and channels in the soil so by doing the no till garden, we'll keep that intact," Nie said.
Chamberland said the hope is to make the regenerative garden a regular part of UD.
"While it may seem like a drop in the bucket of how many tomatoes that we're actually eating throughout the year, we are still reducing the amount of conventionally grown tomatoes and other produce with what we produce on campus," he said.