Puppeteers to Bring Fairy Tale to Life at Heritage Center
By University Relations Staff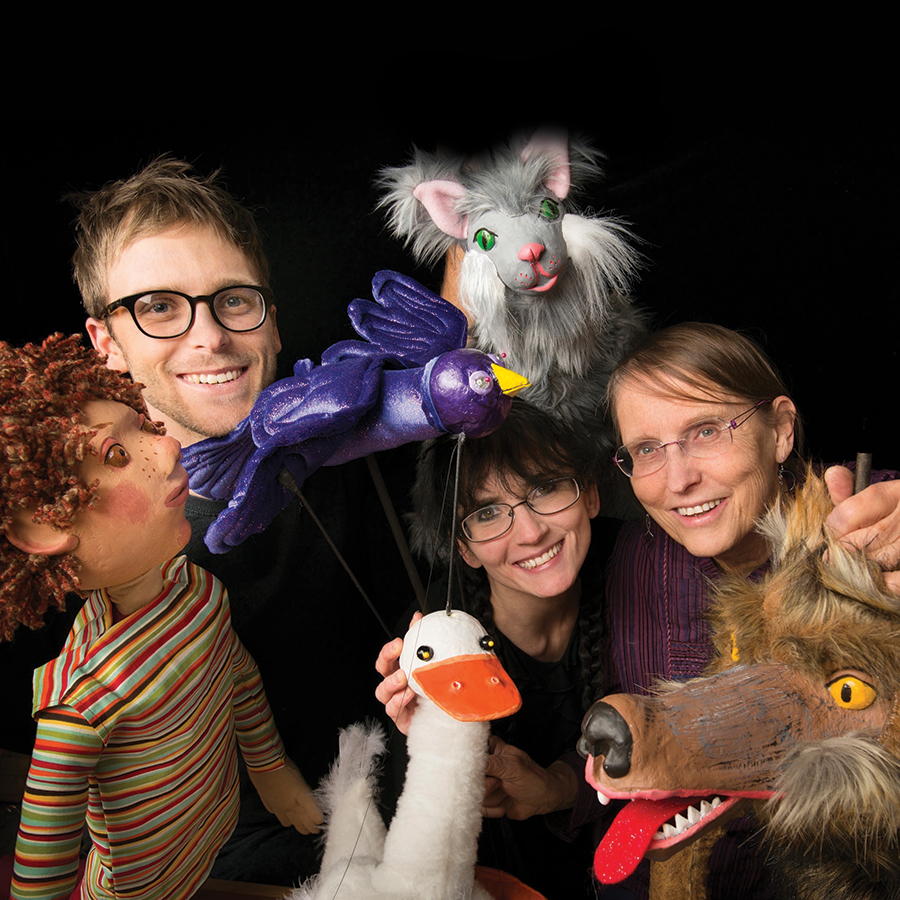 DUBUQUE, Iowa - Watch Peter outsmart the wolf in Peter and the Wolf, performed by Eulenspiegel Puppets, at the 10th annual Live at Heritage Center Performing Arts Series at 1:00 p.m. Saturday, November 5, 2022, in Babka Theatre, Heritage Center on the University of Dubuque campus.
WHAT:
Peter and the Wolf
WHEN:
1:00 p.m. Saturday, November 5, 2022
WHERE:
Babka Theatre, Heritage Center, University of Dubuque
TICKETS:






- Public: $15
- UD Affiliates (UD Faculty and Staff, UD Alumni, Parents of Current UD Students, Military/Veterans, Groups of 10 or More): $10
- UD Students: First ticket $5; additional tickets $10
- Children: $9
- Children 3 and Under: $5 lap seat
Listen to Sergei Prokofiev's beloved music as Eulenspiegel Puppets use beautifully crafted large tabletop puppets and rod puppets to tell this classic tale of a young boy, his grandfather, his pets, and the creatures that live in the meadow and the forest.
Three puppeteers will bring this fairy tale, written by Prokofiev in 1936, to life - cultivating a musical appetite in children and introducing them to instruments of the orchestra.
Eulenspiegel Puppeteers are known for witty scripts, original and expressive puppet designs, evocative music, strong graphics, and soft-sculpted, hand-dyed scenery.
In 1974, Eulenspiegel Puppet Theatre was founded as a touring puppet troupe. Founding member Monica Leo was joined by Teri Jean Breitbach in 1975, and the two performed as a duo until the 1990s when they began to incorporate musicians and other puppeteers. Throughout the years, Eulenspiegel Puppeteers have performed at six national Puppeteers of America Festivals, numerous regional festivals, a national festival in the former German Democratic Republic, international festivals in Austria, Germany, Japan, and the Czech Republic, and national festivals in Germany. Additionally, they have toured in Germany, Japan, Austria, and 31 of the 50 states in the US.
Celebrate Peter and the Wolf before the show with "Page to Stage: Peter's Instruments" in October with the Dubuque County Library. Participants who attend "Page to Stage" will make a homemade instrument and receive one free child's admission with the purchase of an adult admission to Peter and the Wolf. There are three program opportunities for children in kindergarten through fifth grade: 4:30 to 5:30 p.m. Wednesday, October 26, 2022, at the Dubuque County Library, Peosta Branch, 4:00 to 5:00 p.m. Thursday, October 27, 2022, at the Dubuque County Library, Epworth Branch, and 6:00 to 7:00 p.m. October 27 at the Dubuque County Library, Holy Cross Branch. Register by Thursday, October 20, 2022, at https://www.dubcolib.org/.
Tickets for Peter and the Wolf can be purchased from 11:00 a.m. to 2:00 p.m. Monday through Friday and 90 minutes prior to events at the Farber Box Office, Heritage Center, University of Dubuque, 2255 Bennett Street; by calling 563.585.SHOW; or by visiting www.dbq.edu/HeritageCenter.
New this season, the Heritage Performing Arts Loyalty System (H-PALS) allows patrons to earn rewards. For every $200 spent on eligible events, patrons receive one free ticket (valued up to $50) to their choice of eligible event. For more details, please visit www.dbq.edu/heritagecenter.
Conlon Construction is the presenting sponsor of the 2022-2023 Live at Heritage Center Performing Arts Series.