Peer Support Workshop Promotes a Model of Students Helping Students
By Stacey Ortman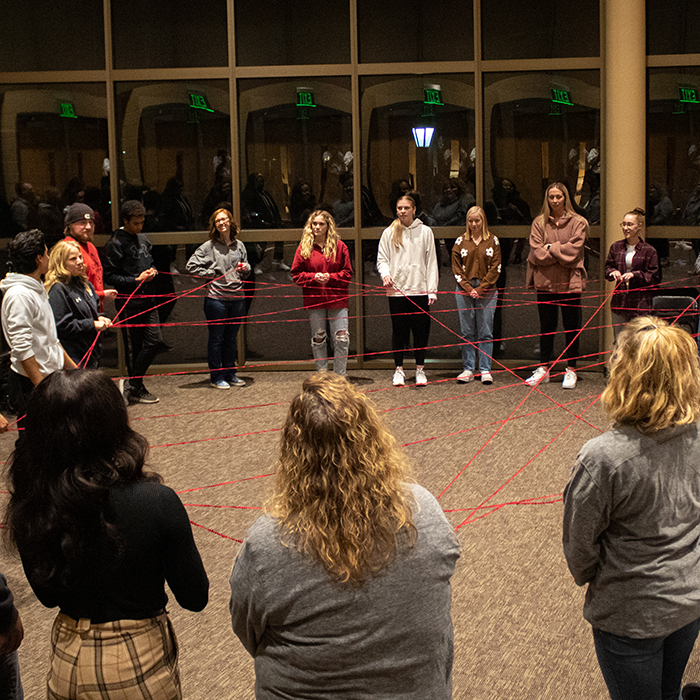 DUBUQUE, Iowa - With a single strand of red yarn, participants of the inaugural Peer Support Workshop at the University of Dubuque created a "Web of Connections" to illustrate how they are all connected in some way if they take time to get to know each other. It was one of many powerful activities during the three-day workshop in which around 20 students were taught the tools necessary to assist their peers as they face situations and conflicts that may affect their brain health.
"It's very important to have people willing to be open-minded and wanting to include and care about other people, and we have the power to do that," said Anna McMullen, a first-year biology major from Streator, Illinois.
The Peer Support Workshop, held Friday, November 18, 2022, through Sunday, November 20, 2022, in Heritage Center, was a collaboration in academic, social, and emotional support. The workshop trained students to advance their listening, communication, and problem-solving skills.
"When facing obstacles, peers turn to their peers first. It is important that we intervene at their level, and as a university, we must also recognize that when students are faced with problems, depression, and other brain health issues, very little learning happens," said Jane Boge, academic success coach who coordinated the workshop.
The workshop covered a variety of topics such as conflict resolution, self-care, cultural intelligence, and brain health. Liza Johnson, MAOM, director of personal empowerment, and Anne Funke, MA, adjunct faculty and personal empowerment trainer, presented a session on emotional intelligence that focused on normalizing emotions. For Johnson, normalizing brain health requires normalizing emotions.
"It's important that students understand emotions are not good or bad. Some emotions may seem more unpleasant than others; however, all emotions serve an important purpose. As a peer supporter, they can use and apply this information to help themselves and others," Johnson said.
Kevin Cattani, PhD, director of the Master in Management - Sport Management program and professor of sport marketing and management, led multiple sessions including one about problem solving.
"As a male and as someone who's connected to campus, it's important to me for the students to know that there are adults that care about them outside of their sport, or outside of their club, or outside of their major... To be able to help the students that are already being looked to to feel more prepared for that, to me, is what it means to grow into an adult," Cattani said.
Students were nominated to participate.
"I was glad to see that someone was thinking about me and I was making an impact in someone's life," said John Innamorato, a junior business major from Antioch, Illinois.
He was stunned when it was shared during the workshop that some people who attend college feel like they never built any connections.
"I just hope that this workshop can help us make an impact in those people's lives and make them feel like they are part of the community," Innamorato said.
The Peer Support Workshop was funded by Marty and Nancy McNamer. Since the death of their son Joey, they have been committed to ending the stigma around brain health and will often be seen sharing their personal story and emphasizing how words matter.
For those who attended the workshop, that message was a powerful one.
"The student participants were focused, engaged, and inspired to use the tools that were taught in this workshop to support their peers. There is such a huge range of issues that come up in the lives of college students which interfere with their academic learning," Boge said, adding, "The Peer Support Workshop participants now know what they can do to help others to be proactive when facing problems, problem solve, protect and provide for their own self-care, and know when to refer someone to a professional when brain health is compromised or immediate attention is necessary. Great connections were made for a peer-supported environment and movement to begin."
For questions regarding the Peer Support Workshop, please contact Jane Boge at JBoge@dbq.edu.