Organist Dexter Kennedy to Perform at John and Alice Butler Pipe Organ Recital Series
By University Relations Staff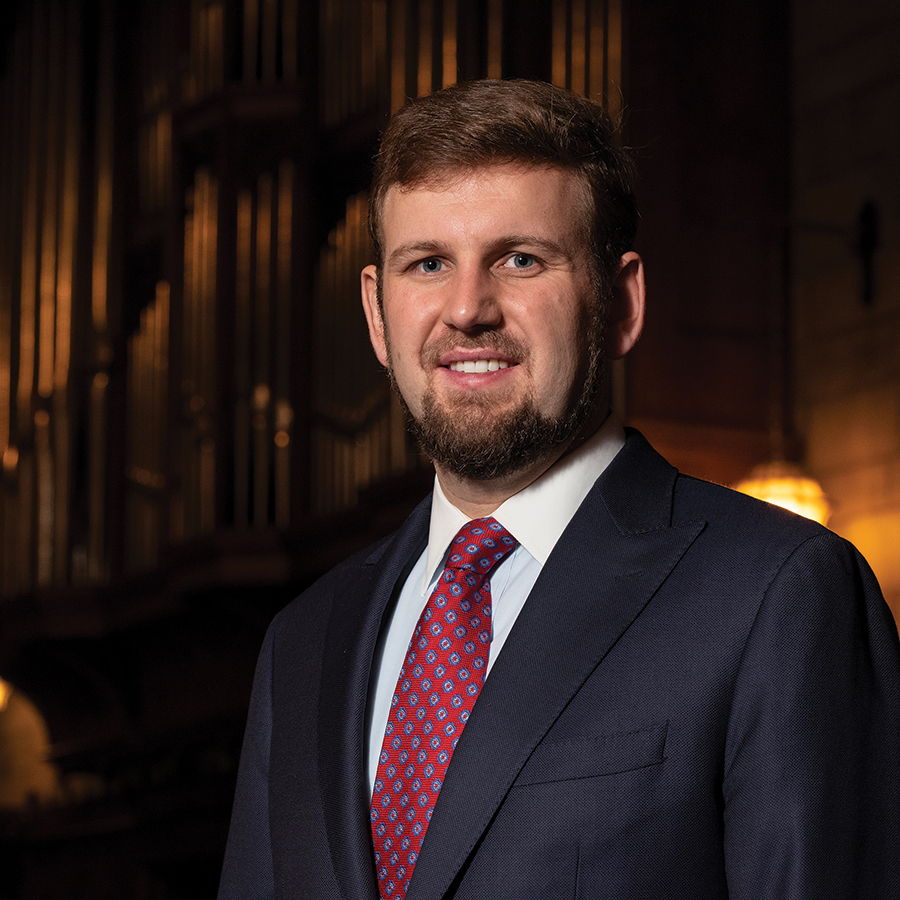 DUBUQUE, Iowa - Organist Dexter Kennedy will perform at the second annual John and Alice Butler Pipe Organ Recital Series at 3:00 p.m. Sunday, October 16, 2022, in John and Alice Butler Hall, Heritage Center on the University of Dubuque campus. The recital is a part of the 10th annual Live at Heritage Center Performing Arts Series.
WHAT:
Dexter Kennedy, Organist
WHEN:
3:00 p.m. Sunday, October 16, 2022
WHERE:
John and Alice Butler Hall, Heritage Center, University of Dubuque
TICKETS:




- Public: $15
- UD Alumni, Parents of Current UD Students, Military/Veterans, Groups of 10 or More: $10
- UD Faculty, Staff, and Students: First ticket free. Additional tickets $10
Ticket prices increase by $5 at midnight the day of the event.
As the winner of the Grand Prix d'Interpretation at the 24th Concours International d'Orgue de Chartres, Kennedy has established himself internationally as "one of the greatest organists of our times," according to Iceland Monitor.
Kennedy is an active recitalist throughout North America and Europe, having performed in cathedrals, churches, and concert halls including Notre Dame de Paris, Paris, France; Berliner Dom, Berlin, Germany; St. Bavokerk, Haarlem, Netherlands; Slovak Philharmonic Hall, Bratislava, Slovakia; Chartres Cathedral, Chartres, France; Grossmunster, Zurich, Switzerland; Chichester Cathedral, Chichester, England; Hallgrimskirkja, Reykjavik, Iceland; Basilica of St. Nazaire, Carcassonne, France; Narbonne Cathedral, Narbonne, France; Auditorio Manuel de Falla, Granada, Spain; San Luigi Dei Francesi, Rome, Italy; St. Willibrordus Basilika, Echternach, Luxembourg; and Bergen Cathedral, Bergen, Norway.
His performances have been heard at the St. Albans International Organ Festival, the 51st Bratislava Music Festival, the Bergen International Organ Festival, the Conference of Roman Catholic Cathedral Musicians, the Bach en Bogota Festival, and two regional conventions of the American Guild of Organists. Kennedy frequently performs as organist with the Boston Symphony Orchestra, joining the ensemble for three concert cycles in the 2018-2019 season, including a performance at Carnegie Hall in March 2019. Recent concert highlights include Wichita State University, Cornell University, Montreal Bach Festival, Arizona State University, and a series of performances of Handel's Messiah with the Detroit Symphony Orchestra.
Kennedy holds the artist diploma from the Oberlin Conservatory of Music, where he was a pupil of James David Christie, and a master of music degree from the Yale School of Music and Institute of Sacred Music. He has taught organ at The College of Wooster and the Oberlin Conservatory of Music. He currently serves as the director of music at Trinity-by-the-Cove Episcopal Church in Naples, Florida.
Kennedy is represented by Seven Eight Artists.
The day before his performance, on Saturday, October 15, 2022, Kennedy will host a masterclass from 9:30 a.m. to 11:30 a.m. in Butler Hall. Those interested in playing should contact Charles Barland, DMA, university organist and professor of music at UD, at CBarland@dbq.edu or 563.589.3564. The masterclass is free and open to the public to attend.
The University of Dubuque dedicated the John and Alice Butler Pipe Organ in May 2021. The custom-crafted instrument with over 3,000 pipes was designed for teaching, solo recitals, and performances with other musical ensembles. UD Trustee John Butler (DHL'17) and his spouse, Alice (DHL'17), gifted the pipe organ. Dobson Pipe Organ Builders from Lake City, Iowa, built and installed the pipe organ - the 97th new organ built by the firm.
Tickets for Dexter Kennedy, Organist, can be purchased from 11:00 a.m. to 2:00 p.m. Monday through Friday and 90 minutes prior to events at the Farber Box Office, Heritage Center, University of Dubuque, 2255 Bennett Street; by calling 563.585.SHOW; or by visiting www.dbq.edu/HeritageCenter.
New this season, the Heritage Performing Arts Loyalty System (H-PALS) allows patrons to earn rewards. For every $200 spent on eligible events, patrons receive one free ticket (valued up to $50) to their choice of eligible event. For more details, please visit www.dbq.edu/HeritageCenter.
Conlon Construction is the presenting sponsor of the 2022-23 Live at Heritage Center Performing Arts Series.