One-Man Historical Play to Recount Remarkable Story of Famed 'Nazi Hunter'
By University Relations Staff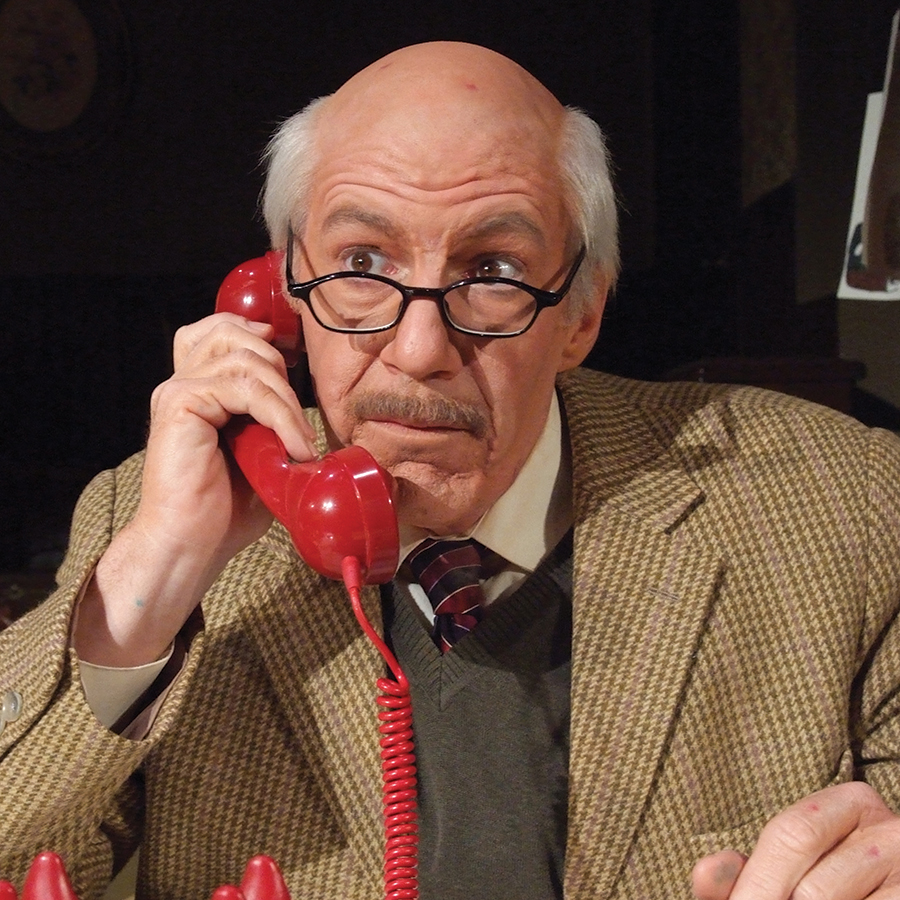 DUBUQUE, Iowa - Wiesenthal: The Nazi Hunter will recount the remarkable story of famed "Nazi Hunter" Simon Wiesenthal at the 10th annual Live at Heritage Center Performing Arts Series at 7:30 p.m. Monday, September 19, 2022, in John and Alice Butler Hall, Heritage Center on the University of Dubuque campus.
WHAT:
Wiesenthal: The Nazi Hunter
WHEN:
7:30 p.m. Monday, September 19, 2022
WHERE:
John and Alice Butler Hall, Heritage Center, University of Dubuque
TICKETS:





- Public: $27
- UD Affiliates (UD Faculty and Staff, UD Alumni, Parents of Current UD Students, Military/Veterans, Groups of 10 or More): $22
- UD Students: First ticket free. Additional tickets $22.
Free UD student admission made possible by the UD Wendt Center for Character Education.
Ticket prices increase by $5 at midnight the day of the event.
Upon retirement, Wiesenthal welcomes one final group of students to his Jewish Documentation Center in Vienna, Austria. With warmth, wit, and surprising humor, this charming man known as "the Conscience of the Holocaust" recounts the remarkable story of how, after cheating death at the hands of Hitler's dreaded SS, he dedicated his life to tracking down and bringing to justice the worst mass murderers in human history. Wiesenthal recounts, like a gripping spy thriller, how he solved his most sensational cases, unmasking such notorious villains as Franz Stangl, Franz Murer, and the infamous "Architect of the Holocaust," Adolf Eichmann. It's time for this 20th century hero to finally leave the war behind, but not before warning his young friends that, although progress has been made since the dark days of Nazi Germany, the human savage still lurks just below the wafer-thin veil of civilization.
Playwright Tom Dugan will bring this one-man play to life. Dubbed by critics "a national treasure," for the past 20 years Dugan's one-man plays have thrilled audiences from Beverly Hills to Off-Broadway and have been the subject of numerous PBS programs throughout North America. His play Wiesenthal was honored with nominations for the New York Drama Desk Award, New York Outer Critics Circle Award, and Los Angeles Ovation Award. It won the Los Angeles Critics Circle Award and was featured on PBS's Theatre Close-Up. A feature film of Wiesenthal produced by Dan Kaplow is in the works.
Dugan's other critically acclaimed plays include Tevye in New York!, Tell Him It's Jackie, The Trial of Robert E. Lee, The Ghosts of Mary Lincoln, and Oscar to Oscar.
A Q&A discussion with Dugan will follow the performance.
Tickets for Wiesenthal: The Nazi Hunter can be purchased from 11:00 a.m. to 2:00 p.m. Monday through Friday and 90 minutes prior to events at the Farber Box Office, Heritage Center, University of Dubuque, 2255 Bennett Street; by calling 563.585.SHOW; or by visiting www.dbq.edu/HeritageCenter.
New this season, the Heritage Performing Arts Loyalty System (H-PALS) allows patrons to earn rewards. For every $200 spent on eligible events, patrons receive one free ticket (valued up to $50) to their choice of eligible event. For more details, please visit www.dbq.edu/HeritageCenter.
Conlon Construction is the presenting sponsor of the 2022-2023 Live at Heritage Center Performing Arts Series.
To request a season brochure, please call the Farber Box Office at 563.585.SHOW.