K-12 Educators Empowered in Engineering Design Activities
By Stacey Ortman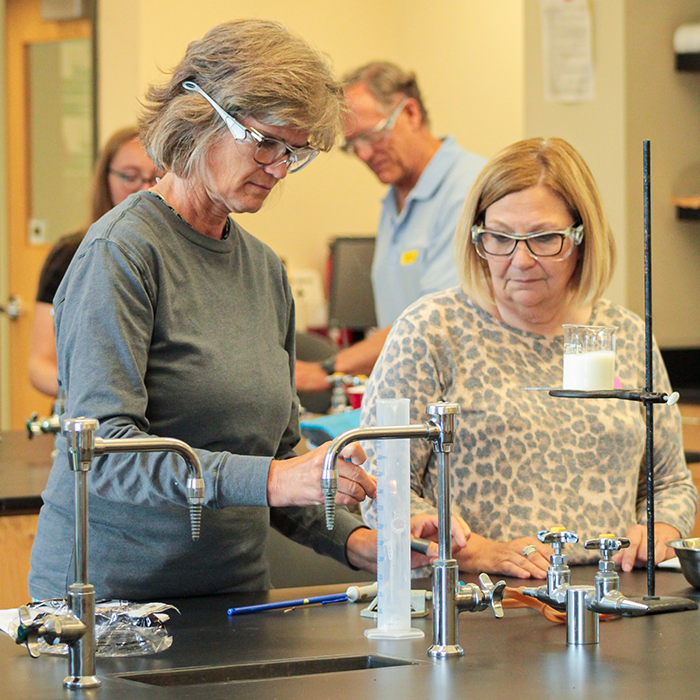 DUBUQUE, Iowa - Around 20 K-12 educators from across Iowa gathered at the University of Dubuque this week to attend the Iowa Leadership in Engineering Design (ILED) program through the 2022-2023 STEM Scale-Up Program.
Ken Turner Jr., EdD, professor of science education and ILED project director at UD, said the program embraced the need to empower teachers in the use and creation of engineering design activities as promoted by the Next Generation Science Standards for every student, every grade level.
"Engineering design is extraordinarily engaging for the students," Turner said, later adding, "It's really exciting that it's all coming together and I and our leadership team can give back to the community this way."
Educators learned about engineering design (a problem-solving lens for K-12 education), received grade-level banded kits of engineering design activities, worked through activities in those kits, and created their own activities unique to their classrooms, curriculums, schools, and communities on Aug. 1-2.
"It puts my mind in a student view instead of being in teacher mode all the time," said Megan Algreen, K-6 STEM teacher at Van Meter Community School District in Van Meter, Iowa.
Emily Smith, teacher librarian and computer science educator at St. Pius X Elementary School in Cedar Rapids, Iowa, has taught STEM for a while in various areas and hopes to provide an extracurricular class for students. She said she enjoyed learning the new unit and seeing how it can be adapted to any grade level.
The ILED leadership team is composed of award-winning teachers, researchers, and presenters. Turner is joined by Jeffrey Haverland, EdD, associate professor of teacher education at UD; Brenda Kaufmann, second-grade teacher at North Tama County Community School District in Traer, Iowa; Anne Turner, kindergarten teacher at North Tama County Community School District; and Jesse Wilcox, PhD, assistant professor of teacher education at the University of Northern Iowa.
UD student Meghan Prohaska, a senior math in secondary education, psychology, and mathematics triple major from Cedar Rapids, helped the ILED leadership team ensure the grade-level banded kits were aligned to the Next Generation Science Standards and other standards through her John and Alice Butler Summer Research Fellowship project, titled "Integration of Engineering Design, Math, Science, Literacy, and 21st Century Skills."
"Being a math major, we scaffold a lot. Everything intertwines. Everything connects. Finding a way to intertwine standards into one program, I feel like was the best way to show that you can teach multiple things within one concept. So, taking a kinesthetic project and being able to teach math, science, literacy within it and still finding ways to adapt to those students who are not traditional learners," Prohaska said.
She said it was exciting to be part of the ILED program.
"It's nice to finally see it in action. This is my first time experiencing actual professional development. Going into education, this is going to be me every summer, broadening my topics and finding new ways to teach kids. It's just exciting to see this is my future right here," Prohaska said.
Funding for the STEM Scale-Up Program was provided from the Iowa Governor's STEM Advisory Council and the Iowa State Legislature. UD and the ILED leadership team received a grant of around $75,000. Most of that money goes back to the educators to attend the workshop.
Turner and the ILED leadership team will take the workshop on the road to host 25 K-12 Iowa educators at Des Moines Area Community College Carroll Campus later this month. There will be a one-day assess, evaluate, and improve workshop at regional sites across Iowa in the spring.
"Our campus community is a Christian one, and I would say God has more to do with this than I did. I really think that if I had somehow been unavailable, God would have found another way to bring these educators together. Their creativity and their energy I feel really, really fortunate to be a part of ... I feel like this is a matter of all these energies coming together and God has an idea of where He wants this to go and it is going there. If I can help that to happen, I'm really happy," Turner said.