Gifts of Gratitude Shared During Gratitude Week
By Stacey Ortman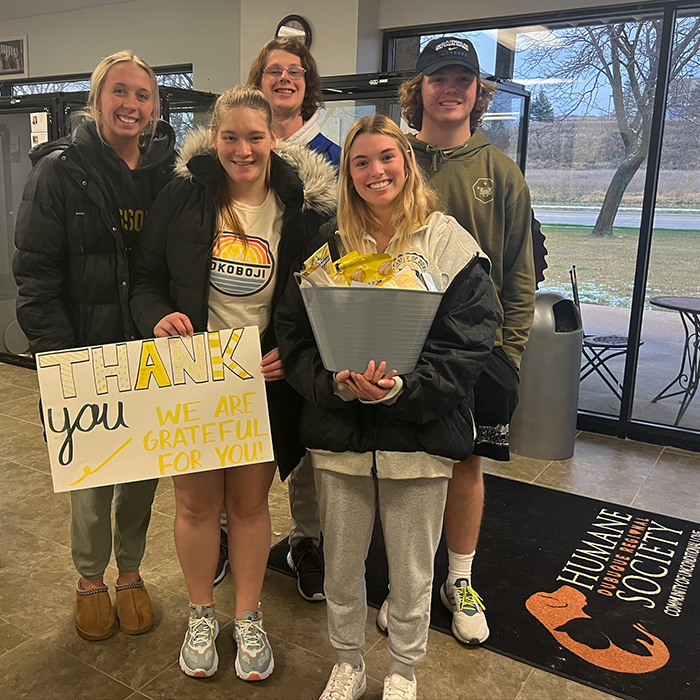 DUBUQUE, Iowa - A "sunshine basket" for the Dubuque Regional Humane Society, muffins and donuts for the Office of Admission, donations for Resources Unite, a care basket for Babka Bookstore, pizza for a local fire station, and much more! Gratitude Week, organized by the University of Dubuque's Wendt Center for Character Education, is an annual event held in November to show gratitude.
"Gratitude Week is one of my favorite things that the Wendt program does. It is cool to see all of the different groups we come up with each year on and off campus to thank for everything they do. Seeing the smiles on people's faces is extremely rewarding. Most of the time, they are not expecting to get anything, so they are super thankful," said Emma Powell, a senior communication major from Eldridge, Iowa, who is in her third year as a Wendt Character Scholar.
Gratitude Week started around 15 years ago when Wendt Character Scholars decided to highlight gratitude as central to good character after studying gratitude and grace. Annalee Ward, PhD, director of the Wendt Center for Character Education, shared how Gratitude Week provides an opportunity to recognize those individuals who might not be otherwise recognized.
"Too often workers, volunteer or paid, seem invisible. People in our lives every day that make things better for us or enable us to do our jobs might not be recognized. We like to take this time to encourage everyone to look around at all the good work happening. There are almost 500 non-profits in Dubuque. That represents a lot of people focused on doing good in addition to much great for-profit work," Ward said, adding, "Who can we show appreciation to? Who can we help by brightening their day with words or deeds of gratitude? How can we be a light of God" love and live good character in such a way as to impact those around us?"
Powell's group had a long list of possible ideas for their off-campus group. They ultimately chose to share a gift of gratitude with the Dubuque Regional Humane Society.
"Our mentor group thought that they were a unique choice and that we could go about thanking them in many different ways. The Dubuque Regional Humane Society has great people on their staff that take such good care of animals that are in need of so much help. They also have welcomed volunteers in order to continue their efforts as a no-kill humane society. They do so much to connect the community with the animals," Powell said.
The Dubuque Regional Humane Society received a large thank you card signed by many of the Wendt Character Scholars and their mentors as well as a "sunshine basket." With a yellow theme, the basket included items such as Lysol wipes and hand sanitizer, snacks and drinks, and chocolates and candies.
"Brightening the day of the staff and volunteers at the humane society was our goal because working with animals who may be hurt or sick is not an easy thing to do, so this was something we could do to make them smile," Powell said.
Gratitude Week has a lasting impression not only on those who receive gifts of gratitude but also on those who give the gifts.
"I am always delighted to hear from the scholars how much they enjoy the preparation and the enacting of their projects. They discover joy in delivering thank you cards, little treats, and other expressions of thanks. They often comment on how they start out thinking they're doing something good but then discover that it bounces back to make themselves feel more grateful, more joy," Ward said.