Explore Dubuque's Rich History in Education During Dubuque College Visit Week
By University Relations Staff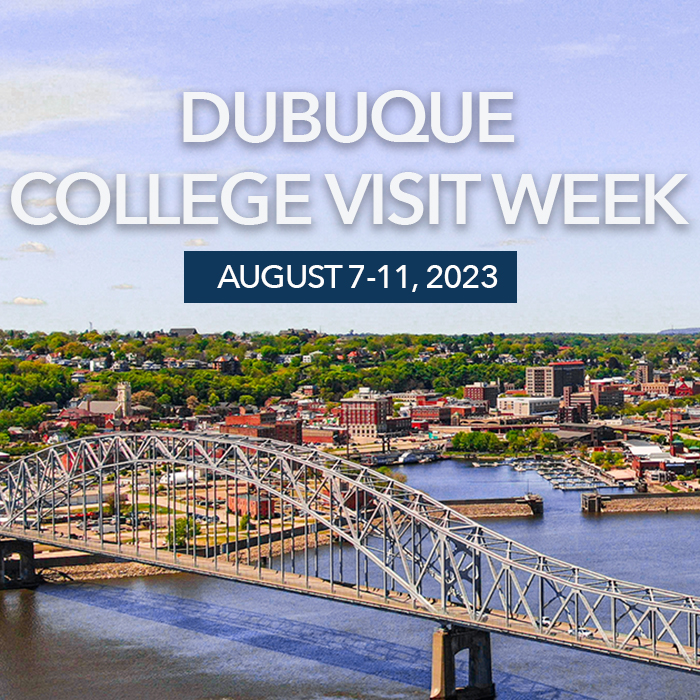 DUBUQUE, Iowa - Dubuque's five colleges are once again partnering and working with the Dubuque College Access Network (DCAN) to highlight the city's rich history in education and offer in-person campus visits during the third annual Dubuque College Visit Week held Monday, August 7, 2023, through Friday, August 11, 2023.
Dubuque has a long history of providing students from across the country and international community with a diverse choice of higher educational opportunities with Clarke University, Emmaus Bible College, Loras College, Northeast Iowa Community College, and the University of Dubuque.
"College changes everything, and it is worth it! There is no better way to learn about a college than visiting and seeing the campus. The educational opportunities in Dubuque are exceptional and this is a great way kick off the academic year and your college search process. The experiences the students enjoy during Dubuque College Visit Week will serve them well as they begin building a foundation of knowledge from which to choose their dream school and/or career path," said Robert Broshous, MBA, vice president of enrollment management and dean of admission at UD.
There is no better way to learn about a college than visiting the campus and seeing for yourself how the educational experience can be transformative. Dubuque College Visit Week offers perspective students the opportunity to tour campuses with student ambassadors, meet with professors about their academic area of interest, learn about student activities and programs, meet with admission counselors, and more.
Visit one or all five colleges to learn more about the educational experiences right here in Dubuque that can help prepare students for their future. Please follow https://dbqcollegevisit.com/ to schedule multiple visits during Dubuque College Visit Week. Click here if you would like to schedule a visit to the University of Dubuque.