Donate, Don't Dump to Encourage UD Students to Donate During Moveout
By Stacey Ortman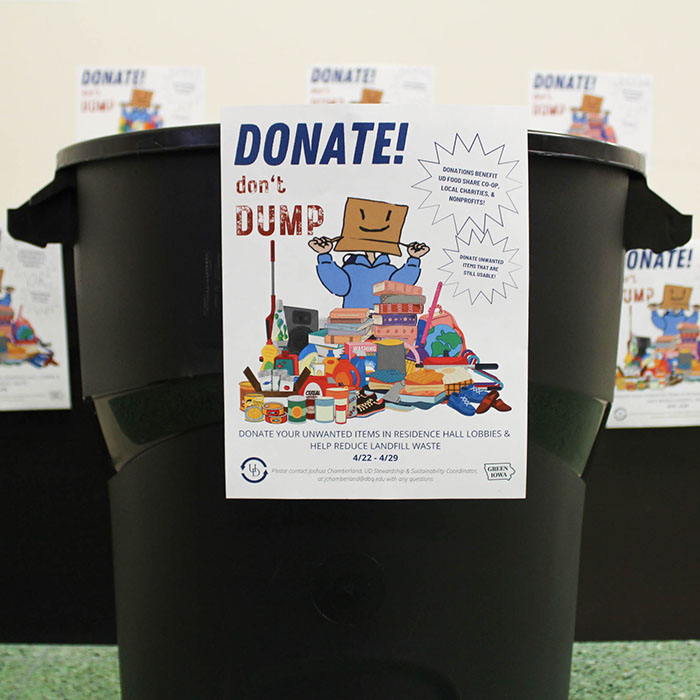 DUBUQUE, Iowa - As University of Dubuque students move out of their residence halls, they will be encouraged to consider donating unwanted items to reduce landfill waste by reuse.
Donate, Don't Dump will be held Earth Day, Friday, April 22, 2022, through Friday, April 29, 2022. There will be donation containers in the lobbies of Aitchison Hall, Cassat Hall, Chlapaty Hall, Donnell Hall, and Park Village Apartments. Donated items will be taken to the Dubuque Rescue Mission, Goodwill, St. Vincent de Paul Society of Dubuque, and area food pantries.
"We're asking students who are moving out to think intentionally about the items that they no longer want and, if those items can still be usable in some way, to consider donating them instead of throwing them in the dumpster," said Joshua Chamberland, MPA, stewardship and sustainability coordinator at UD.
Anticipated donated items include clothing, nonperishable food, and residence hall essentials like clip fans, desk lamps, and small coffee pots. Chamberland plans on donating any lightly used school supplies to the School Supply Recycling Drive hosted by the Academic Success Center and TRIO - Student Support Services, which will re-distribute donated school supplies to students in the fall.
"Donate, Don't Dump is a way to live out an important part of UD's Mission - stewardship," said Adam Hoffman, PhD, head of the Department of Natural and Applied Sciences and professor of environmental chemistry. "In the sciences, we talk about the importance of learning outside the classroom, and here is a great example of educating students on the importance of turning waste into resources. Don't throw away things because you're done with them, but donate them so others can use them. The act of donating, in addition to feeling good, also saves money and resources. To make the world a better place we need to throw less things away. There is a famous saying that, 'there is no away.' Everything you throw away goes somewhere."
Donate, Don't Dump has roots with an alumna. Freedom Malik (C'15) held a Dump or Donate event on campus in 2015.
"Freedom was really a trailblazer in the event that she started and nearly single-handedly implemented for a couple years. It really was amazing and opened the eyes for many faculty, staff, and students about the sheer amount of waste that occurs at the end of the semester. Her passion for stewardship still lives on today through Donate, Don't Dump," Hoffman said.
The year-end donation drive is held in collaboration with Green Iowa AmeriCorps, which held a similar event informally on campus last year.
Sam Harris, outreach coordinator with Green Iowa AmeriCorps, said the goal this year was to partner with area universities to institutionalize Donate, Don't Dump with the help of staff like Chamberland.
As an alumna, Liz Swan-Guzman (C'17, MDiv'21), audit coordinator with Green Iowa AmeriCorps, saw this type of initiative happen in the past without a designated staff person.
"Having the university at large behind Donate, Don't Dump (now) and caring about this system, I think that will make a big difference. If we don't change the culture of how moveout happens, it won't be sustainable in the long run," Swan-Guzman said.
Donate, Don't Dump aims to have students think about sustainability during the moveout process.
"I hope that students will keep everything they brought. I'd love to see these items keep being used and loved for the intended purpose," Chamberland said. "The reality is I realize we don't need all the items we bring to campus, so my goal is that items that are still usable or can be loved by somebody else have that opportunity."