"DART Senior Art Show" Celebrates Graduating Seniors' Thesis Projects
By University Relations Staff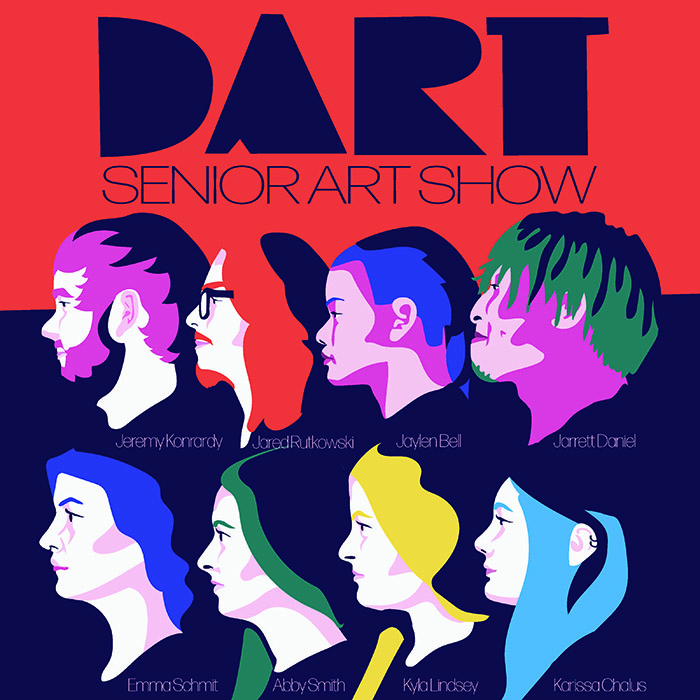 DUBUQUE, Iowa - The newest exhibit at the University of Dubuque's Bisignano Art Gallery brings together a variety of work by graduating seniors in the Department of Digital Art and Design.
"DART Senior Art Show" is free and open to the public through Friday, August 11, 2023. The exhibit includes work in illustration, animation, 3D design, motion graphics, and digital artwork that showcase the wide range of skills the students cultivated during their time at UD.
Each senior worked throughout the semester in their Senior Seminar class to showcase the breadth and voice of their talent. The students chose an independent and specific theme for their collection of pieces accompanied by a brief artist statement to describe their vision and passion as an artist as well as their gratitude to everyone who helped them achieve their goal.
Poster artwork for "DART Senior Art Show" was designed by Abby Smith, a senior digital art and design major who will graduate Saturday, April 29, 2023.
Gallery hours are noon to 5:00 p.m. Monday through Friday. The art gallery is also open in conjunction with all major events in John and Alice Butler Hall, Heritage Center.
"DART Senior Art Show" is also available virtually at http://gallery.dbq.edu.