Chelsea Chen, Guest Organist, to Perform at John and Alice Butler Pipe Organ Recital Series
By University Relations Staff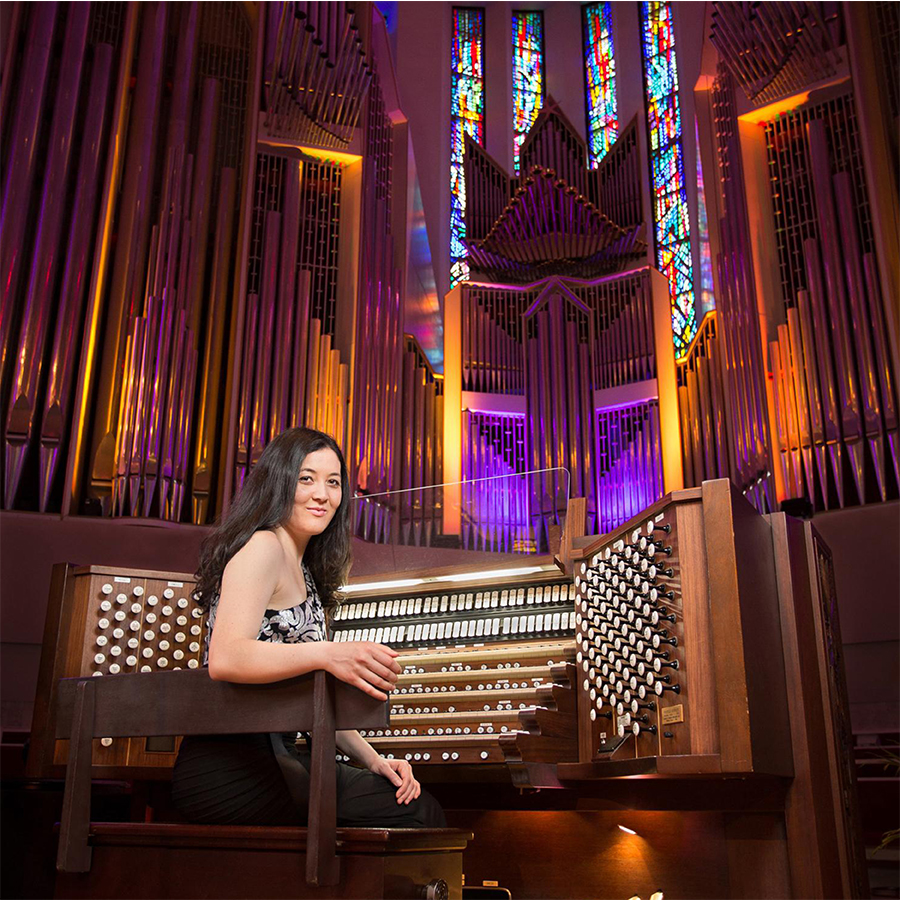 DUBUQUE, Iowa - Chelsea Chen, a guest organist, will perform at the John and Alice Butler Pipe Organ Recital Series at 7:30 p.m. Monday, April 4, 2022, in John and Alice Butler Hall, Heritage Center. The recital is a Live at Heritage Center Performing Arts Series special event.
WHAT:
Chelsea Chen, Guest Organist, Live at Heritage Center Performing Arts Series
WHEN:
7:30 p.m. Monday, April 4, 2022
WHERE:
John and Alice Butler Hall, Heritage Center, University of Dubuque
TICKETS:





- General Public: $15
- Alumni, Parents of Current UD Students, Military, and Veterans: $10
- UD Faculty and Staff: First ticket free. Additional tickets $10
- UD Students: First ticket free. Additional tickets $5
Ticket prices increase by $5 at midnight the day of the event.
Chen's dynamic playing has taken her to far corners of the world. Her solo concerts offer a unique mix of traditional organ repertoire along with piano/orchestral transcriptions and contemporary music.
She has performed with the Montreal Symphony Orchestra, San Diego Symphony, Singapore Chinese Orchestra, and the Lou Harrison Festival Rutgers Orchestra at Trinity Wall Street in Manhattan. In 2019, Chen performed one of the inaugural concerts on St. Thomas Church's new Dobson organ in New York City. She was also a featured artist in festivals in Beijing, China, Uppsala, Sweden, and Stuttgart, Germany.
Chen studied under Paul Jacobs and John Weaver at The Julliard School in New York, where she received her bachelor's and master's degrees. She also won the John Erskine Prize for academic and artistic achievement, awarded to one graduate per year. After college, Chen moved to Taiwan under a Fulbright scholarship, whereupon she collected folk songs and wrote organ solo and chamber music. She returned to the US to study with Thomas Murray at Yale University, where she earned an Artist Diploma. In 2009, Wayne Leupold Editions published her composition "Taiwanese Suite" to great acclaim.
Chen has recorded multiple CDs and her playing has been aired on CNN.com, "Pipedreams" from American Public Media, Hawaii Public Radio, and Taiwan's Good News Radio. Committed to new music, she has premiered works by composers throughout the world including Ola Gjeilo (Norway/US), Yui Kitamura (Japan/US), Paul Desenne (Venezuela), Roderick Gorby (US), Vincent Rone (US), and Viviane Waschbusch (Germany). Her compositions are available exclusively from Wayne Leupold Editions, Inc.
From 2013 to 2017, Chen was Artist-in-Residence at Coral Ridge Presbyterian Church where she performed and directed the concert series. She currently lives with her husband in Zürich, Switzerland.
A masterclass with Chen will be held from 9:30 a.m. to 11:30 a.m. Saturday, April 2, 2022. Students and area organists are invited to play any piece of organ repertoire. Those interested in playing should contact Charles Barland, DMA, university organist and professor of music at UD, at CBarland@dbq.edu or 563.589.3564. Additionally, Chen will perform on the pipe organ during UD's annual Convocation for Thanksgiving and Remembrance, a moving tradition for the campus community that provides an opportunity to remember those who have recently died, at 11:00 a.m. Monday, April 4, 2022.
UD dedicated the John and Alice Butler Pipe Organ on May 15, 2021. Designed for teaching, solo recitals, and performances with other musical ensembles, the pipe organ will expand students' musical horizons and enhance campus events for generations. UD Trustee John Butler (DHL'17) and his spouse, Alice (DHL'17), gifted the pipe organ. Dobson Pipe Organ Builders of Lake City, Iowa, built and installed the pipe organ - the 97th new organ built by the firm.
Tickets for Chelsea Chen, Guest Organist, can be purchased from 10:00 a.m. to 5:00 p.m. Monday through Friday and 90 minutes prior to events at the Farber Box Office, Heritage Center, University of Dubuque, 2255 Bennett Street; by phone at 563.585.SHOW; or online at www.dbq.edu/HeritageCenter.