Celebrating the Class of 2022: Reginald Johnson Jr.
By Stacey Ortman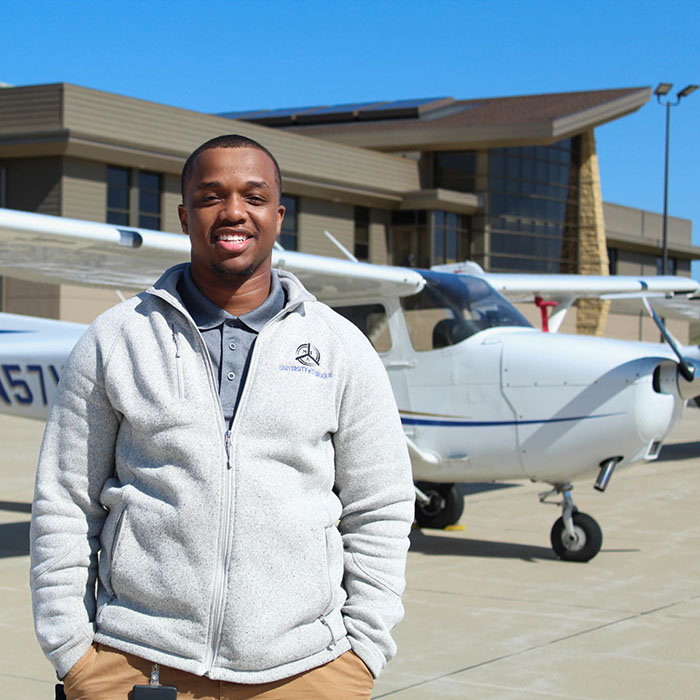 DUBUQUE, Iowa - As the University of Dubuque prepares to celebrate the academic accomplishments of around 400 undergraduate, graduate, and seminary students at two commencement ceremonies on Saturday, April 30, 2022, we are honored to share some of their stories.
Reginald Johnson Jr. (C'22) will never forget the first time he flew an aircraft solo to his hometown of St. Louis, Missouri.
"Being able to fly over the city I grew up in my whole life and touchdown to see my family was just an amazing feeling that I can't even put in words. It was a blessing to see the smile on my parents' faces knowing the sacrifices they made for me are paying off," he said.
A flight operations major, Reginald will graduate with a bachelor of science degree at the University of Dubuque Spring 2022 Commencement. The ceremony will be held at 1:00 p.m. April 30 in the Chlapaty Recreation and Wellness Center. For those unable to attend in person, it will be streamed live at www.facebook.com/UDubuque and www.youtube.com/UDBQMedia.
Reginald has always dreamed of becoming an airline pilot and traveling the world.
"I would like to give myself the best chance to change the narrative, travel the world, see new things, and just enjoy life," he said, adding. "I have a passion for aviation and it brings me joy that no one could take away from me."
After a visit to the University of Dubuque, Reginald felt it was the right place for him to learn more about the aviation industry and become successful.
"I came for a tour of the football and aviation facilities. It was the only school I visited and for some reason I just knew it was the best place for me: not a huge school, great professor-to-student ratio, career opportunities, and limited distractions," he said.
Amid classes and flight schedules, Reginald teamed up with some of his peers and co-founded Minorities in Aviation. He had wanted to start a student organization for a while, but everything seemed to start to come together last year when Reginald was a junior.
"One day my junior year I just gave it a shot and started talking to other minorities to see how the idea sounded and they were excited about it, and we never looked back since," Reginald said.
Minorities in Aviation launched during the 2020-2021 academic year. Its purpose is to promote diversity and inclusion within the aviation industry via outreach and provide assistance to those who need it whilst establishing a mentorship and trust with fellow aviators. The student organization is open to anyone.
"It is a safe place for minorities and others to come together and speak their mind, ask for help, help others, and just create a bond with fellow members," Reginald said.
Minorities in Aviation is active on Instagram and can be found at @udubuquemia.
Although flying solo to his hometown will forever be Reginald's favorite memory as an aviation student, he said his second-best memory is his private pilot check ride.
"That's simply because I became a licensed pilot that day, and I was able to achieve a lifelong dream of becoming a pilot. Got to start somewhere, and that's why passing the private check ride was such a memorable moment. I'm forever grateful for the opportunity," Reginald said.
He is currently teaching future aviators as a part-time UD flight instructor. Reginald plans to transition to a full-time flight instructor after graduation and one day work for an airline or corporation.
"I plan on trying to live my best life while enjoying every step of the way, and hopefully one day I'll be able to fly for a flourishing airline or corporation," he said. "Also, I would like to continue making my loved ones proud and be there for them like they have been for me my whole life."
For more information about commencement, please visit www.dbq.edu/Commencement.