Celebrating the Class of 2022: Rachel Trader
By Stacey Ortman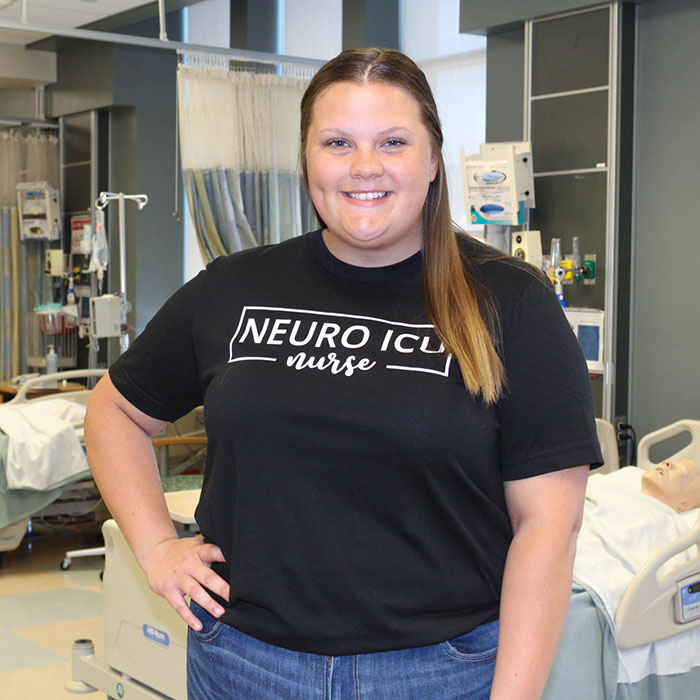 DUBUQUE, Iowa - As the University of Dubuque prepares to celebrate the academic accomplishments of around 400 undergraduate, graduate, and seminary students at two commencement ceremonies on Saturday, April 30, 2022, we are honored to share some of their stories.
As a child, Rachel Trader (C'22) was inspired by nurses.
"My dad was sick for most of my life. From a very young age, I watched wonderful nurses take care of him and our whole family. They inspired me to be a nurse and to help people's dads, husbands, and loved ones," she said.
Rachel and 15 nursing classmates will participate in the 2022 Bachelor of Science in Nursing Pinning Ceremony at 11:00 a.m. Friday, April 29, 2022, in John and Alice Butler Hall, Heritage Center. For those unable to attend in person, the ceremony will be livestreamed at www.facebook.com/UDubuque and www.youtube.com/UDBQMedia.
A nursing major, Rachel will graduate with a bachelor of science in nursing degree at the University of Dubuque Spring 2022 Commencement. The ceremony will be held at 1:00 p.m. April 30 in the Chlapaty Recreation and Wellness Center. It also will be streamed live at www.facebook.com/UDubuque and www.youtube.com/UDBQMedia.
For Rachel, who is from Morris, Illinois, the class sizes of UD's nursing program made it stand apart from others. She said a smaller cohort allowed her to have one-on-one time with professors and form close relationships with classmates as well as professional relationships with faculty.
"The environment really fosters a feeling of belonging," Rachel said.
That feeling of belonging extended beyond the classroom walls. This academic year, Rachel served as president of the University of Dubuque Student Nursing Association. The student organization strives to provide opportunities for pre-nursing and nursing students to connect with and serve the UD campus. It received the Student Organization of the Year Award at the 2022 Honors Convocation in April.
"Being the president of UDSNA has given me an enormous sense of pride. I'm so thankful to have been the president and to have the opportunity to mentor underclassmen. Some of my favorite memories include eating cake with all the nursing professors at my first staff meeting, sending three very deserving members of UDSNA to the National Student Nurses' Association's 70th Anniversary Convention in Salt Lake City, and presenting Madelyn Huschitt with the UD Student Nursing Association Scholarship during Honors Convocation this year," Rachel said.
Not one to limit herself, Rachel also took an active role on the Spartan's softball team.
"It takes a lot of dedication to be a nursing major and a softball player. I've spent many late nights in the library and a lot of hours reading on buses. But I think it's important to find a space that encourages you to be productive. For me, that place was a coffee shop. There's nothing that a good planner and a cup of coffee can't fix. Overall, I have to thank my coach, the nursing faculty, and the UDSNA exec board for their flexibility and encouragement," Rachel said.
She discovered one of the parallels between softball and nursing is that they both require teamwork, which she said can be difficult at times given different personalities and opinions.
"Some of the many lessons I've learned from my team include hard conversations are necessary for team and personal growth, trust is everything, no negative force can break your circle unless you let it, and how you do anything is how you do everything," Rachel said.
After commencement, Rachel plans to move to Rochester, Minnesota, and work at Mayo Clinic in the neuro intensive care unit.
For more information about commencement, please visit www.dbq.edu/Commencement.