Celebrating the Class of 2022: Nathan Fernandez
By Stacey Ortman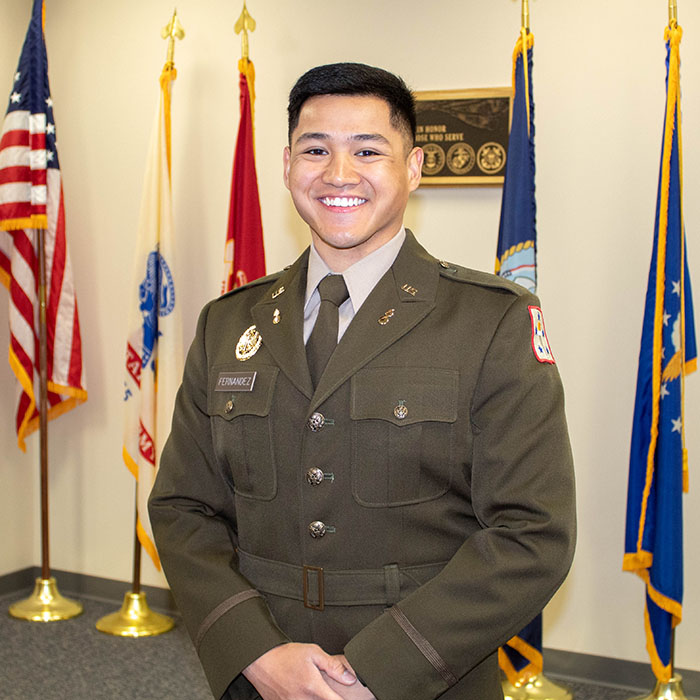 DUBUQUE, Iowa - As the University of Dubuque prepares to celebrate the academic accomplishments of around 400 undergraduate, graduate, and seminary students at two commencement ceremonies on Saturday, April 30, 2022, we are honored to share some of their stories.
Nathan Fernandez (C'22) was one of around 50 cadets nationwide to earn a slot to become an explosive ordnance disposal officer in the United States Army.
"Growing up on military bases, I've always known I wanted to be in the military," he said.
Nathan, whose father is in the United States Air Force, will be commissioned as a second lieutenant in the Ordnance Branch of the United States Army during the 2022 ROTC Commissioning Ceremony at 1:00 p.m. Thursday, April 28, 2022, in John and Alice Butler Hall, Heritage Center. Six graduating seniors will take an oath of office and have their new rank pinned on their uniform during the ceremony, which will be livestreamed at www.facebook.com/UDubuque and www.YouTube.com/UDBQMedia.
The UD ROTC program is offered through a partnership with the University of Northern Iowa and is open to students at UD, Clarke University, and Loras College. A college elective that students can try out for up to two years with no obligation, ROTC remains the broadest avenue for those seeking to serve as officers. ROTC provides students with a range of experiences such as leadership development, military skills, and adventure training while they work toward a degree.
"They like for their cadets to be involved on campus, so it has given me purpose to do things on campus during my time here," Nathan said.
Not only did he carry out leadership roles in ROTC, but Nathan was also vice president of the Student Government Association, on the Mediation Team, a member of the Asian Student Union, and a volunteer with the UD Food Share Co-Op. He was selected to study Arabic with Project GO in summer 2020, and he was awarded the Criminal Justice Award and the Student of the Year Award at the 2022 Honors Convocation in April.
"It really allowed me to broaden my world view and meet new people and see new perspectives. It all started because ROTC said go out there and join clubs," Nathan said.
The tradition of military support at UD began as early as fall 1918 when it hosted the Students' Army Training Corps. In 2004, the current UD ROTC program was reactivated after a 10-year hiatus.
A criminal justice major, Nathan will also graduate with a bachelor of arts degree at the University of Dubuque Spring 2022 Commencement. The ceremony will be held at 1:00 p.m. April 30 in the Chlapaty Recreation and Wellness Center. It also will be streamed live at www.facebook.com/UDubuque and www.youtube.com/UDBQMedia.
Nathan, a self-described military kid, was living overseas in Lakenheath, England, when he heard about the University of Dubuque. He spoke with an admission counselor, a faculty member, and an alumna. UD quickly became his top college after he learned there were other military kids on campus.
"Moving around a lot, I feel most at home with other military kids," Nathan said.
He received a national Army ROTC Scholarship that paid for his tuition as well as provided a book stipend per semester and an additional monthly stipend. UD is one of the few schools that also covers room and board for cadets who receive the scholarship and live on campus.
Nathan said he appreciates the leadership opportunities that ROTC has provided him.
"It has been nice because UD has been a very cadet-led program relative to other universities where their instructors do a lot of the heavy lifting for them. At UD, seniors are entrusted to plan events and instructors only step in when they need to," Nathan said.
Last semester, he planned the fall semester field training exercise as the cadet operations officer with his counterpart at the University of Northern Iowa.
"Having to plan a training exercise with someone about 90 miles away from you is challenging, but it teaches you to be a good communicator, it teaches you to compromise, and it teaches you to think ahead because you have to identify potential issues and find solutions to mitigate risks that come with military training exercises," Nathan said.
After commencement, he will stay in the Dubuque area to prepare cadets before they leave for Cadet Summer Training 2022 and recruit potential students and cadets for the University of Dubuque and for ROTC. Nathan plans to move to Virginia at the end of the summer for Basic Officer Leaders Course.
For more information about commencement, please visit www.dbq.edu/Commencement.