Celebrating the Class of 2022: Jawanza Evans
By Stacey Ortman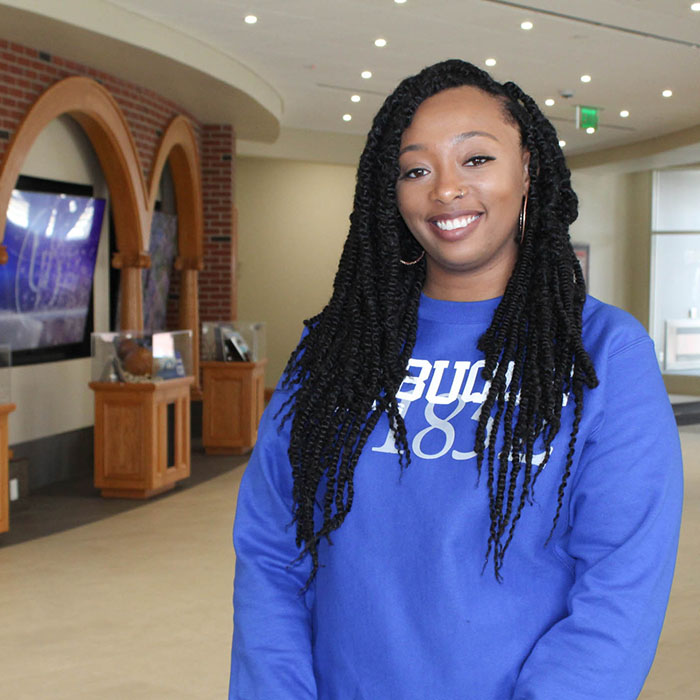 DUBUQUE, Iowa - As the University of Dubuque prepares to celebrate the academic accomplishments of around 400 undergraduate, graduate, and seminary students at two commencement ceremonies on Saturday, April 30, 2022, we are honored to share some of their stories.
Deep down, Jawanza Evans (C'22) knew her future included a college degree.
"I went many years telling myself that I could be successful without getting my degree. And as that is the fate of others, I knew that college was in the plans for me," she said.
After attempting to return to college in an online format, Jawanza realized an in-person class setting was the best fit for her and she enrolled in the University of Dubuque LIFE - Learning Institute for Fulfillment and Engagement program.
"The LIFE program gave me the very thing I needed: in-person classes at a pace that always kept me on my toes," Jawanza said.
A business major in LIFE - Dubuque, Jawanza will graduate with a bachelor of administration degree at the University of Dubuque Spring 2022 Commencement. The ceremony will be held at 1:00 p.m. April 30 in the Chlapaty Recreation and Wellness Center. For those unable to attend in person, it will be streamed live at www.facebook.com/UDubuque and www.youtube.com/UDBQMedia.
The LIFE program was designed specifically for adult learners who are at least 23 years old and who have three or more years of work experience. The program's accelerated, evening bachelor's and master's degree programs help balance studies, career, and family life in a five-week course format.
"The LIFE program gave me the ability to have a fresh start while still acknowledging my daily life. The program helped me in so many ways. When I first started the program, I had just become a single mother. On days I had class, the LIFE program offered on-campus daycare free of charge. The daycare would make sure my daughter had snacks and dinner and often put her down for bed until I was out of class at 9:00 p.m. When I needed extra help with assignments, papers, and presentations, I often used the academic center located right on campus. This gave me the resources and support needed to be successful and confident in my coursework," Jawanza said.
With help from LIFE faculty as well as some time management skills, Jawanza was able to balance her classes and homework with her family commitments and job as an administrative assistant to equity and human resources for the Dubuque Community School District.
"Many assignments and deadlines were listed ahead of time and reasonable in quantity to where I could schedule a few hours a week to dedicate to my studies. Many times, I would work on assignments at night when my home was quiet," Jawanza said.
LIFE - Dubuque enrolled its first students in 2009. The program expanded to Cedar Rapids, Iowa, in 2013, Tempe, Arizona, in 2017, and Meridian, Idaho, in 2020.
"The LIFE program is completely centered around your success. The program is designed to make having a life and earning a degree possible. When life got too chaotic, LIFE gave me the ability to pause without fear of losing credits or being dismissed from the university. The program was designed to be flexible and fit my lifestyle," Jawanza said.
After graduation, Jawanza plans to take her college education further. She will begin the master in management - communication management program this summer through the University of Dubuque LIFE - Dubuque.
"Multiple things inspired this transition. First, as I am finishing up my bachelor's I believe I finally have found what I feel is a passion and career goal. I decided that obtaining my master's would only fine-tune skills that I would be using consistently in my career role," Jawanza said, adding. "Another motiving factor was when I entered my last year in the program, I began taking master's courses to fill up spaces in my schedule. As I got closer to graduation, I would have completed a third of my master's program and would have less than a year to complete."
For more information about commencement, please visit www.dbq.edu/Commencement.