Celebrating 170 Years at Homecoming 2022
By University Relations Staff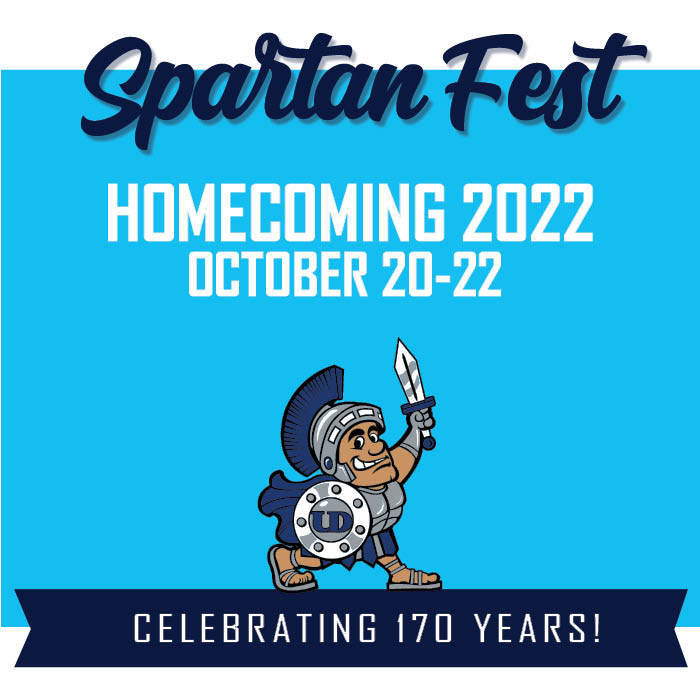 DUBUQUE, Iowa - The University of Dubuque will celebrate 170 years during Homecoming this week!
"Homecoming is truly my favorite time of year. It is a whirlwind of fun and excitement, from daily student events to honoring our investors and award recipients to celebrating milestone reunion years to watching the entire campus community come together in Spartan Spirit. There is nothing like the energy and joy that Homecoming brings to campus each year, and as we celebrate 170 years, I believe that this Homecoming is going to be unforgettable," said Katie Kraus (C'11), director for alumni engagement.
Student activities will be held Monday, October 17, 2022, to Saturday, October 22, 2022. Alumni events will run Thursday, October 20, 2022, through Saturday, October 22, 2022. Here are some highlights:
FRIDAY, OCTOBER 21
Open House at Wolter Woods and Prairies Environmental Stewardship and Retreat Center
Explore UD's newest property from 3:00 to 6:00 p.m. Enjoy a tour of the home, stroll through the trails, pick a pumpkin, and visit the community gardens, all while learning about the educational opportunities available to UD students. Transportation will be provided from campus.
"Wolter Woods and Prairies is a very special place that offers endless opportunities for our campus and students. From research and internship opportunities to an outdoor classroom and community gardens, this space has already become a treasured addition to UD. We are excited to welcome alumni and friends to see the property, meet student interns, explore the trails, and even pick a pumpkin during the open house. This is an event you won't want to miss," Kraus said.
Alumni Reunion Celebration - Recognizing the Classes of 1962 and 1972
The Classes of 1962 and 1972 will celebrate their 60th and 50th class reunions with a reception-style event from 5:30 to 7:30 p.m. in the Barbara and Jack Smeltzer Dining Hall, Peters Commons.
SATURDAY, OCTOBER 22
Alumni Awards Ceremony
Join UD President Jeffrey Bullock, PhD, as we honor the 2022 Alumni Achievement Award recipients from 10:30 to 11:30 a.m. in Babka Theatre, Heritage Center. This year's honorees are:
Alumna and Alumnus of Distinction Award: Suzanne (Luck) Preiss (C'72) and Jack Preiss (C'72)
Professional Achievement Award: Charmain Jackman (C'95)
Award of Merit: Louis Dettorre (C'10)
Service to Community Award: Heidi McGinness (MDiv'89)
Volunteer Recognition Award: Alvin "Al" Straatmeyer (C'54, BDiv'57)
Veterans Award for Distinguished Service: Cpl. Craig Downing (C'49)
Spartan Fest! Tailgate
Ramp up your Spartan Spirit before the football game and visit with classmates, friends, and the UD community. Bring the whole family for a fun afternoon - enjoy food from local food trucks, music, inflatable games, face painting, temporary tattoos, and other tailgate activities from 11:30 a.m. to 1:45 p.m. in Upper Finley Parking Lot and the Mercer-Birmingham Tent.
NOTE: Various items will be available for purchase from Buenie Bottoms Outdoor Grill, Deann's Java, Happi Hibachi, Myson's Tacos and Burritos, and Rockin 5K BBQ. Some vendors only take cash; an ATM will be available inside the Chlapaty Recreation and Wellness Center.
Spartan Football vs. Luther College
Show your Spartan Spirit and wear your favorite Spartan Blue attire as our Spartans take on the Luther College Norse. Football game begins at 2:00 p.m. on Chalmers Field.
Tony Danza: Standards & Stories
UD alumnus Tony Danza (C'72,, HON'04) will return to his alma mater for a special Homecoming performance of his hit live show, Standards & Stories, at 8:00 p.m. in John and Alice Butler Hall, Heritage Center. The one-night engagement also celebrates Danza's 50th class reunion.
Tickets can be purchased from 11:00 a.m. to 2:00 p.m. Monday through Friday and 90 minutes prior to events at the Farber Box Office, Heritage Center; by calling 563.585.SHOW; or by visiting www.dbq.edu/HeritageCenter.
For more Homecoming details, visit www.dbq.edu/Homecoming. Information will also be available at Homecoming Registration from 10:00 a.m. to 5:30 p.m. Friday, October 21, 2022, in the lobby of the Peter and Susan Smith Welcome Center or at the Alumni Registration Tailgate from 9:30 a.m. to 2:30 p.m. Saturday, October 22, 2022, in Upper Finley Parking Lot. To learn about student activities, students should check their UD email for Homecoming information in the Spartan Scoop.
"Whether you are returning to your campus home or participating virtually, we can't wait to celebrate Homecoming 2022 with our UD family. Happy Homecoming, and remember it is always a great day to be a Spartan," Kraus said.