Care and Compassion Center of UD Teaching and Learning Conference
By Stacey Ortman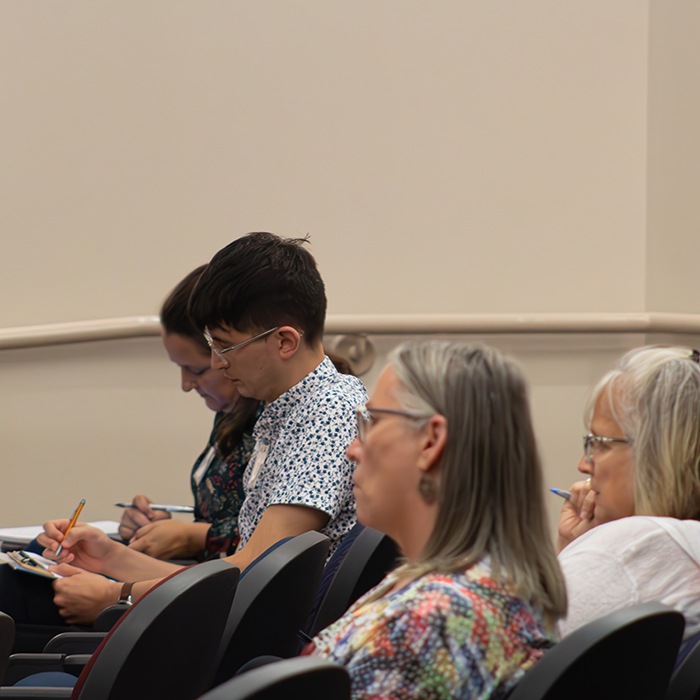 DUBUQUE, Iowa - University of Dubuque faculty, coaches, and staff attended the two-day UD Teaching and Learning Conference to welcome a new academic year and learn from their colleagues' methods to sharpen their teaching skills around a theme of care and compassion.
Held Tuesday, August 15, 2023, and Wednesday, August 16, 2023, the educational conference included a collaboration session titled "Cultivating a Culture of Care and Compassion" in which attendees rotated through three rooms to explore how they can collaborate across campus to create a culture of care and compassion.
"The University of Dubuque prides itself on being 'caringly intrusive' and this session allowed faculty, coaches, and staff to work through what that looks like," said Debra Stork, PhD, associate dean for teaching and learning.
The collaboration session included presentations from the Wendt Center for Character Education, the Smeltzer-Kelly Student Health Center, and the Academic Success Center.
"As we work to infuse good character into the UD culture, equipping faculty and coaches with resources and support is vital," said Annalee Ward, PhD, director of the Wendt Center for Character Education.
The Wendt Center's portion of "Cultivating a Culture of Care and Compassion" included mini presentations to showcase real-world examples. Adam Hoffman, PhD, head of the Department of Natural and Applied Sciences and professor of environmental chemistry, shared multiple examples of how he "cares to connect and connects with care" taking the time to learn students' names before class begins and communicating early and often with them. Kristen Eby, MM, head of the Department of Fine and Performing Arts and assistant professor of music, talked about the importance of a compassionate mindset that chooses to listen and care first before responding to the unexpected student crisis. April Elsbernd, EdD, head volleyball coach and athletics diversity and inclusion designee, presented framework the Wendt Center is piloting with the volleyball team to pursue a well team that functions with CARE - Compassion, Accountability, Respect, and Excellence.
"We hope coaches will be encouraged to keep the focus on not just winning but on helping student-athletes grow into people who practice CARE in all of their lives. We hope faculty know there are resources for them, and that they are reminded to engage with their students holistically," Ward said.
During the student health center's piece of the collaboration session, Regina Torson, MD, FAAFP, medical director for the student health center, explained how adverse childhood experiences (ACEs) affect people into adulthood, discussed what it means to be trauma informed in higher education, and shared resources available to help faculty, coaches, and staff recognize and how to best handle crisis or stress situations.
"In the medical field we talk about ACEs frequently and about being trauma informed, but now professionals understand that this is not only important in how we treat patients but how we can help college students be successful despite the traumas they have experienced and how those traumas have affected them," Torson said.
The Academic Success Center's third segment of the collaboration session introduced a resource guide for faculty and staff and a resource guide for coaches that addresses student academic challenges. Discussions also focused on how faculty, staff, and coaches can use the Four Rs - Recognize, Respond, Refer, and Report - to be compassionate and supportive regardless of the different ways people engage students.
"This year's topic, 'Cultivating a Culture of Care and Compassion,' is a great chance to look at our practices, procedures, and resources through a new lens and realize there are little ways we can have a big impact on students' journeys here at UD," said Carly Stork, assistant director of learning support services.
Started in 2018, the UD Teaching and Learning Conference was organized by members of the UD Faculty Development Committee.
"This work we do should inspire confidence that the University of Dubuque lives out its Mission with integrity as it serves its students compassionately and thoughtfully," Ward said.