Buzzworthy Discovery of Endangered Species at Wolter Woods and Prairies
By Stacey Ortman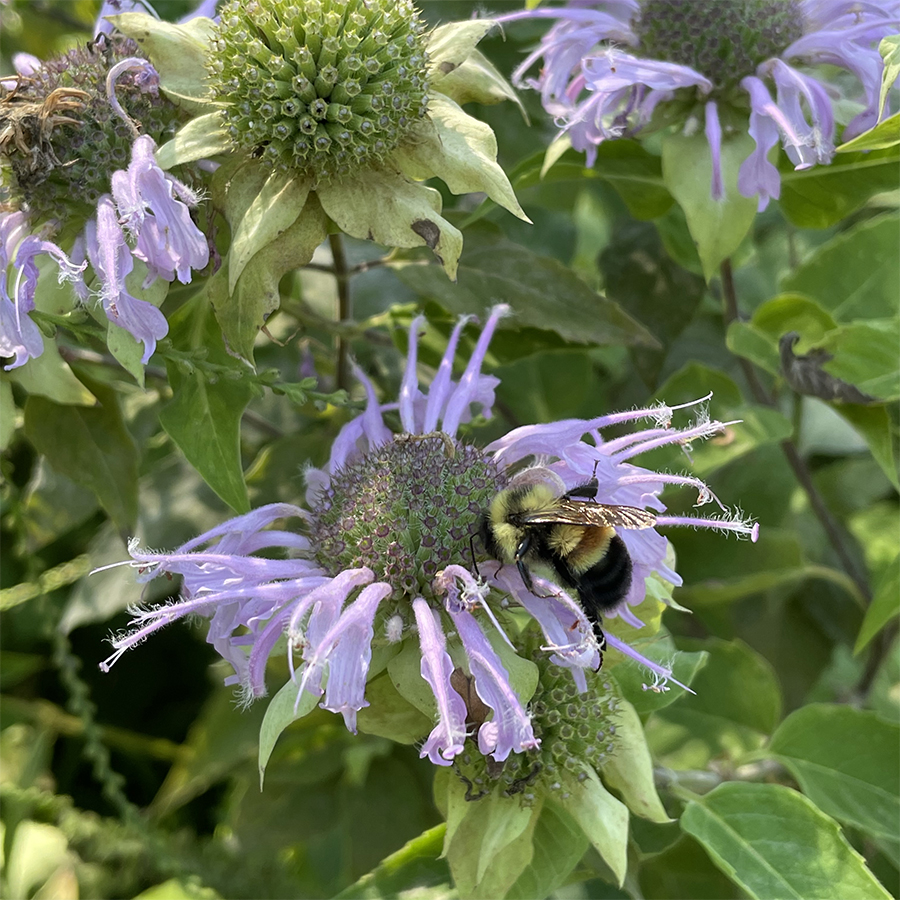 DUBUQUE, Iowa - It was a normal day of surveying for bumble bees at the University of Dubuque's Wolter Woods and Prairies Environmental Stewardship and Retreat Center when junior Grace Mayberry saw the distinctive rust-colored patch on a bumble bee in the distance.
"I remember looking at it and thinking, 'Oh my gosh. I'm pretty sure that's a rusty patched.' The brown was in a different spot and we had never seen one before in the prairies. I knew it looked different," she said.
Mayberry was the first to observe, catch, and release a federally endangered rusty patched bumble bee at Wolter Woods and Prairies in summer 2021. The buzzworthy discovery was not the last.
"Everyone was so shocked that we finally caught one," she said. "I had the best day ever. It was great."
Over the course of the summer, four land management interns through the John and Alice Butler Summer Research Fellowship conducted a formalized bumble bee survey in the four prairies of Wolter Woods and Prairies. Twenty-one of the 121 acres of land in Sherrill, Iowa, are devoted to those prairies.
"We tried to carve out as much prairie space as we could," said Mari Wolter, who had owned the property with her husband, Gary, before asking UD to become stewards of the land.
Over 20 detections of the rusty patched bumble bee were recorded at Wolter Woods and Prairies.
"If it had been just one or two, it would have been really exciting. But it wasn't. It was a steady and dependable series of captures from the time it started until the students got to the end of their internship. And they kept finding them in new places, which added to the excitement," said Gerald Zuercher, PhD, professor of biology and vertebrate ecology.
Zuercher and Eric Nie (C'15), environmental specialist at Wolter Woods and Prairies, advised the interns. Mayberry, an environmental science major from Morrison, Illinois, was joined by interns Paige Peterson, a senior environmental science and biology double major from Davenport, Iowa, Max Snowden, a senior environmental science major from Round Lake, Illinois, and Dillon Tierney, a junior environmental science major from Nora Springs, Iowa.
The rusty patched bumble bee, which had historically ranged the eastern and upper Midwest, was listed as endangered in 2017 under the Endangered Species Act. At the time, its populations had plummeted about 87 percent in the past two decades, according to a press release by the US Fish and Wildlife Service.
The discovery of the federally endangered rusty patched bumble bee at Wolter Woods and Prairies was informally reported to the US Fish and Wildlife Service. An official report will be submitted once the interns have analyzed the data collected over the summer.
"It feels like a huge responsibility now. We're blessed with this opportunity to steward this landscape and, as part of our mission, we can add that we have these incredibly valued species that need our care. They are under our umbrella now," Zuercher said.
To conduct the survey, one of the land management interns would walk one of the five transects in the prairies each day during the week. The intern would watch and listen for bumble bees.
"We would begin at the start of the transect and we would walk all the way to the end. We would spend maybe five to 10 minutes at each of the 11 transect poles," Mayberry said.
When the interns saw a bumble bee, they would attempt to catch it, place it in an observing glass, and record a variety of data including date, time, location of the transect, species of bumble bee, and species of flower the bee was on. Throughout the fall, the interns will analyze the data they collected.
Mayberry caught the first rusty patched bumble bee on a wild bergamot in Big Prairie. Peterson had seven detections in one day in the Dutch Prairie. Nie saw three one day while brush cutting going down a steep hill on a curve by the Dutch Prairie.
"It's a good sign that we've been doing something right with the whole plant it, or build it, and they will come. What we did seems to be paying off," Nie said.
The interns recorded the rusty patched bumble bee as well as other species of bumble bees.
"What we're trying to do is make that association between bumble bees and the plants they're using. And not just at that moment. These surveys will allow us to track these patterns over time," Zuercher said.
Combining land management with a bumble bee survey created invaluable opportunities for interns.
"With them getting to do the bee survey as a little chunk each day, it sped up their learning. It developed their observational skills a little more, which to me is probably the most important thing when it comes to being a land manager. If you can't observe what needs to be done or what is there, how can you make the right decision? I think they were able to learn a lot quicker by being engaged looking for a rusty patched," Nie said.
Mayberry agreed. She said she appreciated the opportunity to have hands-on internship opportunities and recommends other students participate in internships related to their interests.
"Being able to get that experience to research these bumble bees and then being able to find an endangered species in our area, that just pushed it over the edge. I'm so excited to do more research with the bumble bees and see what the data tells us," Mayberry said.
The rusty patched bumble bee isn't the only endangered species on the unglaciated land. UD students and Zuercher recorded the endangered Indiana bat as well as recorded and captured the threatened northern long-eared bat in years past at Wolter Woods and Prairies.
"We have two different endangered species; one in the woods and one in the prairies. Now we can sit back and say we really have a pretty deep responsibility to nature," Zuercher said.
The formalized bumble bee survey, which comes a year after an informal bee survey was conducted at the property, will continue to be part of the land management internship through the John and Alice Butler Summer Research Fellowship.
"What we want to do is continue to determine what's here so we can be mindful stewards when we do land management," Zuercher said.
Photo Credit: Eric Nie Photography