Adaptation of Christmas Classic to be Performed at Heritage Center
By University Relations Staff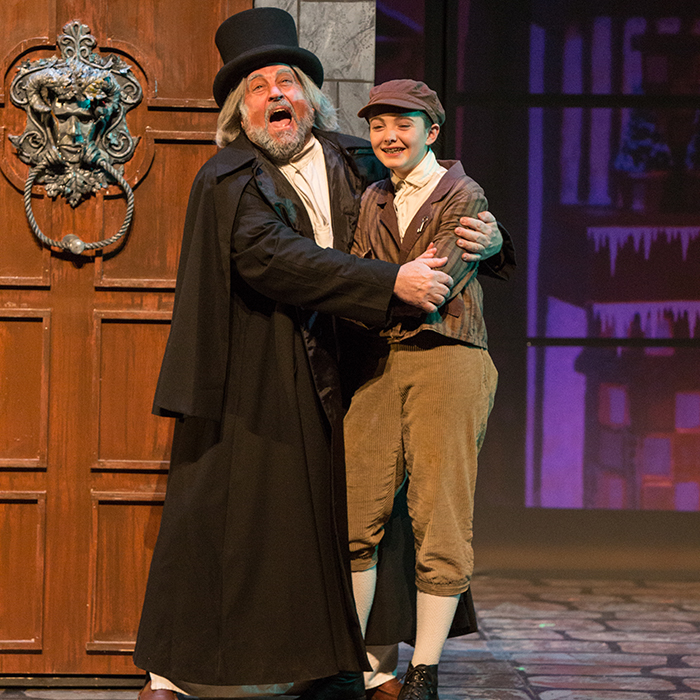 DUBUQUE, Iowa - A Christmas Carol, performed by Perseverance Productions, will be held at 7:30 p.m. Monday, December 5, 2022, in John and Alice Butler Hall, Heritage Center on the University of Dubuque campus. The performance is part of the 10th annual Live at Heritage Center Performing Arts Series.
WHAT:
A Christmas Carol
WHEN:
7:30 p.m. Monday, December 5, 2022
WHERE:
John and Alice Butler Hall, Heritage Center, University of Dubuque
TICKETS:






- Public: $31 to $49
- UD Affiliates (UD Faculty and Staff, UD Alumni, Parents of Current UD Students, Military/Veterans, Groups of 10 or More): $26 to $44
- UD Students: First ticket $10; additional tickets $26 to $44
- Children: $26
Ticket prices increase by $5 at midnight the day of the event.
A Christmas Carol, based on the novel by Charles Dickens, is adopted and directed by Clayton Phillips, whose award-winning directorial credits include Kiss of the Spider Woman, Cabaret, and Chicago. The Christmas performance will fill the stage with a cast of 16 professional actors, lush costumes, stunning sets and puppetry, song and dance, a heavy dose of humor, and a timeless message.
Twenty-six beloved traditional carols of the season will be woven throughout this original production of A Christmas Carol, accompanied by live instruments onstage including guitar, violin, and flute.
New Hampshire-based Perseverance Productions has been spreading cheer across the country with this annual holiday tour. According to the company's website, "As the British writer Samuel Johnson wrote, 'Great works are performed not by strength, but by perseverance.'"
Before the tale of the holiday classic begins, audience members will have the opportunity to attend two free events open to the public.
One of the events is a free performance of TUBACHRISTMAS from 6:30 to 7:15 p.m. on Knapp Stage, Heritage Center. TUBACHRISTMAS concerts are presented annually in over 300 cities throughout the United States and in several foreign countries. Last year, TUBACHRISTMAS Dubuque had two dozen local musicians serenading the audience with familiar carols. The warm, rich organ-like sound of the tuba-euphonium choir has won the ears and hearts of every audience.
Those interested in playing in TUBACHRISTMAS should contact Nolan Hauta, DMA, director of concert bands and assistant professor of instrumental music, at NHauta@dbq.edu.
The other event is a free pre-show reception for "The Lasansky Family: Mauricio, Diego, and Tomas in the University of Dubuque Collection" from 6:30 to 8:00 p.m. in the Bisignano Art Gallery, Heritage Center. A special pre-show lecture by Diego Lasansky with a Q&A will precede the reception at 6:00 p.m. in the Straatmeyer Rehearsal Room, Heritage Center. The exhibit will be open Thursday, December 1, 2022, through Thursday, December 29, 2022.
Celebrate A Christmas Carol before the show with "Page to Stage: A Christmas Carol" in November with the Dubuque County Library. All ages are welcome to the scrapbooking program that will celebrate your past, present, and future. Participants are asked to bring their own pictures. The program will have washi tape, gel pens, stickers, and more. Each child who attends will receive one free child's admission with the purchase of an adult admission to A Christmas Carol. Three program opportunities will be available: 4:30 to 5:30 p.m. Tuesday, November 15, 2022, at the Dubuque County Library, Epworth Branch; 4:30 to 5:30 p.m. Thursday, November 17, 2022, at the Dubuque County Library, Asbury Branch; and 4:30 to 5:30 p.m. Friday, November 18, 2022, at the Dubuque County Library, Farley Branch. Register by Tuesday, November 8, 2022, at https://www.dubcolib.org/.
Tickets for A Christmas Carol can be purchased from 11:00 a.m. to 2:00 p.m. Monday through Friday and 90 minutes prior to events at the Farber Box Office, Heritage Center, University of Dubuque, 2255 Bennett Street; by calling 563.585.SHOW; or by visiting www.dbq.edu/HeritageCenter.
New this season, the Heritage Performing Arts Loyalty System (H-PALS) allows patrons to earn rewards. For every $200 spent on eligible events, patrons receive one free ticket (valued up to $50) to their choice of eligible event. For more details, please visit www.dbq.edu/HeritageCenter.
Conlon Construction is the presenting sponsor of the 2022-2023 Live at Heritage Center Performing Arts Series.