UD Love Stories 2020: Bob and Donna Miller
Feb 7, 2020
Love is Electrifying
It was fall 1946 when Robert "Bob" Miller (C'50) and Donna Lundeen (C'50) were first paired together for a class project because of alphabetic order.

Bob, originally from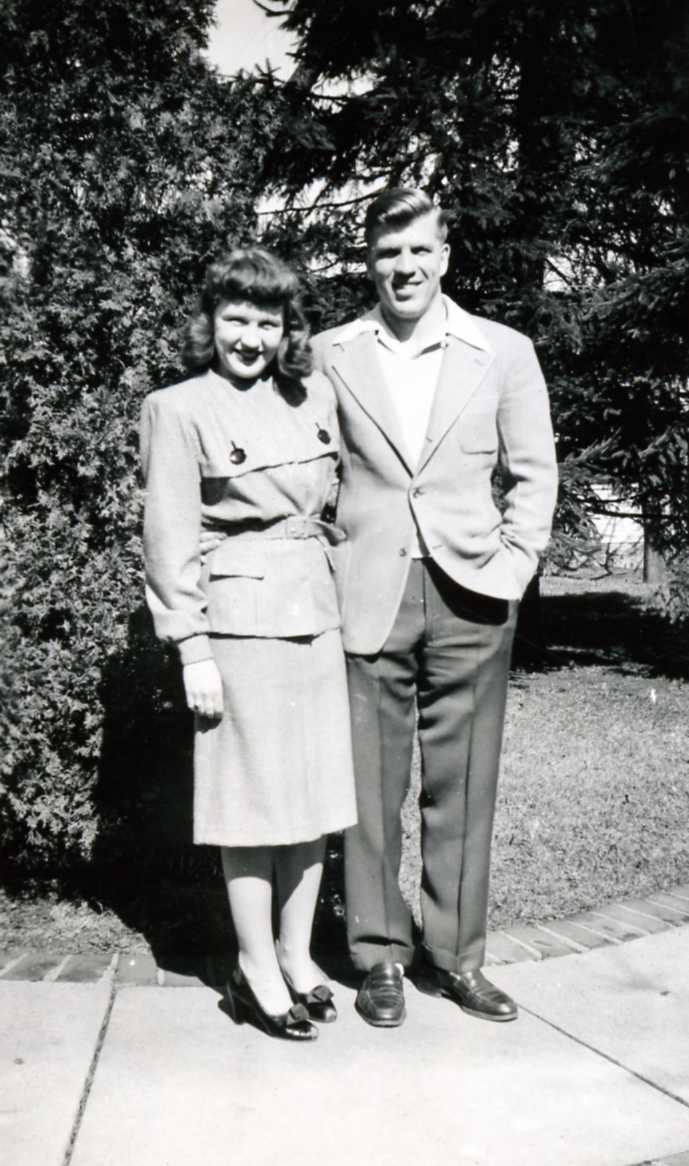 Anamosa, Iowa, was 20 years old when he enrolled at University of Dubuque. He was fresh out of the Navy after serving in World War II and heard a lot of good things about UD from his friends. Donna had recently graduated from high school and moved to Dubuque with her family from Waterloo, Iowa. Donna's dad was the head purchasing agent for John Deere and was tasked to begin to build the Dubuque location.


During their first year on campus, Donna lived in Severance Hall and Bob lived on the top floor of Steffens Hall. She was involved in a sorority, pledging to the Deltas. He was involved with sports, playing tennis, basketball, and football. As a quarterback on the football team, he helped the team win a championship title. Although their school involvement varied, they shared a love for big band music and loved school dances.


Donna and Bob met in Professor Prey's biology class. Because their last names aligned in the alphabet, the two were paired up to dissect a frog. Little did they know that a frog would become a symbol of their love. As the weeks went by, the two always ended up in line next to each other, again thanks to alphabetic order.


"I would tease her when we were standing in line together," Bob said.


Donna added, "And that's how we slowly got to know each other."


Two years later, on August 2, 1948, Bob and Donna were married in the Chapel on University of Dubuque's campus.


"Our wedding was on a Tuesday. We had a couple days for a honeymoon, but we had to return by Friday because Bob had to be back for football practice," Donna said with a chuckle.
Thanks to Bob's dad lending the couple the use of his car and a $100 wedding gift, the newlyweds honeymooned in Wisconsin Dells. This trip began a tradition of family vacations to Wisconsin Dells that would go on for generations.


Bob and Donna returned to campus and, with the help of their families, purchased a trailer that they parked on campus behind McCormick Gymnasium, which served as married housing at the time. Bob completed his degree in 1950 and got a job at Crescent Electric in Peoria, Illinois. The couple moved and Donna was unable to finish her degree at UD. She soon became a mother to two children: Doug was born in 1952 and Lynne was born in 1955.


Bob went on to work for John Deere as a salesman and did a lot of traveling before their family decided to return to Dubuque to be closer to Donna's father after her mother passed away. Bob began working for Universal Electrical in Dubuque. In 1963, Bob took what he had learned and started Miller Electric, located on lower Main Street in Dubuque. Bob, being a great salesperson, hired one other person to help him run the business and the company grew from there. Donna stayed involved with the business as well and took care of the bills and payroll.


Bob and Donna's daughter, Lynne (C'78), grew up and ventured off to college. She started at University of Northern Iowa, but then she followed in her parents' footsteps and enrolled in University of Dubuque, studying elementary education. In August 1978, she married her high school sweetheart, Kevin Oyen (C'81).


"We dated a little bit in high school, but it wasn't until a few years later that we became a serious couple." Kevin said. "I was stationed at Fort Dix and would drive to UNI to see her. We agreed that when I was out of the service, we would go on a date and the rest is history."


Kevin graduated from Hempstead High School and immediately went into the service from 1974-76. When he was discharged, Kevin worked as a police officer in Dyersville for one year before beginning classes at UD. During this time, he worked part-time at Miller Electric. Knowing that this was his passion, Kevin convinced Bob to let him go full-time in 1981. Kevin was on the road all the time with Bob working on sales; therefore, he was unable to finish his degree. The business grew and by 1982 Miller Electric moved to a new, bigger location on Kerper Boulevard. Kevin became the lead salesman a few years later and was promoted to vice president of sales in 1990.


Lynne and Kevin have two children: Curt was born in 1981 and Lesley (C'05) was born in 1983.


In 1992, Kevin and Lynne purchased Miller Electric from Bob and Donna. Together they ran the business and employed eight people. Following in her mom's footsteps, Lynne took over the books and payroll. The company continued to grow and the Oyens opened another Miller Electric location in Clinton, Iowa, and eventually employed 30 people.
Bob retired after selling the business, but he and Donna continue to stay involved in the community. Bob served as board president at Bethany Retirement Home and was on the Board at UnityPoint Health-Finley Hospital. He even took up golf. Donna has stayed active with Sunshine Circle at UnityPoint Health-Finley Hospital and P.E.O. Together they have enjoyed traveling both nationally and internationally. The couple enjoys the camaraderie of the trips and meeting new people wherever they go.
Keeping with the family tradition, Lesley attended University of Dubuque and played soccer for Coach Berna while majoring in health, wellness, and recreation. After graduating in 2005, Lesley began working for the family business.


In 2015, Kevin and Lynne decided to retire and sell the business to Van Meter Inc.


Kevin and Lynne are enjoying retirement and spending time with family, especially their grandchildren. Curt and his wife, Kim, have two children: Kendyl and Cain. Lesley has 1-year-old twins, Sayler and Summer. They have a condo in Wisconsin Dells on the lake where they like to go as often as possible. Kim and Curt now have a condo there as well because the kids love going there so much.


"Mom and Dad started a tradition at the Dells," Lynne said. "They come up with us and we all enjoy spending time there together as a family."


The Miller family and Oyen family have kept UD close to their hearts and have invested in projects on campus. The Douglas J. Miller Track is named after Bob and Donna's son Doug. They have invested in the Oyen Soccer Field and continue to invest in the soccer program. The families also continue to support student scholarships annually.