Celebrating the Class of 2021: Tre Moss
Apr 28, 2021 | University Relations staff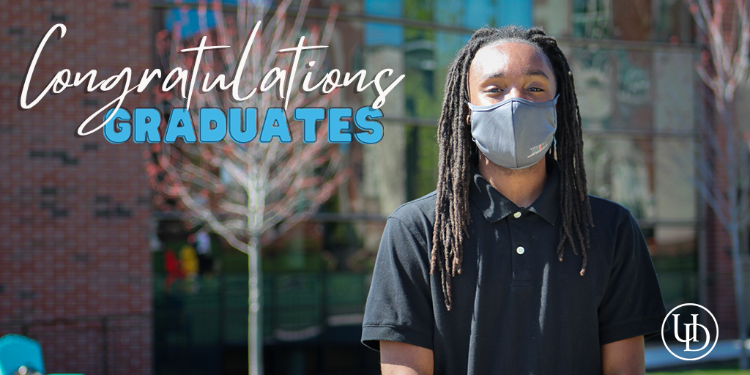 ---
DUBUQUE, Iowa – As the University of Dubuque prepares to celebrate the academic accomplishments of over 400 undergraduate, graduate, and seminary students at commencement ceremonies Saturday, May 1, 2021, we are honored to share some of their stories.
Tre Moss (C'21), a psychology major from Rockford, Illinois, will leave an indelible mark on his alma mater through his advocacy work on campus.
About a year ago he started UD Active Minds to help support students. The student organization is part of the nation's premier nonprofit organization that promotes mental health for young adults.
"UD Active Minds is just showing our campus community that we're here for them, we see them, and they're not alone," Moss said.
Through various events and social media posts, UD Active Minds continues to advocate for brain health awareness. It was instrumental in having the National Suicide Prevention Lifeline and crisis counseling information printed on the back of students' UD ID cards starting in the fall. Moss said students from other Active Minds chapters had done the same thing.
"It's an easy access for people to use whenever they're in a crisis whether they're in a room with their roommate or friend and they might not know what to do," Moss said. "We use the ID cards for food, to get into buildings, to access the rec center, so having that on there, I think, will definitely encourage people to reach out."
UD Active Minds won the Student Organization of the Year Award at Honors Convocation earlier this month. Chosen by election of the general student body, the award is given annually to a student organization that demonstrates extraordinary dedication to campus involvement, leadership, and the betterment of campus life as a whole.
"The biggest thing that I wanted to leave here is that my campus - my community - feels safe and that they know that UD Active Minds is here for them," Moss said. "I know that UD Active Minds is going to do great things."
In addition to his role as president of UD Active Minds, Moss mentored students as a TRIO peer leader. He was part of TRIO - Student Support Services since his second semester of his first year at UD.
"The individualized advising was really helpful … I really felt comfortable being around the TRIO program and being able to work with students," Moss said.
Those connections and the people on campus are what made UD special during Moss' time on campus.
"The people here are really friendly. Every time I walk into a building, no matter if someone is busy or not, they take a second to say 'hey, how's it going?' or 'have a good day.' I think for me that's what makes UD special," he said
After commencement, Moss plans to start the master of social work program at St. Ambrose University in Davenport, Iowa, in the fall. He hopes to use his passion for being there for people to go into private practice as a licensed mental health therapist.
"One day I will be providing therapy for people and helping them get through the obstacles and trials that they're going through that I've experienced," Moss said. "Just seeing people with smiles is something that I really love seeing."