Celebrating the Class of 2021: Tanner Michels
Apr 29, 2021 | University Relations staff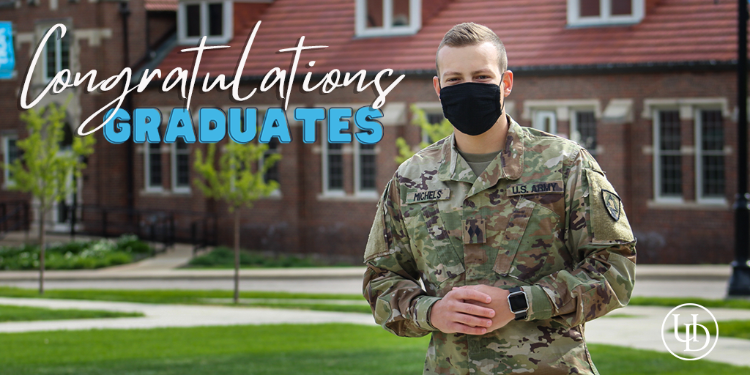 ---
DUBUQUE, Iowa – As the University of Dubuque prepares to celebrate the academic accomplishments of over 400 undergraduate, graduate, and seminary students at commencement ceremonies Saturday, May 1, 2021, we are honored to share some of their stories.
Tanner Michels (C'21) will be commissioned as a second lieutenant in the Quartermaster Corps of the Iowa National Guard at the 2021 ROTC Commissioning Ceremony on Thursday, April 29, 2021.
"I originally enlisted into the Iowa National Guard in 2017 and when I was awarded the Minuteman Scholarship, it helped set my path. I saw myself having potential being able to develop into a leader within the Army," he said. "Five generations of family military helped guide this decision by seeing the development, discipline, and character instilled within them."
Michels, a criminal justice major from Bellevue, Iowa, is one of two cadets in the Army ROTC – Eagle Company who will be commissioned as second lieutenants during the invitation only ceremony at 11 a.m. in Steffens Halls, Charles and Romona Myers Center. The ceremony, in which graduating seniors will take an oath of office and have their new rank pinned on their uniform by loved ones or military officers, will be livestreamed at www.facebook.com/UDubuque and www.YouTube.com/UDBQMedia.
The UD ROTC program is offered through a partnership with the University of Northern Iowa and is open to students at UD, Clarke University, and Loras College. ROTC's purpose is to develop leaders through classroom study, hands-on training, and team-building exercises. It is a college elective that students can try out for up to two years with no obligation.
For Michels, the ability to explore mental agility and resiliency through ROTC as part of the college experience was important.
"The program gave me leadership skills that I can take into any career to show confidence and the ability to publicly speak, something I thought I would never be good at. I plan to take these skills to the field of law enforcement and the United States Army as an officer," he said.
The tradition of military support at UD began as early as fall 1918 when it hosted the Students' Army Training Corps. In 2004, the current UD ROTC program was reactivated after a 10-year hiatus. Michels said he appreciated the ability to explore groups like ROTC while attending college.
"UD supports the military community and is distinct in the facilities they bring to campus, whether it is individual study rooms or an indoor training field," Michels said.
When deciding where to attend college, family was at the forefront of his mind.
"I feel I have always been a family man. Knowing that my future endeavors may lead me in opposite directions, I wanted to secure this part of my life close to my family living in small town Bellevue," Michels said.
After commencement, Michels plans to obtain a job in corrections or law enforcement while continuing his military career as an officer in the Quartermaster Corps of the Iowa National Guard.
"I always wanted to make a difference and I feel like I can do that locally along with nationally," he said.