Celebrating the Class of 2021: Shana Puetz
Apr 27, 2021 | University Relations staff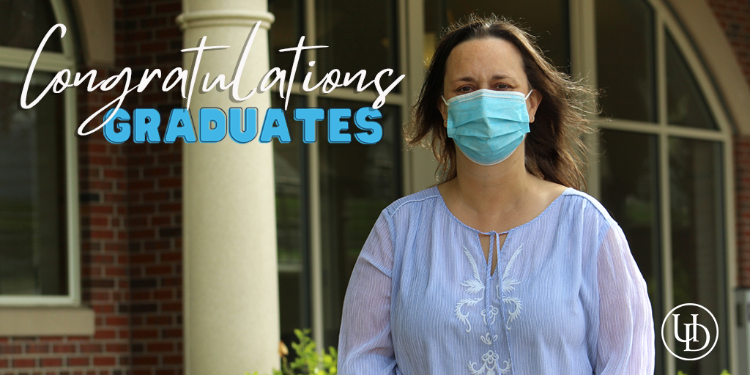 ---
DUBUQUE, Iowa – As the University of Dubuque prepares to celebrate the academic accomplishments of over 400 undergraduate, graduate, and seminary students at commencement ceremonies Saturday, May 1, 2021, we are honored to share some of their stories.
Shana Puetz (C'21) remembers her first class in the University of Dubuque LIFE – Learning Institute for Fulfillment and Engagement program. After being out of school for over 20 years, the New Vienna, Iowa, resident was worried if she would be able to study or take a test.
"I went and got something to eat and my stomach was in absolute knots," Puetz said.
Although she was nervous, Puetz's instructor and classmates made her feel comfortable. They talked about where they were in the program and what they wanted to get out of the class.
"Once I got into it, it all seemed to flow," Puetz said. "I met a lot of nice people. I felt like I was always the oldest one in the class. Sometimes I was like, 'I could be your mom.'"
She had debated for years whether to complete a bachelor of business administration. The flexibility of UD's adult accelerated degree program, known as LIFE, was important to Puetz.
"It was always something I wanted to complete and I had a lot of support from my family, work, and friends," she said.
UD's LIFE program was designed specifically for adult learners who are at least 23 years old and who have three or more years of work experience. The program's accelerated, evening bachelor's and master's degree programs help balance studies, career, and family life in a five-week course format.
"Knowing that I had that class for five weeks and then, boom, I was moving on was something that drew me here," Puetz said. "I honestly didn't even think of any other schools but UD."
LIFE - Dubuque enrolled its first students in 2009. The program expanded to Cedar Rapids, Iowa, in 2013, Tempe, Arizona, in 2017, and Meridian, Idaho, in 2020.
Puetz's advice for other adults considering a return to school is to give it a try.
"Dip your toes in it and you're going to find that it's something that you may want to do," she said.
After commencement, Puetz plans to stay in her current position as a lead sales support assistant at McGraw-Hill Education.
"I absolutely love it at McGraw Hill," she said.