Celebrating the Class of 2021: Natalie Donath
Apr 30, 2021 | University Relations staff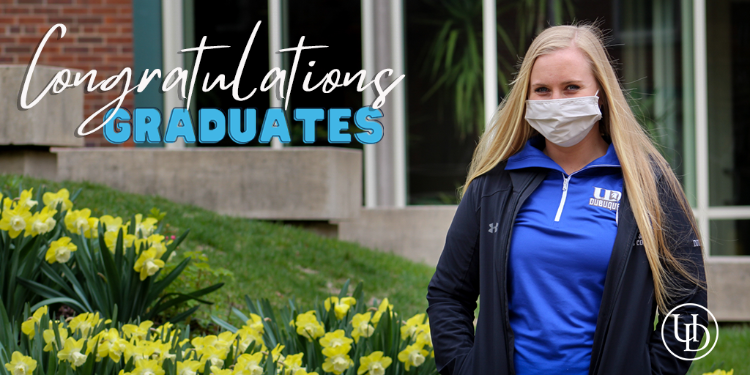 ---
DUBUQUE, Iowa – As the University of Dubuque prepares to celebrate the academic accomplishments of over 400 undergraduate, graduate, and seminary students at commencement ceremonies Saturday, May 1, 2021, we are honored to share some of their stories.
Natalie Donath (C'21), a nursing major from Dubuque, was inspired to major in nursing after her first anatomy and physiology class in high school.
"I was fascinated by the way the body worked and found myself wanting to further my knowledge in this area. I was also passionate about helping others and making a positive impact on people's lives," she said. "Becoming a nurse allowed me to fulfill both of these passions within my life."
Donath and over 25 classmates will participate in the 2021 Baccalaureate of Science in Nursing Pinning Ceremony at 11 a.m. Friday, April 30, 2021, in John and Alice Butler Hall, Heritage Center. The in-person ceremony is by invitation only; however, the ceremony will be livestreamed at www.facebook.com/UDubuque and www.YouTube.com/UDBQMedia.
Throughout Donath's time in the nursing program, a constant support were the nursing faculty.
"The thing that makes the program special is the faculty behind it all. The nursing professors at UD are great and they do a really good job at doing whatever they can to make sure their students succeed. I wouldn't have made it through the program without all their encouragement and dedication to our learning success," she said.
Donath chose to attend UD for a variety of reasons. Not only was the university close to her home, the class sizes were small enough that she knew she would be able to receive help when needed and form relationships with her professors so they could best help her succeed.
"Lastly, the nursing program really drew me to choose UD. They held a 100 percent NCLEX pass rate for many years in a row and after meeting with a few of the faculty of the nursing program during my visit, I just felt that this was the right place for me," Donath said.
She remembers being both excited and nervous when she learned her preceptorship would take her to the emergency room at the University of Iowa Hospitals and Clinics in Iowa City, Iowa.
"Emergency department nursing is much different than other areas of nursing that I have experienced. The ER is very fast paced where critical thinking and communication among the health care team is crucial. During my time in the ER, I was able to further my nursing skills, critical thinking skills, and patient care at the bedside," Donath said.
After commencement, Donath hopes to work at either UnityPoint Health-Finley Hospital or MercyOne Dubuque Medical Center in Dubuque in the emergency room or on the pediatrics or NICU floor.