Celebrating the Class of 2021: Lih-Wen (Tina) Lee
Apr 26, 2021 | University Relations staff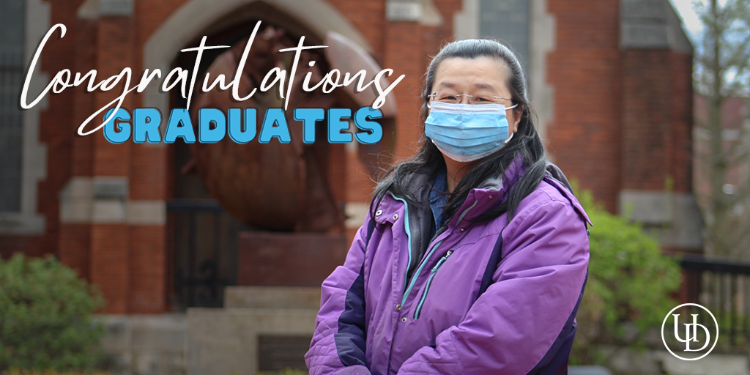 ---
DUBUQUE, Iowa – As the University of Dubuque prepares to celebrate the academic accomplishments of over 400 undergraduate, graduate, and seminary students at commencement ceremonies Saturday, May 1, 2021, we are honored to share some of their stories.
Lih-Wen (Tina) Lee (MMC'15, MDiv'21) actively engaged with young adults on campus while obtaining a master of divinity from the University of Dubuque Theological Seminary through the seminary's unique Young Adult Ministry Scholars program.
Known as YAMS, Young Adult Ministry Scholars participate in the seminary Christian learning community and also interact with young adults through a variety of campus experiences that help prepare them for ministry. Lee not only taught a World View I class to traditional undergraduate students, but she also taught a Mandarin language class and was involved with the Office of International Student Services and Study Abroad, Asian Student Union, and the Office of Multicultural Engagement.
"My involvement with Young Adult Ministry Scholars prepared me to live a godly life, humbling myself and walking with God, hoping to become a minister who is able to guide other young people to God," Lee said.
She learned about the seminary nearly 10 years ago through friends who are graduates of UDTS. At the time, they recommended Lee's husband, Chih-ho (Moses) Wu, attend the seminary. In 2004, he received a master of arts in religion. That same year, Lee took some pastoral counseling classes that helped her in her ministry in Taiwan.
"When I wanted to pursue a higher degree, I chose to come back to UDTS because it is a warm community and has a great faculty. Not only are they professional, but they also teach with a loving heart," Lee said.
During her time at UDTS, Lee wasn't the only one in her family on campus. Her son En-Yu (Sam) Wu is a senior nursing major who will also graduate on Saturday.
"This isn't something that everyone could experience," Lee said. "Also, in my country, Taiwan, that's even more impossible to happen. But this is happening to me."
When asked what makes UDTS special, Lee shared a beloved proverb.
"In Mandarin, there is a proverb that describes a teacher and student's relationship vividly. Translating it literally, it means, 'If you are my teacher for even one day, you will be my father all my life.' This means that the role of a teacher is not only in academics. It is more like how a father would teach his child to live life the right way, being the child's mentor. I feel this relationship between teachers and students makes UDTS special," Lee said.
After graduation, Lee plans to serve a Presbyterian church in Taiwan with her husband.