Women's Soccer Clinches Third Seed with Shutout of Coe
Oct 29, 2019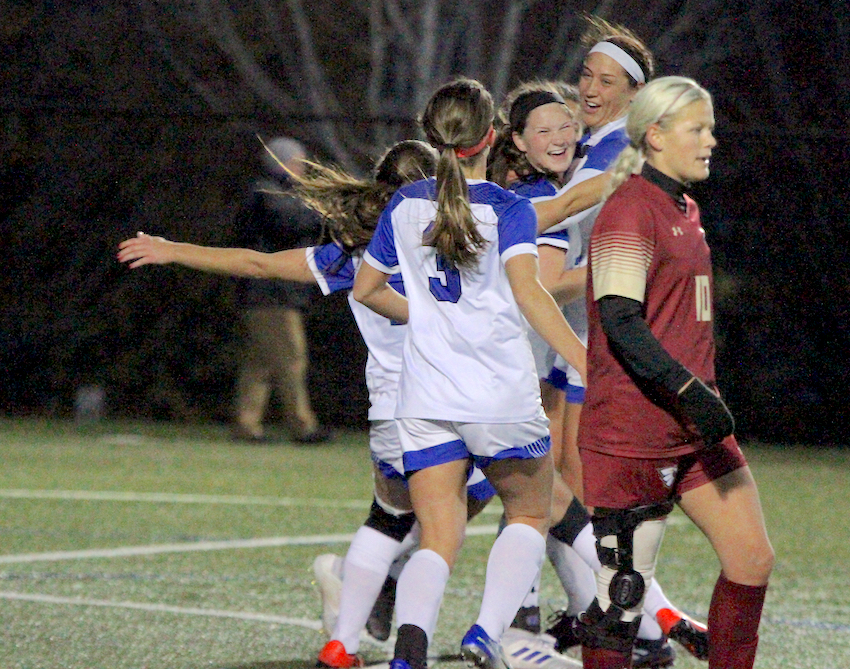 DUBUQUE, Iowa – The University of Dubuque women's soccer team closed out the regular season on a high note with a 2-0 win over Coe College and in the process clinched the third seed in the American Rivers Conference Tournament.
UD 2, Coe 0
How It Happened
-The defenses were the focal point of the game in the first half, with the best scoring chance from either team coming in the ninth minute when Baylee Vincent sent a shot off the crossbar.
-The teams were nearly identical in the first half, with the Kohawks having the slight edge in shots (5-2) and time of possession (53%-47%).
-In the 61st minute, there was a crazy sequence in front of the net that resulted in two UD shots from close range but a save and then a kick save by the Coe goalkeeper in a matter of seconds, kept the game scoreless.
-Just two minutes later, the Spartans finally broke through. Just as she has so many times this year, Alexa Martin placed a perfect corner kick in the box where it found the head of Brooke Brodzinski and she took care of the rest, heading it home to give UD the first goal of the game. It was Brodzinski's fifth goal of her freshman season, tying her for the team lead in goals with five.
-The Spartans got the breathing room they were looking for in the 80th minute, Baylee Vincent sent a cross in from the right side and once again it was Brooke Brodzinski who headed it home, giving UD a comfortable 2-0 lead late and where it would hold through the 90th minute.
For the Spartans
Goalie: Victoria Roethler: 90:00, 0 GA, 4 Saves
Scorers: 63', 80' Brooke Brodzinski
For Coe
Goalie: Kacey Baker: 90:00, 2 GA, 4 Saves
Scorers: none
Notes
The Spartans moved up one spot in the latest United Soccer Coaches North Region and are now ranked eighth.
Up Next
The Spartans will host Coe College in the first round of the American Rivers Conference Tournament on Saturday, Nov. 2nd, with a game time that is to be determined.