Women's Golf Claim 2019 A-R-C Championship, Qualify for NCAA Championships
Oct 7, 2019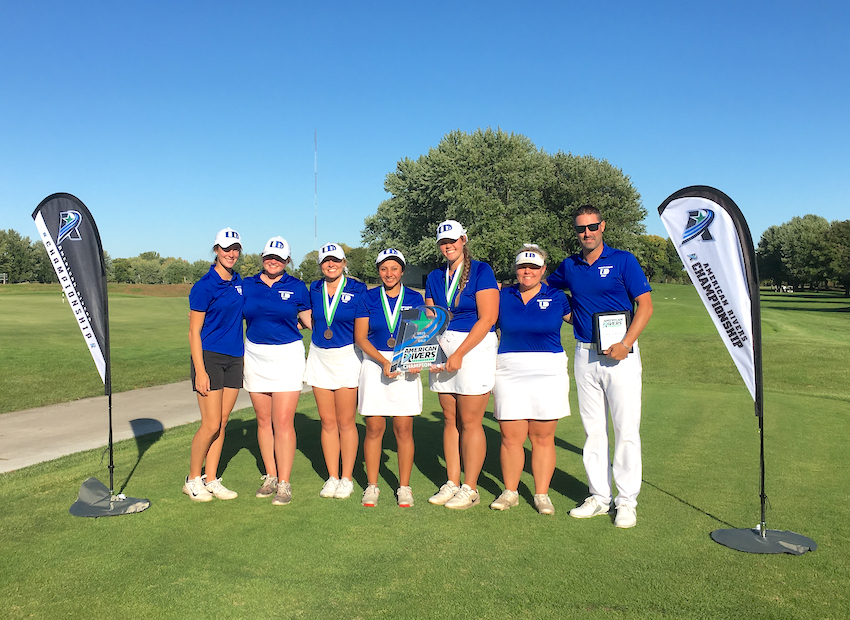 AMES, Iowa - The University of Dubuque women's golf team went wire-to-wire for its first American Rivers Conference Women's Golf Championship trophy, finishing the event with a 21-stroke advantage over second-place Wartburg (985-1006). Luther was five strokes behind Wartburg for third, while Central was the fourth-place team with a 339 today and a 1031 for the tournament.
The Spartans had the low team round all three days with a 335 Saturday, a 330 yesterday and a 320 today. They were led today by Daniela Miranda, third in the individual standings (80-80-79=239) and Madison Bowers, fourth in the final medalist table (83-76-81=240). The low-medalist trophy went to Luther's Morgan Kranz, who was the only player in the field to record two rounds in the 70s. Her final-round 77 came on the heels of a 75 yesterday and an opening-round 80. Simpson's Hannah Gordon charged into second place overall with the only sub-par round of the event. Her 71 today tallied on to her 82 and 85 from rounds one and two. Luther's Kelly Schultz rounded out the top five with rounds of 83-76-87=246.

A tie for sixth-place was broken by a final back-nine card-back. Wartburg's Katie Choate shot 41 on the final nine while Central's Emily Opsal shot 43. Both women had three-day totals of 247. Buena Vista had an excellent tournament, placing three players in the top 10. Alison Schweers, who finished eighth, shot one of the five rounds in the 70s today (77) and totaled 248 for the tournament. Dubuque's Megan Gille made sure the Spartans also had three top-10 finishers with a final-round 80 and a ninth-place total of 250. BVU's Raelinn Arnold and Makaylee Tenhoeve both shot 252 for the tournament.

The top-10 finishers make the A-R-C all-conference team. Kranz, Gordon, Miranda, Bowers, Opsal, and Gille all repeated on the all-conference team. Kranz and Arnold made the all-conference team in 2017. Opsal also made the all-conference team in 2016.

UD earned the conference's automatic bid to the NCAA Division III Women's Golf Championship, which doesn't take place until the spring. PGA National in Palm Beach Gardens, Fla., will be the host venue May 12-15, 2020.
"Super proud of the effort of our team... from a year ago losing in a playoff and today shooting a round of 320 was pretty special," commented head coach Dustin Bierman. "When i took this job four tears ago, it was a goal to get our team up to par with the rest of the league and I owe a lot to these young ladies. It's been fun seeing them grow and get better and better, which is all i can ask for as a coach."
Collecting Coach of the Year honors, Bierman helped move the Spartans from a ninth place finishing team, to a fifth place team two years ago and a runner-up finish after losing in a rain shortened play-off in 2018.
Bierman added, "Really proud of our Miranda, Bowers, and Gille for gaining Alll-Conference honors and finishing inside the Top-10. We will be looking forward to the challenge representing our conference in the national tournament in May.
Individual Scores:
3rd - Daniela Miranda 80-80-79 (239)
4th - Madison Bowers 83-76-81 (240)
9th - Megan Gille 87-83-80 (250)
16th - Madeline Sturm 87-91-80 (258)
21st - Sydney Killeen 85-95-85 (265)

2019 A-R-C Coach of the Year - Dustin Bierman (University of Dubuque)
FINAL TEAM STANDINGS