Volleyball Opens A-R-C Tourney with Five Set Victory
Nov 5, 2019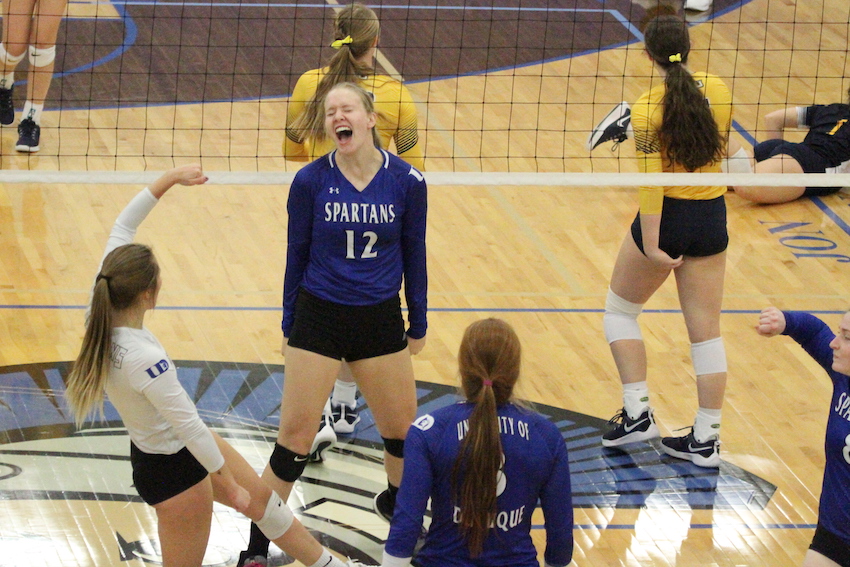 DUBUQUE, Iowa - The University of Dubuque volleyball team won a thrilling five set match on Tuesday night to open the American Rivers Conference Tournament against the visiting #6 seeded Buena Vista University Beavers. The #3 seeded Spartans lost the first set 21-25, swept through set two by a 25-16 margin, lost set three 23-25, captured set four 25-17, and won the match with a 15-11 fifth set. UD will now play the #2 seeded Loras College Duhawks on Thursday, Nov. 7.
UD avenged an earlier season loss to BVU, the two met on Oct. 12 in Storm Lake, Iowa and BVU swept the Spartans in three straight sets, 25-23, 30-28, 25-14. Tuesday night fans witnessed some long rallies in the five set match. The Spartans ended the evening with five Spartans with double digit kills. Senior Kara Wright led with with 16, Darby Hawtrey compiled 14, Grace Hintze collected a dozen in just two sets, Shauna McAleer had 11, and Rylee Andresen ended with 10. Kate Messino finished with 58 set assists and 20 digs. Grace Strawser led UD's defense with 28 digs. Hanna Horsfield served up three aces in the victory.
In the other half of the bracket, it was #4 seeded Nebraska Wesleyan University winning a five set match 3-2 over the #5 seeded Coe College Kohawks. The semifinals of the A-R-C Tournament are now set: #4 seeded NWU will travel to Waverly to face the #1 seeded Wartburg College Knights as #3 seeded UD will travel across town to match-up with the #2 seeded Loras College Duhawks.
UD played host to Loras on Oct. 30 and won the match 3-0 with set scores: 25-14, 25-20, 25-15.