Three Spartan Women Earn A-R-C Player of Week Honors
Sep 3, 2019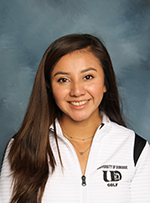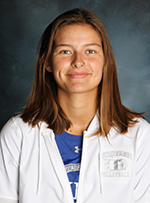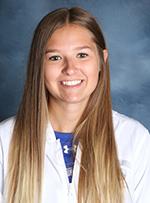 CEDAR RAPIDS, Iowa – After the first weekend of the school year, three University of Dubuque Spartan student-athletes earned American Rivers Conference Player of the Week honors. Daniela Miranda was named A-R-C Female Athlete of the Week and women's golf performer of the week, while Darby Hawtrey (offense) and Grace Strawser (defense) earned volleyball honors.
Miranda, a junior from Woodstock, Illinois, won her fourth career meet over the weekend at the Luther College Invite. She posted rounds of 74 and 76 over the two day tournament to shoot a 150 (+6) to win by four strokes. Miranda's 150 helped the Spartan women win by the team title by six strokes.
Darby Hawtrey (So., Clarence, Iowa/North Cedar) and Grace Strawser (Sr., Bettendorf, Iowa/Pleasant Valley) swept volleyball honors after the Spartans went 4-0 at the Sugar Loaf Invitational. Hawtrey picked up offensive honors after coming up with 48 kills over the four matches for an average of 3.43 kills per set and a hitting percentage of .170.
Strawser grabbed the defensive player of the week after coming up with 102 digs for 7.29 digs per set. She also added 19 assists and seven service aces.