Spartans Win Home Opener Under the Lights at Chalmers Field
Sep 14, 2019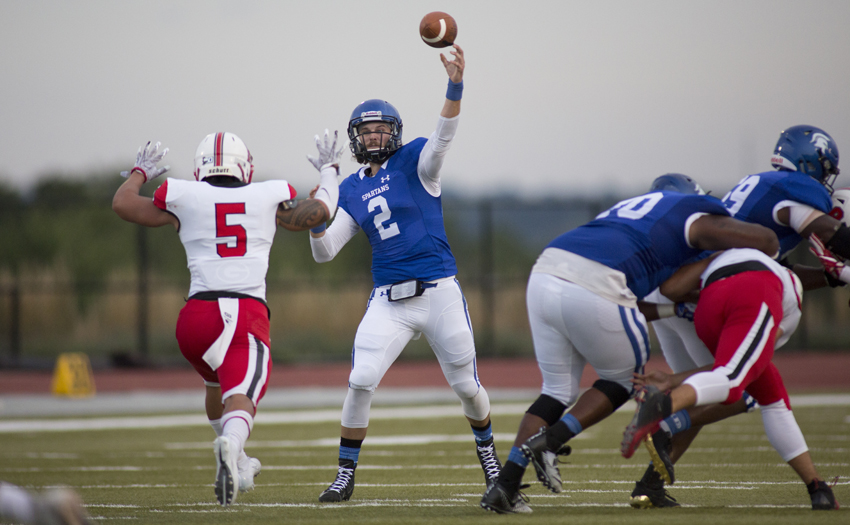 | | | | |
| --- | --- | --- | --- |
| Sep 14, 2019 | Dubuque, Iowa | Dubuque 37, Pacific University 26 | Box score |
DUBUQUE, Iowa - The University of Dubuque bounced back after last week's loss to #4 UW-Whitewater to capture the final game of the very competitive series with the Pacific University Boxers by a 37-26 margin on Saturday night under the lights of Chalmers Field.
The Spartans would score through the air on Saturday with quarterback Sean Duffy finding his targets all evening. UD collected touchdowns from 13 yard strike to Kody Reimer and 50 yards to Elliott Pipkin in the opening quarter of action. In the second, two more scores through the air, one from 23 yards out to Dwayne Allen Jr. and a 37 yard touchdown to Reimer to extend their lead to 28-13 at the half. The third quarter was in favor of the Boxers, who outscored the Spartans 13-2 and would close the gap 26-30 after three quarters. The final quarter was another TD pass to Reimer, his third scoring grab of the night, this time from 19 yards out.
Reimer led UD with five receptions and finishing with 100 yards and teammate Elliott Pipkin caught two passes for 101 yards. The stout Boxer defense would hold the Spartans below 100 yards on the ground. Dwayne Allen Jr. rushed 21 times for 77 yards with his longest scamper being from 28 yards. Duffy completed 14-29 attempts for 265 yards and five touchdowns.
In special teams, UD would be led by Andy Vujnovich who was perfect 5-5 in extra points and punted seven times for 228 yards and placed one inside the 20 and one for a touchback. Kordell Stillmunkes returned one punt for 22 yards and returned two kickoffs for 28 yards, he had a touchdown run called back in the game after a Spartans penalty and was held to 32 yards in 10 carries. Tyler Sheffield kicked off six times and averaged 56.8 yards a kickoff.
The Spartans defense was led by Freddy Walton who collected 14 tackles, a sack, a forced fumble, and a tackle for loss. Josh Ezekiel and Chad Marsh would both end the night with seven tackles. UD's defense would compile six sacks on the Boxers who dropped to 0-2 on the season.
UD held the edge in overall yards 361-334, but the Boxers would hold the advantage in possession time 31:27-28:33.
The Spartans 1-1 overall would open American Rivers Conference play next week, Sept. 21 when UD hosts the Simpson College Storm once again under the lights on Chalmers Field with a 6 p.m. kickoff for Hall of Fame Game.