Spartans Volleyball Sweeps Past Loras 3-0, Earn #3 Seed
Oct 30, 2019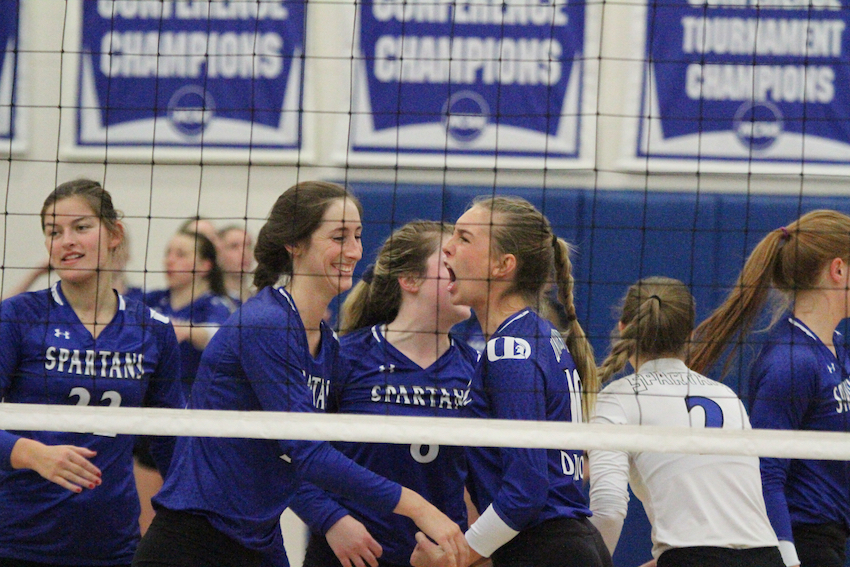 DUBUQUE, Iowa - The University of Dubuque volleyball team (19-10 overall, 5-3 in the A-R-C) swept the visiting Loras College Duhawks in three straight sets on Wednesday night in Stoltz Sports Center to earn third place in the American Rivers Conference. In front of a large crowd on hand, UD captured the #3 seed and will host #6 seed Buena Vista University Beavers on Tuesday, Nov. 5 at a time to be announced. The Duhawks were ranked #8 in the Central Region of the NCAA Division III rankings released on Wednesday who lost just their eighth match of the season (19-8 overall, 6-2 in the A-R-C).
A-R-C Seeds for Conference Tourney:
#1 - Wartburg College
#2 - Loras College
#3 - University of Dubuque
#4 - Nebraska Wesleyan University
#5 - Coe College
#6 - Buena Vista University
UD won by set scores 25-14, 25-20, 25-15. The Spartans offense hit the ball well, finishing with a .423 hitting percentage as a team. Leading the Spartans was Grace Hintze who had 18 kills and Darby Hawtry who finished with 13 and just one error in 23 attacks. Kate Messino moved the ball around and compiled 37 set assists. Defensively the Spartans finished with 53 digs and were led by the trio of Grace Strawzer (15), Messino (14), and Kara Wright (10). Rylee Andresen approached the net and left with five of the Spartans nine solo blocks.
The returning conference tournament champion Spartans will look to continue their season on Tuesday night. UD has a five match win streak of beating their opponents 3-0, including sweeps of Central, Simpson, and Loras in the final week of the conference season. UD will host the Beavers of BVU to whom they lost to on Oct. 12 by set scores 23-25, 28-30, 14-25. The #6 seeded Beavers lost to Wartburg on Oct. 29 in straight sets 3-0 (25-15, 25-12, 25-17).