Smith Named Honorable Mention All-Conference
Mar 4, 2020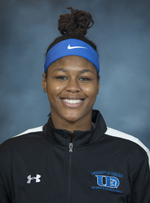 CEDAR RAPIDS, Iowa – The American Rivers Conference announced their 2019-20 women's basketball all-conference teams on Wednesday, where UD's Miah Smith grabbed honorable mention honors.
The sophomore from Matteson, Ill. took home the rebounding title for the American Rivers Conference for the second time in as many seasons. In 25 games, Smith hauled in 211 rebounds, averaging 8.4 per game, the next best came in at 174 rebounds and 7.0 per game.
Smith started all 25 games for the Spartans, averaging 24 minutes a game and added 7.1 points, 1.68 steals and 1.36 blocks per game to go along with her 8.4 boards per game.
Most Valuable Player - Emma Gerdes, Sr., Wartburg
Defensive Player of the Year - Laura Hamilton, Sr., Luther
Coach of the Year - Bob Amsberry, Wartburg
First Team All-Conference
Jackie Feldt Coe College
Marissa Schroeder Loras College
Macenzie Kraemer Loras College
Laura Hamilton Luther College
Sarah Holtz Luther College
Caitlin Navratil Nebraska Wesleyan University
Payton Draper Wartburg College
Amanda Brainerd Wartburg College
Second Team All-Conference
Kendall Brown Central College
Kelsea Hurley Central College
Madeline Wilkins Coe College
Kari Fitzpatrick Loras College
Courtney Schnoor Loras College
Cassie Chubb Simpson College
Claire Johnson Simpson College
Cameron Kincaid Simpson College
Honorable Mention
Erin Gerke Buena Vista University
Jamie Feldt Coe College
Madi Spence Luther College
Madilyn Heinke Luther College
Kia Rasmussen Simpson College
Jenna Taylor Simpson College
Miah Smith University of Dubuque
Tori Hazard Wartburg College
Ally Conrad Wartburg College
Kaitlyn Volesky Wartburg College